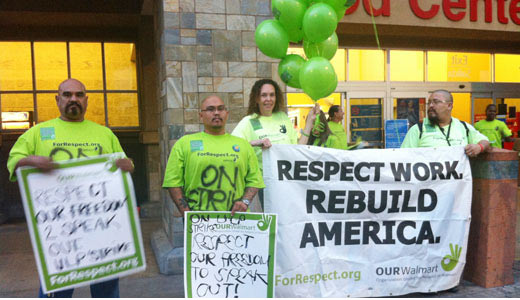 PICO RIVERA, Calif. – Walmart store associates from a dozen stores in the Los Angeles area here took a historic action yesterday by holding a one-day strike, demanding the right to speak out on the job. Employees who bring concerns about working conditions to the attention of store management often face retaliation in the forms of hours cut, shift reassignment and even firings.
The mass walk out is the first of its kind in the retail giant's 50-year history.
The employees are members of Our Walmart, an organization of store associates, which works for dignity and respect on the job, according to their website.
The rally here included store workers from neighboring cities, including Duarte and Baldwin Park. (Story continues after video.)
Many unions showed their support by sending representatives and offering any resources the Walmart workers may need. Among the labor supporters were Maria Elena Durazo, secretary-treasurer of the Los Angeles County Federation of Labor and Tefere Gebre, executive director Orange County Federation of Labor. Community leaders and elected officials also joined the rally, including California State Assembly Majority Leader Charles Calderon, the Rev. Lee, president of Southern Christian Leadership Conference and Dr Jose Moreno, professor at Cal State Long Beach.
Store associates are asking the public to sign a letter, letting all Walmart workers know that the public is behind them and have support. The letter is available at forrespect.org.
Photo: (Rossana Cambron/PW)