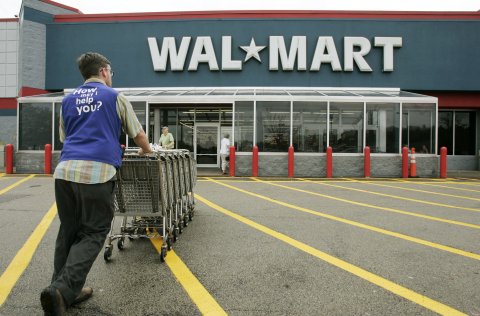 (PAI) — As if Walmart's labor law-breaking, low pay, lousy benefits and vicious anti-worker attitudes weren't bad enough, the retail monster now is demanding its workers buy specific clothes to create uniforms to conform to its new "dress code" – and sticking them with the bill.
Needless to say, the workers, especially those who banded together in OURWalmart, a voluntary organization – not a union – to campaign for the monster retailer to raise its wages, benefits and working conditions, aren't happy.
After all, even with an "employee discount," each of the retailer's 1.3 million U.S. workers would have to shell out at least $50 for each set of new duds, and since half of them make so little that they qualify for food stamps, Medicaid or subsidized housing, $50 is a lot.
Walmart would garner from $51 million-$78 million from its workers buying the new clothes.
Walmart human resources honcho Barbara Simone gave the firm's workers until Sept. 29 to buy the clothes: White or blue-collared shirts with khaki or black bottoms. "The pride we take in our appearance should make us feel good when we help customers," Simone wrote.
Simone posted her memo on the firm's internal communication system – and workers wrote back. They weren't happy. One, OURWalmart activist Richard Reynoso of the Duarte, Calif., store, went even farther and wrote her at the firm's headquarters in Bentonville, Ark. He said Walmart should pay for the uniforms and clothes, and buy U.S.-made goods.
Saying he's proud of his work as an overnight stocker and dresses professionally, Reynoso told Simone that "I can't afford to spend more money on clothes to wear to work, and most of my co-workers are in the same position." Since he, like most Walmart workers, earns less than $25,000 yearly, and since overnight stocking chores rip up clothes quickly, the dress code "uniforms" are prohibitively expensive, he informed Simone.
"I'm getting paid only about $800-900 a month. The sad truth is that I do not have $50 laying around the house to spend on new uniform clothes just because Walmart suddenly decided to change its policy. If I have to go out of pocket for these new clothes, I'll either be short on rent or have to cancel my phone or my car insurance for the month," he said. Other Walmart workers were more caustic, in unsigned responses posted on websites.
"This is more of a financial burden to our family since this is our only source of income with my wife and two kids. We can hardly afford to live on my income now with us having to pay for a new uniform," one said. Another addressed Simone: "When will you admit you and the big fish at Walmart were wrong and scrap this busy-work project that you and others are using to justify your big paychecks…Every few months you guys dream up something new to torture the associates with…Let us just get on with our work, making you more money. Don't worry, you'll still collect your big paychecks."
"With $16 billion in profits, Walmart – not its associates – should be paying for uniforms if you want these kind of changes to the dress code," Reynoso concluded.
Photo: A Wal-Mart employee in Walpole, Massachusetts, pushes a line of shopping carts. AP.