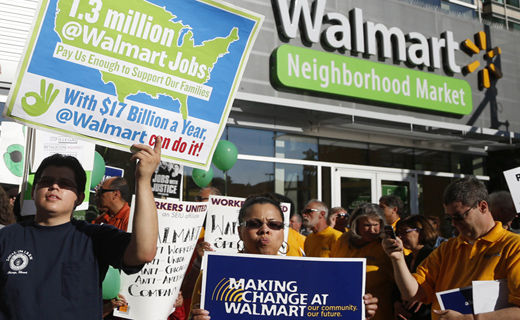 WASHINGTON, DC – Walmart moms-who experience constant financial insecurity because of Walmart's poverty pay-announced today that many will walk off the job in protest of the illegal firings of co-workers who have been calling for more hours and better pay. The group, members of the Organization United for Respect at Walmart (OUR Walmart) will take their concerns and calls for change directly to the company at its annual shareholders meeting and to board chairman Rob Walton.
Workers plan to walk off the job in over 20 cities nationwide as early as Friday. Citing the company's retaliation against workers, striking Walmart moms will join fellow workers, families, and community supporters nationwide who are calling on new Walmart CEO Doug McMillon to take the company in a new direction, one that will respect workers' rights and help strengthen families and the economy.
The annual shareholders meeting will begin as Walmart workers-part of the three-year old national organization OUR Walmart-make significant strides in changing policies of the country's largest employer, particularly in its treatment of women. Recently, Walmart improved its pregnancy policy after OUR Walmart members, who are also shareholders, submitted a resolution to the company about its pregnancy policy. And, responding to OUR Walmart members' growing calls on the retailer to improve access to hours, Walmart rolled out a new system nationwide that allows workers to sign up for open shifts in their stores online.
"We know that change is possible at Walmart. That's why I'm joining other moms at Walmart and going on strike. We have the right to speak out for better futures, and when we do it together-we make progress," said Lashanda Myrick who is a mother of two and works at Walmart's Denver store 2752. "But when Walmart continues to fire my co-workers for standing up for good jobs and hundreds of thousands of us are paid less than $25,000 a year, there's more work to do."
Recent policy changes come as same-store sales at Walmart have been negative for five consecutive quarters – in large part because many families do not have money in their pockets to shop at the company. Meanwhile, executives are moving the goal post to give themselves millions in bonuses despite missing performance targets.
Workers and economic experts say the country's largest private employer of women has created a financial crisis for women in America with low wage jobs that put the entire economy out of balance. The majority of Walmart workers are paid less than $25,000 a year – forcing many to rely on food stamps and other taxpayer-supported programs to survive. Working women-increasingly the breadwinners and decision makers in households-make up the majority of Walmart's workforce and are often hit hardest by the employer's poverty wages.
The most common job in the country is a retail salesperson, and women disproportionately hold the retail industry's lowest paid jobs. Elected officials, women's groups and economic experts point to Walmart, the standard-setter for the industry and employer of 825,000 women, as urgently needing to raise wages to boost the economy.
"Walmart moms-not the company's political designation, the real moms who work and shop at the mega-retailer-are facing constant economic insecurity because of the low-wage economy created by Walmart," said Ellen Bravo, director of Family Values @ Work and lifelong activist fighting for working women. "Working moms are the heartbeat of our workforce, and there is simply no way to get the economic recovery out of first gear without the largest employer of women creating family-sustaining jobs."
Leading women's groups-including the National Women's Law Center, the National Organization for Women, a Better Balance, Family Values @ Work and the National Partnership for Women and Families-have been mobilizing through a petition, member activism and events on Capitol Hill, calling on Walmart to fully upgrade its pregnancy policy so it protects all pregnant workers.
As concerns grow about wages, understaffing and alleged violations of labor law and the Foreign Corrupt Practices act, a number of shareholders and advisors are voicing their dissent for the company's leadership and voting against board chairman Rob Walton. Others have divested, including Portland, Oregon.
"When consumers and investors stand together, we can hold Walmart accountable and build an economy that works for everyone," said Paul Ferris, campaign director at SumOfUs.org. Over 50,000 people-including 16,000 mutual fund investors-have signed the organization's petition urging investors in Vanguard and Fidelity to send letters asking the funds to vote against board chairman Rob Walton at the shareholders meeting.
A new report from Americans for Tax Fairness shows that Walmart and the Waltons received tax breaks and subsidies to the tune of an estimated $7.8 billion in 2013. Marketplace recently revealed that Walmart is the biggest beneficiary of the Supplemental Nutrition Assistance Program, otherwise known as food stamps. Walmart takes 18 percent of all food stamp dollars-or $13 billion in revenue. A study from Demos shows that a minimum $25,000 salary at Walmart would not only help families, it would boost job creation, consumer spending and the company's bottom-line.
Photo: Charles Rex Arbogast/AP