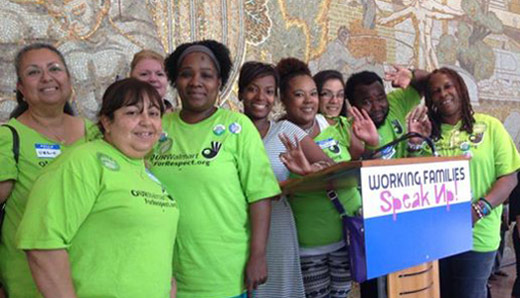 CHICAGO – Walmart moms met in Chicago Sept. 23, calling on the company, the nation's largest employer of women, to publicly commit to better pay and protections for women workers. With the support of the country's leading women's rights advocates, the group developed a list of policy changes it says the company must make to ensure that the women who are key to the company's profit-making ability are not living in poverty or putting their health at
Since a class action lawsuit against the company for its dangerous discrimination against pregnant workers earlier this year, more women have been speaking out about the problems. On Monday a woman employed by Walmart filed a new Equal Employment Opportunities Commission complaint related to her firing while she was at doctors' visits related to her pregnancy.
"Walmart could be paving the way for good jobs for working moms like us," said Thelma Moore, who worked at the Chatham, Ill. store and is pregnant with her second child. "Instead, we're fighting for bathroom breaks when we're pregnant and steady schedules that let us get reliable childcare and put food on the table."
Moore was fired from the store for an absence when she was at doctors' appointments after television sets fell on her at the store. In Chicago alone, four workers have been forced to choose between their jobs and their health because Walmart denied them small accommodations like bathroom breaks and reduced lifting, workers say. After being denied these accommodations, some of these women reportedly suffered miscarriages.
Walmart moms have also been speaking out for better pay and consistent scheduling. Many Walmart moms are unable to get the hours they need to support their families or their schedules are so erratic that it keeps them from being able to identify reliable childcare.
From cities and states across the country, the group has been organizing online for over a year as "Respect the Bump." During its first in-person meeting, Respect the Bump organized a unified call for change at the retailer. Specifically, Walmart moms are calling on the company to publicly commit to:
Raise the minimum wage to $15 an hour;
Provide consistent, full-time work;
Immediate compliance with the Pregnancy Discrimination Act;
Adopt a policy that is in line with the Pregnant Workers Fairness Act, which would require employers to reasonably accommodate pregnant workers who need it so that they can continue working safely through their pregnancies;
Install breastfeeding stations or family rooms in stores;
Accept pregnancy-related doctors' notes.
"Walmart continues to force pregnant workers off the job over the need for simple accommodations. No woman should have to choose between keeping her job and having a healthy pregnancy," said Emily Martin, vice president and general counsel of the National Women's Law Center. "Walmart's persistent manipulation of workers' schedules and low pay keep women from being able to provide for their families. We are coming together to stand with Walmart workers today and every day until the company improves pay and respects its pregnant workers."
"Walmart's treatment of pregnant workers is creating a rallying cry for the entire women's rights movement," said Dina Bakst, co-founder of a Better Balance. "We will continue to fight until Walmart obeys the law in full and affords expecting and new mothers the fair and equal treatment they deserve."
The group's efforts have already registered some success. In April, OUR Walmart and Respect the Bump members successfully convinced the company to upgrade its pregnancy policy, which violated the Americans with Disabilities Act.
Many pregnant Walmart workers in Chicago and across the country are forced to choose between keeping their jobs and protecting their health. Even with doctors' notes for simple adjustments like carrying a water bottle at work, some pregnant workers face discrimination on the job and refusal from management to make accommodations. As a result, many workers have had to take unpaid leaves of absence when they could have worked, or worse, some have miscarried or suffered other pregnancy complications because Walmart did not follow the law and accommodate them.
The financial struggles of Walmart moms, like those of many women who are increasingly the breadwinners for their families and disproportionately impacted by the low-wage worker crisis, are driven by Walmart's low pay and erratic scheduling. The majority of Walmart workers are paid less than $25,000 a year, and many of them work part-time, relying on unpredictable schedules, food stamps, and other taxpayer-supported programs to survive.
National public policy organization Demos released a report this summer showing low-pay and erratic scheduling keep millions of hard-working Americans-particularly women-near poverty. The report finds that establishing a new wage floor equivalent to $25,000 per year for fulltime, year round work at retail companies employing at least 1,000 workers would improve the lives of more than 3.2 million female retail workers and lift 900,000 women and their families directly out of poverty or near poverty.
Photo: On June 23, #WalmartStrikers and working moms attended the White House Summit on Working Families. Making Change, Facebook.