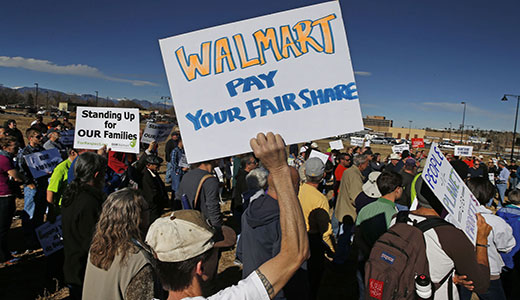 FAYETTEVILLE, Arkansas – At its shareholders' meeting here last week Walmart reported falling sales for five consecutive quarters and the company reported losing up to $3 billion a year because of stocking problems. Additionally, the increase in consumer concerns around the treatment of Walmart workers and legal problems related to potential violations of the Foreign Corrupt Practices Act and federal labor laws are seen as hurting company sales.
A new poll of consumers, released by Lake Research Partners Friday, confirms that concerns about Walmart's pay and treatment of workers are influencing shopping habits. According to the survey, 25 percent of Walmart's most loyal customers are shopping there less because of the company's treatment of workers. In addition, among the 27 percent of consumers who rarely or never shop at Walmart, 36% say it's because of "poor treatment of workers," and 26% say it's because Walmart "pays workers too little."
"Walmart's reputation as a low-paying employer is becoming a growing problem for the company's bottom-line," Lake Research concludes. "The good news for Walmart is that over a quarter of consumers confirm that if Walmart's treatment of workers improved, their likelihood of shopping at the retailer would increase."
OUR Walmart, the three-year old organization of Walmart associates, has been raising concerns about the company's illegal retaliation, low pay and erratic scheduling. The group is calling on CEO Doug McMillon to publicly commit to paying workers a minimum of $25,000 a year, putting an end to part-time and temporary work and ending the retaliation against workers who speak out. The group says the Walton heirs – America's richest family – have led the company to a low point, defined by the hardship they are creating for working families, the inexcusable lack of oversight of its supply chain and alleged bribery and subsequent cover-up.
Speaking from the floor of the shareholders meeting on proposal #4, which calls for an independent chairman of the board, Walmart associate, shareholder and OUR Walmart member Charmaine Givens-Thomas pointed out the connections between staffing problems and customer service concerns:
"We do not have enough trained associates in our stores to keep our shelves stocked. Backrooms are piling up because there aren't enough people to get things on the floor. So we struggle to deliver the customer service we pride ourselves on. And without excellent service, sales suffer. Our company must invest more in associates and give them the respect they deserve, so we can be even more productive, which benefits us as associates and shareholders. We need a leader at the top who thinks only of what is best for our company, its associates and all shareholders."
Dr. Iva Carruthers, with the Congregation of Sisters of St. Agnes and Zevin Asset Management, will spoke at the shareholders' meeting oneak on proposal #6, which asked Walmart to provide a report on its lobbying expenditures. She questioned the room questioning the company's possible lobbying efforts around food stamp cuts and the minimum wage:
"As shareholders, customers, and citizens, we are concerned that Walmart may be putting money behind policies that harm our company's image, threaten its bottom-line, and compromise the value of our shares. For example, some of Walmart's sales come from food stamps used by both Walmart associates and customers. We need to know if our company's lobbying efforts supported food stamp cuts that led to lower sales.
Walmart moms, some of whom had been on strike for a week, shared their concerns on the 10 top things to understand about the company's health outside the shareholders meeting last week.
"The call for change at Walmart is the loudest it has ever been," said Moronica Owens, a Walmart mom paid less than $25,000 a year – like the majority of Walmart workers. To make sure her son has enough to eat, Moronica skips meals herself. "We feel like change is really possible – and it couldn't be more urgent. Our resolve to improve jobs at Walmart is strengthened by such a diverse group of shoppers, investors, and associates joining us in the calls for change at Walmart."
A new report from the independent public policy organization Demos argues that Walmart could use the $6.6 billion it spent on repurchasing stock in 2013 to instead invest in its 825,000 workers making less that $25,000 per year, putting an extra $5.13 an hour in their pockets.
Photo: Brennan Linsley/AP