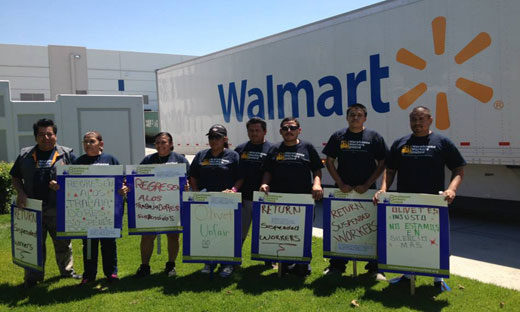 MIRA LOMA, Calif. – Some 568 workers who toiled in a Mira Loma, Calif., warehouse for Schneider Logistics, a subcontractor that handles Walmart's goods, will share in a $4.68 million class action settlement of their claims for unpaid wages for meal times, break times and denied overtime, a federal judge ruled on Dec. 4.
U.S. District Judge Christina Snyder ruling means that Schneider, the warehouse owner, must actually pay the workers $3.03 million. The rest goes to attorney's fees and to reimburse California for its probes into the wage-and-hour violations at the warehouse.
"Over five years workers were shorted overtime and regular pay, they were denied rest breaks and meal breaks as required by the law and the company failed to keep accurate records or to provide itemized wage statements," said Warehouse Workers United, the union-supported organization of warehouse workers nationwide that handled the case. The settlement also orders Schneider to obey the law.
Schneider even forced workers to sign waivers promising not to complain about the shorted overtime meal and rest breaks. The settlement kills the waivers, too.
The Schneider case is the latest win for warehouse workers in their multi-state campaign to force Walmart and its contractors to obey labor law, and provide decent wages and working conditions. The Walmart workers' drive in turn is part of a larger nationwide effort by low-wage workers to achieve living wages and the right to organize.
Walmart was not a part of this case, even though Schneider's warehouse exclusively handles goods for the retail mega-monster, known for its low wages, lousy benefits and rampant labor law-breaking. Walmart itself has had to repay workers for unpaid overtime and break time in many states.
And the retailer is not out of the woods yet with its warehouse workers. A federal judge handling a pending case against Walmart involving another California complex ruled in Jan. 2013 Walmart is a joint employer there and can be liable for violations.
"The brave workers who came forward to expose a deep pattern of abuse and fraud in Walmart's contracted facility risked their jobs and their livelihoods, but today they are vindicated," said Warehouse Workers United Director Guadelupe Palma.
"Like courageous warehouse workers across Southern California's Inland Empire …plaintiffs in the federal lawsuit helped end a years-long practice by Schneider, one of Walmart's largest contractors, of shorting pay checks of hundreds of workers," she said. Schneider also must change its employment practices, starting with "a normal schedule of five eight-hour workdays."
Photo: Warehouse Workers United Facebook page