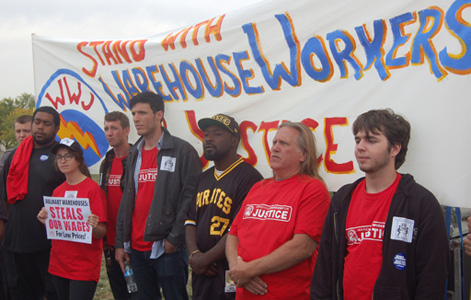 ELWOOD, Ill. – In what is being described as a historic victory, 38 workers at Walmart's largest distribution center in North America ended their 21-day strike and have returned to work. They will receive full pay for the duration of the strike.
The workers won an agreement from Roadlink Intermodal Logistics, the principal hiring agency at the warehouse. The company agreed to end illegal retaliation against the workers after they protested against wage theft and dangerous working conditions.
Striker Ted Ledwa said, "With this victory, we forced the company to respect our rights. We showed that when workers are united, we can stand up to the biggest corporations in the world and win."
The non-union workers walked out on Sept. 15 after they presented a list of demands to Roadlink to end wage theft, unsafe working conditions, and racial and gender discrimination. Management rejected the demands and threatened the workers. A foreman tried to scatter the workers by running a forklift through the group.
After four workers were fired, the rest walked out.
The strike and the worldwide solidarity spotlighted abuses at the Walmart owned warehouse. Six unfair labor practice lawsuits have been filed against operations there.
On Oct. 1, several hundred supporters joined the strikers in front of the mammoth warehouse in the nation's largest intermodal hub. Fourteen clergy, community and labor leaders were arrested blocking the entrance, which shut down operations for several hours.
On Oct. 5, a petition with 100,000 names supporting the strikers was delivered to Walmart and demanding the company end the abuses there. Apparently, the negative publicity was too much and on Oct. 6, Roadlink backed down.
Walmart warehouse workers routinely work in temperatures exceeding 120 degrees in the summer. The workers are routinely cheated out of wages. They have no set schedule, working a couple of hours or as many as 17 hours in one day. They are constantly being pushed to speed up, lug 250 lb boxes and use broken equipment constantly risking injury.
Women workers have charged sexual harassment and African American and Latino workers have charged discrimination.
The strike in Elwood is part of a national outbreak of actions at Walmart warehouses including a strike in the Southern California warehouse and a one-day walkout by workers in 12 stores in the Los Angeles area against unfair labor practices.
The Elwood workers, backed by the Warehouse Workers for Justice, vowed the fight would go on to correct the abuses and win a union.
Photo: John Bachtell/PW