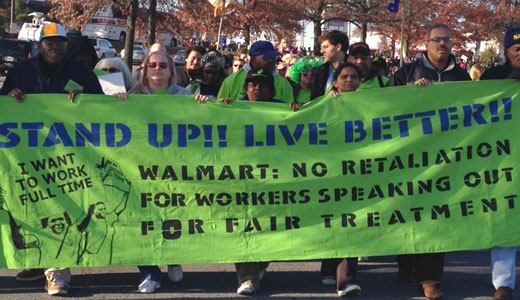 PORT ANGELES, WA. – Nearly 100 supporters joined Walmart workers who walked out on strike, here Nov. 23. They joined a picketline in front of the store chanting, "What do we want? Respect!" and "Walmart, Walmart, you're no good! Treat your workers the way you should."
The walkout in this papermill town was one of dozens against the retail giant across the nation protesting Walmart's bully tactics aimed at silencing the "OUR Walmart" worker upsurge.
It was a dreary day after Thanksgiving with sullen clouds hanging over Mount Angeles. Yet the strikers' spirits were high. Many couples brought their young children who walked with the picketers carrying bright green helium balloons.
In the crowd were members of the United Food and Commercial Workers (UFCW), International Brotherhood of Teamsters, and other unions. MoveOn members from Clallam County and Jefferson County joined the march.
The strikers carried signs charging Walmart with unfair labor practices for firing or otherwise punishing workers who dared to speak out against the company's employment practices.
Edythe, a 15-year veteran worker at the Port Angeles Walmart store said, "This picket line is for the thousands of Walmart workers who are going out on strike and the thousands more who are afraid of losing their jobs if they speak out."
When she began working at Walmart, Sam Walton, then Walmart's CEO, paid time-and-a-half to any worker working on Sunday. After Walton died, "that was cut to a dollar-an-hour extra for Sunday work," Edythe said. "It's the same for shift differential. Anybody hired after January 12 of this year does not get that 50 cents per hour shift differential."
Walmart claims the average pay for their employees is $12.85, she continued. But a recent analysis proved that the average Walmart worker is paid only $9.04 per hour—less than the minimum wage in Washington State. "That is not a living wage," Edythe charged. Walmart reported profits of $16 billion last year.
Elena Perez, a leader of the Making Change at Walmart Puget Sound Coalition told the World, "This is a national campaign. A coalition is building across the country to hold Walmart accountable. One of our main goals is to support the workers, to make sure that management knows that we will stand by the workers. These are our neighbors and retaliating against our neighbors will not be tolerated. We're not going away. As long as these workers stand up, we're going to stand up with them."
Dave Schmitz, President of United Food and Commercial Workers Local 21 in Seattle, came with a dozen other UFCW workers to show support for the Walmart workers in Port Angeles. "You think of everything that has happened over the years. These are some of the most courageous, the bravest workers I have ever known taking on this retail giant."
He pointed out that Walmart filed a lawsuit with the National Labor Relations Board against the UFCW. "They claim this is a 'union recognition' fight when in reality it is workers taking a stand against the company's retaliation" on workers exercising their freedom of speech."
Schmitz said it is a sign of Walmart's panic that in one store they expelled Walmart shoppers mistaking them for protesters. There were walkouts by Walmart workers in Mount Vernon, Renton, and Seattle as well as in California, Colorado, and in Florida where one protesting worker was arrested.
When Schmitz and other protesters arrived at the vast, half empty parking lot, the Walmart chief of security walked up and told them they were trespessing. "This is a strike and federal law allows pickets on company property during a strike," Schmitz replied. The Walmart security chief threatened to call the county sheriff. A half hour later, sheriffs deputies arrived. But they did not order the picketers to vacate the premises.
The picketline continued, loud and clear, in front of the Walmart store.
Photo: OURWalmart Facebook