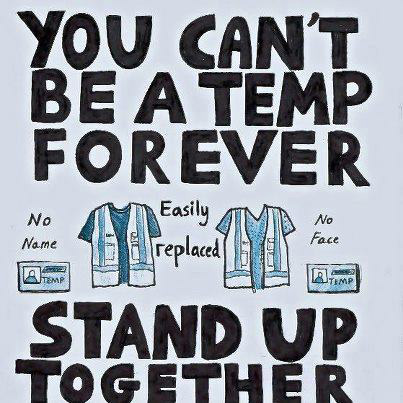 CHICAGO – The other shoe – the legal one – has dropped in Wal-Mart's constant low pay and bad benefits for its workers: 20 temp workers in a Chicago-area store sued in federal court for unpaid wages.
The class action complaint, filed Oct. 22, said Walmart and two staffing agencies, QPS and Labor Ready, required workers show up early for work, stay late, and work through lunch at the world's largest retailer, all unpaid, among other violations.
Sometimes, workers toiled so long their hourly pay didn't end up meeting the minimum wage. Other times, they'd be called in but kept on stand by, not getting paid the state-required 4-hour minimum wage. That also deprived them of the chance to seek other work those days.
The suit says the affected workers are among a group of 20-30 temps the two staffing agencies summoned to work at the Walmart store in suburban Crestwood. The law breaking there began three years ago, in October 2009. The suit said their class could include temp workers at other Chicago-area Walmarts.
The workers seek unpaid overtime, pay covering the difference between what they actually got and Illinois' minimum wage, damages and a court injunction banning Walmart – legally considered a "joint employer" – and the staffing agencies from further state and federal wage and hour labor law-breaking. No trial date has been set yet.
Walmart and the staffing agencies broke state law, written to protect such temp workers, the suit said. The retailer and the staffing firms "failed to provide laborers assigned to work at Walmart stores and other third party client companies with information related to their employment, such as Employment Notices and proper Wage Payment Notices" as well as work verification forms the law requires.
Walmart and the agencies also "required laborers to appear early for work, stay late to complete work, work through lunches or breaks and/or participate in training without compensation, resulting in minimum wage and overtime violations. Walmart also failed to keep accurate records of its laborers' work time as required by federal and state law," the suit adds.
The store workers' suit follows a successful 3-week strike by workers at Walmart's huge distribution center/warehouse in Will County, south of Chicago. Those workers forced the firm to take them back without retribution and to address working conditions. Walmart workers at warehouses in Southern California and at stores scattered around the country have also walked out, all protesting pay, working conditions and Walmart's refusal to address employee grievances.
Photo: Warehouse Workers for Justice, Facebook page.