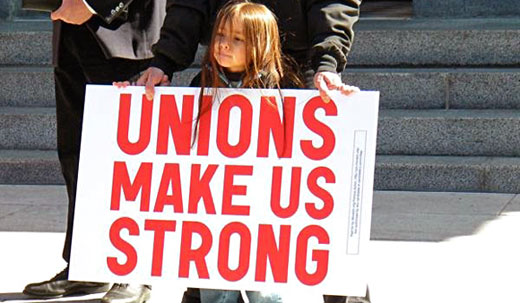 Want to raise your pay? Prefer to get to and stay in the middle class? Then the most economically wise move you can make – especially if you're a woman, a minority-group member, or both – is to organize and join unions.
But you don't have to take our word for it. Just look at the annual data compiled by the federal Bureau of Labor Statistics.
The BLS data on the union difference accompany its annual report on union density in the U.S. Both are based on a survey of 60,000 households. And, of course, there may be errors in the data. But BLS says it's more than 90 percent confident its results would mimic those of the entire nation if it could it ask all 310 million of us its questions.
The differences are stark, and we'll spell them out. Ready for the numbers?
* In 2011, the median weekly income of all 125,187,000 workers was $756. That's the point where the workforce splits: Half above, half below. The median weekly income of all 14.8 million unionists was $938. That's 24 percent above the overall median and 29 percent above the $729 median weekly income for all non-union workers.
* The median weekly income of a male unionist – all eight million of them – was $982 last year. That's 18 percent above the 2011 median for all male workers ($832). That's one hundred and fifty bucks extra per week in your pocket, 52 weeks a year. It's also 23 percent above the median ($798) for non-union male workers.
* The median weekly income of women unionists – there were 6.9 million of them last year – was $879. That's 28.5 percent above the median for all woman workers ($684) and 34.6 percent above the median for non-union female workers ($653). In short, female union workers earned $4 for every $3 earned by their non-union sisters.
* There's still a "wage gap" between men and women, even among unionists, but it's a lot narrower than the gap between non-union men and women. The median weekly wage for union women is 89.5 percent of that of union men – and the median for union women is higher than the median wage for non-union men. The male-female wage gap for non-unionists? 81 percent. Want less pay discrimination on the job? Join its union.
* The median weekly income for African-American male workers was $653. For African-American male union workers it was $802, or 23 percent higher. If white men are the "yardstick" by which other workers' wages are measured, the gap becomes a chasm.
The typical white male worker – union and non-union combined – had a median weekly wage of $856 last year. The black male unionist earned 94 percent of that. The black male non-unionist earned $619 (72 percent). See what we mean by the union advantage?
* Now let's do the same drill for African-American women. Female union workers earned $744, or 87 percent of that white male's "yardstick." Non-union African-American women earned a median of $577 weekly, or 67 percent of the white male wage.
There's quite a difference between earning seven dollars for every eight earned by the most privileged group and earning two dollars for every three that the privileged earned.
* Want even more evidence? Let's run the same drill for Hispanic-named workers. Take a look at the white male median weekly wage figure again ($856). The Hispanic male unionist earned $859, or 100.4 percent of that. Yes, you read that right. The male Hispanic unionist earned more than the typical white male, if you combine union and non-union white men. But the Hispanic male non-unionist was far behind: $538 (63 percent). That's not a wage gap. It's an abyss: Just short of $16,700 a year.
Any male Hispanic worker would love to get a raise like that – and so would anyone else. And he can, if he organizes and joins the union. The median weekly wage for a Hispanic woman unionist was $743, or 87 percent of the white male's wage. Yes, there's still a wage gap, but not the yawning chasm you see between the median weekly wage of the white male and the Hispanic non-union woman worker. She earned $501 weekly – 58.5 percent of the white man's median weekly wage, and dead last among all the subgroups.
We could go on and on, about how unionists, white and non-white, are more likely to have employer-paid health insurance, pensions, etc., etc., but we don't think we need to belabor the point.
If you want to get ahead, if you want a middle-class family-supporting wage, your best ticket is to join the union.
Now go show this column to your non-union neighbors.
Photo: SEIU Local 1000 members joined a rally at the California State Capitol in Sacramento in solidarity with Wisconsin workers, February 28, 2011. Photo via SEIU.