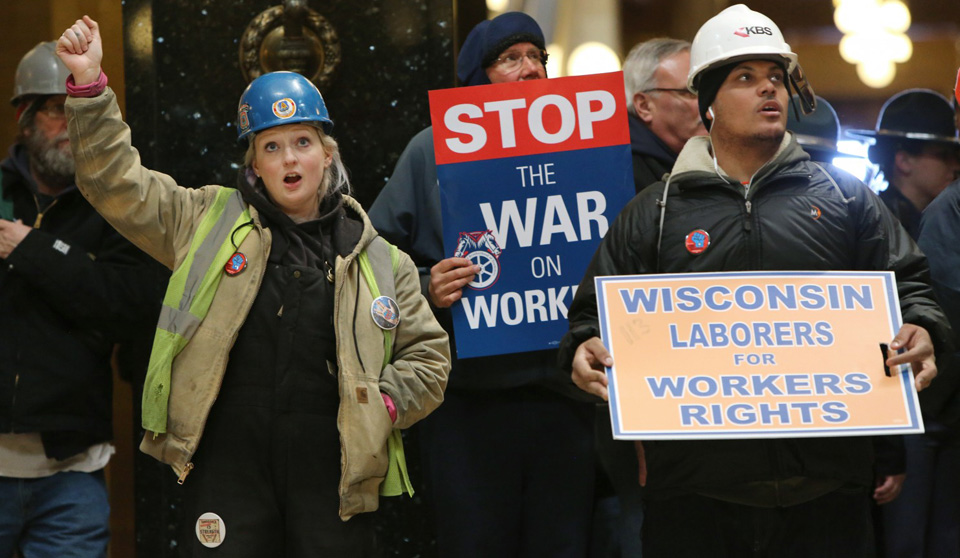 Working people in Midwest states that have been captured by the right wing are redoubling their efforts to preserve their rights.
It took long, hard struggles to win the right to bargain collectively, to be protected against the whims of management and to be assured of receiving the wages and benefits needed for a secure future.
Now right-wing legislators, particularly in Midwest states where working people once had a strong voice, are trying to undo all that organized labor has won.
The war against workers is getting more vicious every day. The fight back is growing stronger every day, too.
The current battles underscore the importance of replacing right-wing, pro-corporate state and local lawmakers with representatives who are accountable to their constituents, most of whom are working people. The front lines in the battle to protect workers' rights are in state capitals as much as they are in the nation's capital.
Here are reports from the front:
MISSOURI
By an 89 to 60 party-line vote, the GOP-run Missouri House approved HB 104, a bill to repeal the state prevailing wage law, which sets standards county by county, trade by trade, for the wages earned by construction tradespeople working on jobs subsidized by state funds. The prevailing wage law also requires contractors to follow job safety regulations.
If the Missouri Senate passes the bill, contractors will be free to pay as little as they can get away with.
Tim Rowden reports in the St. Louis Labor Tribune that when it came time for final debate, the Republican House Speaker ignored Representative Douglas Beck's request to speak against the measure. Beck is the ranking Democratic member of the House Economic Development Committee.
Rowden reports that "To fight back against the repeal effort, the St. Louis-Kansas City Carpenters Regional Council has been running TV ads featuring contractors and members talking about the issue."
Union representatives have also been working hard to convince state senators to save prevailing wage.
Meanwhile, first-term GOP Governor Eric Greitens, a staunch right-winger, recently signed an anti-union "right to work" (for less) law. To fight back, the state AFL-CIO, the state NAACP, and other civic and community groups are petitioning to hold a statewide referendum on the issue.
However, the GOP is attempting to make holding referendums very difficult.
IOWA
Takeover of the previously Democratic state senate let the now totally Republican-run Iowa government push through several anti-worker measures. The one with the biggest impact trashed the collective bargaining rights of Iowa's public workers, represented by the American Federation of State, County, and Municipal Employees (AFSCME).
Under the new law, about 180,000 state and local government workers are prohibited from negotiating over issues including health insurance, seniority and pay. The legislation also leaves in place a provision that prevents workers from going on strike. And it includes components that make it more difficult for unions to collect dues.
The Iowa lawmakers, facing an April 18 adjournment date, are also considering legislation to bar state and local governments from mandating Project Labor Agreements (PLAs) for publicly-funded construction projects. PLAs require that all contractors bidding on jobs agree in advance to adhere to standards of pay and working conditions.
ILLINOIS
Thanks to a strong labor movement, the Illinois legislature remains in the hands of pro-worker Democrats. As a result, the state House of Representatives has been able to beat back two attempts in two years by Republican Governor Bruce Rauner to enact "right to work" (for less) laws.
Legislators also rejected a measure by a right-wing "policy institute" to bar unions from obtaining members' Social Security numbers.
WISCONSIN
Ruling on a lawsuit brought by Machinists Local Lodge 1061 of Milwaukee, Steelworkers District 2 of Menasha and the Wisconsin AFL-CIO, Dane County Circuit Court Judge William Faust ruled that right-to-work laws amount "to the government taking union funds without compensation."
While unions' monetary losses "today could be characterized by some as minor," Faust wrote, "the impact of the law over time is threatening to the unions' very economic viability."
Wisconsin State AFL-CIO President Phil Neuenfeldt called Faust's decision "a needed check on [right-wing Republican Governor] Scott Walker's attacks on working families."
Neuenfeldt continued, "Right to work has always been unjust. Now it's proven unconstitutional." Walker's attorney general said the state would appeal Faust's ruling.
Meanwhile, Gov. Walker again this year tried to jam a host of right-wing proposals into his most recent budget blueprint, the same tactic he used several years ago to enact his union-busting Act 10. That law brought up to 100,000 protesters into the streets of Madison in subzero weather.
Thanks to workers' organizing, the GOP-run state legislature's Joint Finance Committee balked at Walker's plan to repeal prevailing wages for construction workers, his plans to bar municipalities from using PLAs, and his scheme to weaken due process rights for workers who suffer job discrimination.
On the other hand, Neuenfeldt said, Walker was successful in "tying increased public school funding to a full compliance with the union-busting Act 10 requirements."
Walker also got his way in the elimination of court reporters for workers' compensation cases, making it easier for anti-worker officials to lie.
MINNESOTA
After the Twin Cities voted to enact paid family and parental leave in the Minneapolis-St. Paul metro area, the GOP-run state House passed by 76 to 53, along party lines, a "pre-emption bill," to yank all local powers over wages and benefits away from Minnesota municipalities.
The bill also retroactively rescinds the Twin Cities' earned sick and safe time ordinances, depriving 150,000 people of paid leave when they are ill or need to care for a loved one. Even if the state Senate agrees, Democratic Governor Mark Dayton is expected to veto the measure, according to the Workday Minnesota newspaper. Nevertheless, after the House voted for pre-emption, workers vowed to keep organizing against it.
"This bill is a clear attempt to silence the communities of color that have been relentlessly organizing for paid sick time and higher minimum wages in an effort to close our worst-in-the-nation racial disparities," said Rod Adams, of Neighborhoods Organizing for Change. "This bill comes straight from corporate lobbyists to take power away from communities of color and give it to corporations. But we will not be silenced."
OHIO
Republican State Senator Matt Huffman has introduced SB72, a bill to make the state's prevailing wage law optional for municipalities.
"If Huffman's bill passes, municipalities will no longer be required to go with the lowest and best bid, but just the lowest bid," Dorsey Hager, executive secretary-treasurer of the Columbus/Central Ohio Building and Construction Trades Council told Matt Jaworski of the Labor Citizen.
"This will result in a sub-standard quality of work that will cost more in the long run," Hager predicted.
Meanwhile, Republican State Representative John Becker and 12 GOP co-sponsors launched the latest attempt to make Ohio a right to work state. Becker introduced the same bill last year, but it died.
GOP Governor John Kasich says right to work is not on his agenda.
Ohio unions are strongly lobbying against the bill to make prevailing wage optional and the move to turn Ohio into an anti-union "right to work" state.
Right to work "is an attack on the voice of workers that puts more money in the hands of corporations," Neil Douglas, president of Machinists Local 1943, told a rally in Middletown.
"We can't have that, and we're going to oppose it at every level."