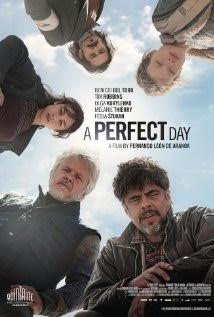 ZÜRICH, Switzerland – Madrid-born director Fernando León de Aranoa's A Perfect Day stars Tim Robbins (1994's The Shawshank Redemption, HBO's 2015 series The Brink), Benicio Del Toro (the Puerto Rican actor portrayed guerrilla Ernesto Guevara in 2008's Che), and Olga Kurylenko (the Ukrainian-born beauty played the Bond girl in the 2008 007 thriller Quantum of Solace) as beleaguered NGO workers entangled behind the lines of a combat zone during the final days of former Yugoslavia's warfare. Not only does the film show that war is hell, but is also a bureaucratic nightmare, as UN peacekeepers, plus combatants, try to stop the international do-gooders from assisting embattled civilians.
Robbins' world-weary, affable character, called B, is a jaunty, somewhat spacey NGO veteran who strives to maintain a sense of humor amidst encounters with landmines, hanged civilians of the "wrong" ethnicity and more. It's cool to see one of America's top peace activists co-star in an antiwar film. Check out the October issue of The Progressive magazine to read my interview with Robbins.
Krigen: Melancholy Danes embroiled in Afghanistan
Scandinavian writer/director Tobias Lindholm's Krigen, about the Danish contingent fighting in Afghanistan, shows how war affects not only soldiers on the frontlines, but their families back at the home front, plus civilians caught in the crossfire between NATO troops and the Taliban. Shot with great realism, Krigen is largely about the Danish unit's commanding officer on the ground, Claus Michael Pedersen, sensitively played by Johan Philip Pilou Asbæk, who also co-starred in Lindholm's exciting 2012 A Hijacking (aka Kapringen) and as the spin doctor Kasper Juul on the superb 2010-2013 Danish TV series about Denmark's first female prime minister, Borgen, which Lindholm also wrote for.
At least two other Borgen alums co-star in Krigen, including Dar Salim (Borgen's Green Party MP) and Søren Malling (Borgen's TV news producer), who portrays attorney Martin Olsen, representing Pedersen, charged with war crimes after a heated firefight in an Afghan village. As Krigen demonstrates, these melancholy Danes would have been better off if their government had pursued Denmark's historic neutrality policy, instead of becoming embroiled in NATO and its meddling far from Copenhagen.
For more information see: http://zff.com/en/home/.
Photo: "A Perfect Day (2015 film)" by Source (WP:NFCC#4). | Licensed under Fair use via Wikipedia.