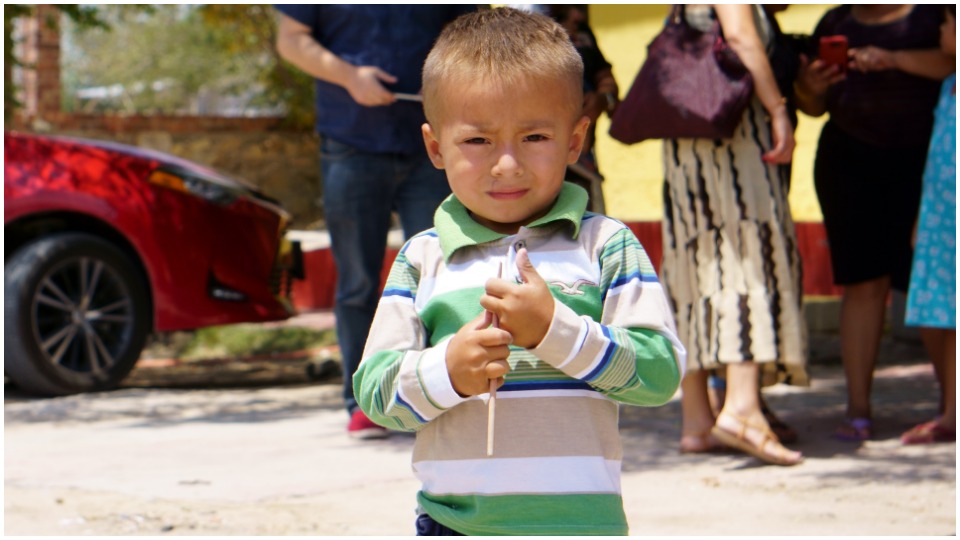 This article is part of the People's World "On the Border Series," which won a first place prize in the Best Series category at the 2020 Labor Media Awards, presented by the International Labor Communications Association.
People's World correspondent Al Neal spent the summer of 2019 in the field reporting from sites all along the U.S.-Mexico border. In his dispatches, you get a view of the towns and people caught up in Trump's "border crisis." This is the first half of an article detailing his visit to a refugee camp in Ciudad Juárez, Mexico. Earlier installments in the People's World Border Crisis series can be read here.
How do you define war?
The dictionary says it's "a state of hostility, conflict, or antagonism; a struggle or competition between opposing forces, or for a particular end."
Sitting inside churches, on uncomfortable wooden pews, we hear weekly of the spiritual war raging between Heaven and Hell, good versus evil, and the fight to save our mortal souls—this is easy to visualize.
But war goes beyond a state of being the visible armed conflict between enemy combatants, each feeling justified in their actions. It is a state of mind, an attitude.
It is an attitude our current commander-in-chief puts on display at rally after rally, puffing out his chest, clapping at his own presence, never once considering the human cost of his policies and daily antics.
The truth is this: The crisis at our border is nothing less than a war against humanity.
And it is one affecting families—parents who have sacrificed everything to escape the nightmare they've lived in. Parents who are earnestly entrusting their children's future to the kindness of the United States. It's their singular hope.
Yet, we consistently struggle to label the migrant crisis at our southern border correctly, choosing instead to throw out terms like "illegal," "criminal," and "invaders."
"We have people coming into the country or trying to come in, we're stopping a lot of them, but we're taking people out of the country. You wouldn't believe how bad these people are," said Trump, "These aren't people. These are animals."
Animals
The only animals I see are those found within the opulence of the White House.
With soldiers deployed on both sides of the U.S.-Mexico border, detention camps being built alongside, and psychological torture, first seen in Afghanistan, being used on migrant and asylum-seeking detainees—how can this not be considered war?
If you need further proof, look at the July 15 move made by the Trump administration which effectively ended asylum for any migrant who arrives at the U.S.-Mexico border—a move targeting "the enemy," Central American families, as it bans anyone other than Mexican residents.
Luckily, Judge Jon S. Tigar of the United States District Court in San Francisco issued a temporary block against the new rule.
Of course, the administration will appeal the decision, as it has with all the other legal losses dealing with immigration.
It is just one of the many moral battles taking place as countless lives hang in the balance.
One day, when peace returns to this cruel modern world, I would like to go back to our southern border and tell a stranger who's never seen it before, what it looked like in the summer of 2019.
********
It was 11:15 a.m. in the city of El Paso, Texas.
I had just spent the last hour inside the Border Network for Human Rights office, along with correspondents from several other news outlets, watching and listening to BNHR's scheduled press conference, anxious to cross the border with the aid caravan.
The press conference could be summed up with one quote from Fernando Garcia, executive director of BNHR: "In 2016, it was 'Build the wall,' today the chant is 'Deport them all.'"
I won't go into further detail about the press conference. As I've said all along on this journey, it isn't about politics or talking points, it's about people.
********
"Are you going with us?" asked Chaplain Ozzie H., a pastor with the Seventh Day Adventist church.
"I am. Do you mind if I ride with you?"
"Not at all, hop in."
At 11:25 a.m., the city was a blur of color and steel. There were three trucks ahead of us, and two behind. A total of six vehicles loaded with food, water, baby formula, diapers, and an assortment of hygiene products.
We were heading across the border into Ciudad Juárez, Mexico. Our destination was one of the migrant and refugee camps set up to house families waiting for their U.S. asylum court hearing date.
The click-clack of the truck's hazard blinkers was the music we listened to.
"This is my first time across the border," Ozzie said. "Most of the aid work I've done has been with families and people who have been released from Customs and Border Patrol detention."
"What has the experience been like?" I asked. "What condition are migrants and asylum seekers in when they reach your respite center?"
"It is heartbreaking…absolutely heartbreaking," he said while wiping away tears. "We should all be ashamed…as Christians in a 'Christian nation'…there is no way Jesus Christ would be ok with this—he was a refugee in Egypt as a baby, too."
He continued: "Just a few days before this trip, I was helping a mother and her baby from Honduras, and I couldn't believe what she was telling me. After they were detained, they were put into a cold room—an extremely cold room, and left there for 14 hours, to the point where her lips had begun turning blue and her baby's cough worsened. She said she almost passed out. They called for help, but no one came. When an officer finally showed up, they were processed and tossed into a room with 300 other people. There was no space, no water, no food. She was there for five days before being released and dropped off at a bus station and left to find her way home."
We sat in silence for the rest of the drive. Our eyes focused on the border crossing, watching CBP officers and Hispanic construction workers place new razor wire on the remaining bare spots over the bridge.
Ozzie looked at me with surprise. "There's no checkpoint? Nothing?"
"Nope, it's much easier to get across than it is to come back."
Ciudad Juárez lies 10 miles south of El Paso. It is the most populated city in the Mexican state of Chihuahua, with an estimated 1.5 million people and was the filming location for the movie Sicario with Benicio Del Toro.
The skyline looked no different from what you saw in El Paso, and again, it's hard to tell where the U.S. ends and Mexico begins when you initially reach the other side of the bridge.
The streets were cracked, dusty, and filled with potholes, making the next 30 minutes of the drive quite jarring.
"Quick, look over there," Ozzie said, hurriedly pointing to the left. "Soldiers."
All along the southern wall, Mexican soldiers equipped with flak jackets, assault rifles, and camouflage were scattered on patrol. You had to look closely at the trees and bushes to find them. Most were positioned out of sight to snatch up anyone attempting to jump the wall. In areas where there was minimal natural landscape, these military patrols stood watch facing the street—a minor deterrent.
Once we made it closer to the center of Juárez, the modern skyline and comfort found there were replaced by abandoned homes, burnt-out shacks, boarded-up businesses, and dirt roads.
We took a sharp left into what seemed like an uninhabited area and continued for another ten minutes. The dust kicked up badly and we had to slow down to keep the caravan in sight and together. It was another left turn, followed by a sharp right, coffee-spilling bump before we arrived at our destination.
We pulled into what was once an abandoned housing complex. As the dust settled, we began to see the faces of small children and their parents peering out the broken windows before slowly treading outside to see what the commotion was about.
I stepped down from the truck and heard the sounds of "Hola" (hello) and "Bienvenido" (welcome). The squeak of a rusty swing set reached my ears as I turned to see two little girls start swinging again—now that we were viewed as friendly.
"Ok, let's get the supplies out here," said one of the volunteers, opening the trunk of the lead vehicle, pulling out a pack of Huggies diapers.
Looking into the complex, there was a large, two-story housing unit to the left with about eight rooms total. A medium-sized, one-story home with three rooms stood to the right as well as six smaller homes with two rooms each laid out in a semi-circle.
The roads inside were unpaved. Mostly dust and gravel. In the middle of the complex was a small play area cordoned off by car tires buried into the ground. A two-person swing set to the right, and a soccer net—missing the net, to the left. Clotheslines connected each home and were all filled with recently washed garments.
There was no electricity, no running water, no air conditioning, and only three gas cooking stoves for the 75 families calling it home.
"Most of the time we collect wood scraps and build campfires if we have food to cook," said a young Honduran male, too shy to give his name, and too scared—I don't blame him.
Inside each home, there was close to nothing. Some homes had chairs and tables but no floor pads to sleep on. Others sleeping pads and nothing else. Bathrooms were fly-infested. Jugs of brownish water were set in the shower, along with wash rags. The sinks and showerheads were useless.
There was also no protection from the elements. Most of the homes were missing doors, windows, or had gaping holes in the roof. The windowpanes that did exist were likely shattered, creating a safety hazard.
What struck me most was the number of children under ten.
This temporary waiting area for refugees was made up of mostly children and their parents. An indescribable sadness was found in each of their eyes. In the eyes of their parents, meanwhile, I saw fear, anger, and desperation—they were only doing what's best, or what they hoped would be best.
"Is there anything they can do here to improve the situation?" asked one of the new volunteers. "Will they be able to get jobs?"
"No, they're stuck," the BNHR translator said. "They can't leave because they could be picked up by Mexican authorities, or worse, members of the cartel."
Mexican police drove by every so often, making sure "everything was safe and quiet."
We all saw and understood what Garcia and BNHR meant when they said Mexican authorities were lying about their ability to provide refugees proper care and shelter inside their borders.
They're not stuck, I thought to myself. We forced them here, and their suffering is on our hands.
Shouts of "Mothers with small children to the front!" brought me back to reality.
Plastic foldout tables had been set up and were now filled with supplies. Each parent was given one blue plastic bag to fill up as much as they could, their children hanging onto their legs, or holding their hands.
A prayer and blessing were given by members of the SDA clergy. I bowed my head and watched as tears stained cheeks and arms reached up to the heavens. Their voices murmured in supplication: "Dear God, deliver us safely."