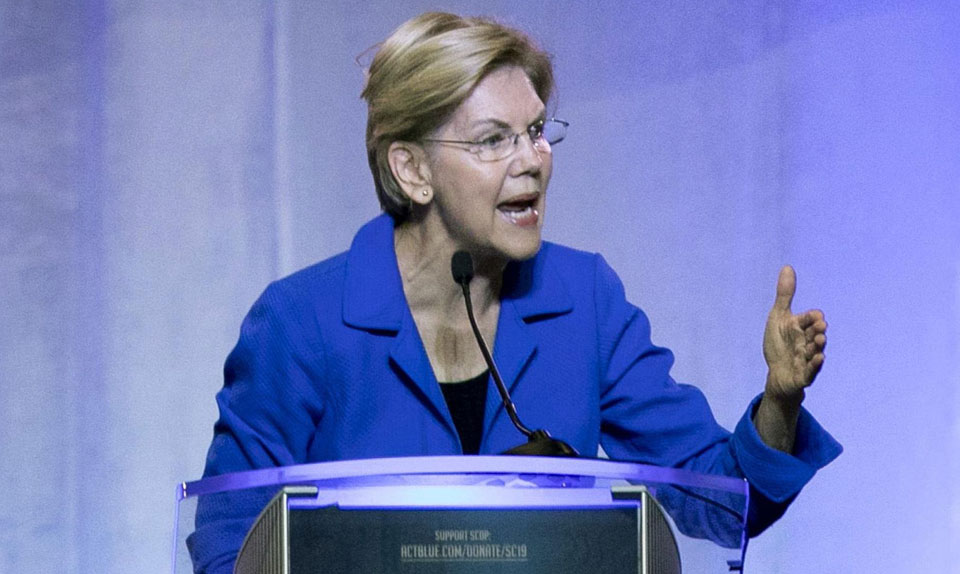 COLUMBIA, S.C.—Abortion restrictions in right-wing Republican-run states – including nine virtual bans passed this year – are a "class attack" and a "race attack," especially on low-income women, Sen. Elizabeth Warren, D-Mass., says. And so does Sen. Cory Booker, D-N.J.
"What's going on in this country right now is not just an attack on women," Warren said at Planned Parenthood's June 22 "We Decide" forum for presidential hopefuls, in Columbia, S.C. "It's an attack on women who have fewer resources. It's a class attack on women. It's a race attack."
Warren's outspoken linkage came as 20 of the 24 Democratic presidential hopefuls answered questions about their abortion stands. Her comment drew a large cheer and sustained applause from the crowd packed into the auditorium in the state capital of Columbia.
Booker said much the same thing, drawing on his experience as the former mayor of majority-minority Newark.
"I got into politics because there are too many communities who are being left out and left behind," he said. "And a lot of these assaults on reproductive care are really assaults on low-income women and women in marginalized communities."
All the hopefuls, including former Vice President Joe Biden – who has switched his position on abortion – support a woman's right to choose. All also went one step farther and advocated, for the first time in public, repeal of the 43-year-old Hyde Amendment. Almost all want to write the right to abortion into federal law, though they differ on when to do so.
That GOP-enacted Hyde Amendment bans the use of federal Medicaid money for abortions except in cases of rape, incest or to save the life of the mother. Several woman questioners said Hyde prevented them from getting abortions, including one who told Biden she was raped while serving in the military – and its health care system refused to pay for her abortion.
And Laurie Roberts, head of a reproductive rights group in Mississippi, said that even before the GOP-run state government enacted its ban, women came to her asking how to self-abort – using dangerous methods such as bleach. One woman told Sen. Kirsten Gillibrand, D-N.Y., that she tried to terminate her pregnancy by throwing herself down a flight of stairs.
"I am devastated that it is 2019, and I am still getting calls from women in the Mississippi Delta saying, 'Ms. Laurie, please help me because I am going to drink bleach or my friend told me to drink watered-down turpentine with sugar?" Roberts said. Roberts added the Hyde amendment also forced her to give birth at age 19.
South Carolina, which is also GOP-run, has few clinics and some abortion restrictions. It's also one of the first four small states that hold Democratic presidential primaries and caucuses early next year. Most of its Democratic primary voters are African-American and a majority of those are women, including low-income women. So access to abortion is both a class and racial issue in the Palmetto State.
Public polls show record support for a woman's right to choose. The most recent, from Quinnipiac, records 60% support, including 28% supporting no restrictions at all. Only 13% support a complete abortion ban in all cases, even when the woman is raped, a victim of incest or to save her life.
Warren, Sen. Kirsten Gillibrand, D-N.Y., and almost all other hopefuls not only want to repeal Hyde but advocated writing the Supreme Court's 1973 Roe v Wade decision legalizing abortion nationwide into federal law. Congress would have to enact both moves.
"I will guarantee that no matter where in this country, all 50 states, you will have access to safe, legal abortion procedures," Gillibrand told the audience. She also told questioners that anti-abortion GOP state lawmakers are mostly older white men, who "cannot know a minute of your experience" as mothers, poor women, and women of color.
Sen. Kamala Harris, D-Calif., would make abortion a civil right. Harris has openly campaigned for restoring federal oversight and approval – or not – of voting law changes states that historically discriminated against people of color. She would extend that federal oversight and approval of laws to states which historically restrict or ban abortion.
Sen. Bernie Sanders, Ind-Vt., noted his Medicare For All plan covers all reproductive rights, including abortion. He called the right to abortion "a constitutional right." In Roe, the justices said the U.S. Constitution's 5th Amendment includes a woman's right to privacy in deciding on whether to have children.
And New York City Mayor Bill de Blasio said the Big Apple is already ahead of everyone else: Under legislation he pushed through the city council, New York City is funding abortions.
If Congress formally legalized Roe or enacted Harris's idea, that would throw a monkey wrench into the current campaign in right-wing GOP-run red states to use their abortion bans as test cases for the justices to overturn the High Court's ruling.
Anti-abortion groups think they can succeed in their campaign because the GOP-run Senate, on party lines, seated two stridently anti-abortion justices, Neil Gorsuch and Brett Kavanaugh, giving the Republicans a 5-4 majority on the court. GOP President Donald Trump nominated and lobbied for both, as did anti-abortionists and foes of women's and workers' rights.
If the GOP-named five outlaw Roe, they would throw the right to choice for all women – not just poor women and women of color – up for grabs, state by state. The anti-abortion groups, anticipating such a ruling, are already planning state-by-state drives against the right to choice.
Some of the other hopefuls, while agreeing on the right to choice and on repealing Hyde, were not as specific as Warren, Booker, Harris, and Gillibrand on permanent pro-abortion measures. Biden was against the right to choose as recently as 2006, during his Senate career, one online commenter later noted. Biden claimed at the forum that his Senate voting record was 100% pro-choice. But he recently reversed his prior endorsement of Hyde.
Former Colorado Gov. John Hickenlooper was vague about what he would do as president while stressing his support of reproductive rights when he led the Centennial State. Former Rep. John Delaney, D-Md., supported reproductive rights but didn't answer a question about why he never co-sponsored legislation requiring every federal health care program to cover the right to choice.
Even Sanders got a sharp question, about his past endorsements of anti-abortion Democratic political hopefuls. He said the situation has changed.
"I think, right now, given the attacks that we're seeing, in recent years, on Planned Parenthood, in particular, and on abortion rights in general, I think what we can do and must do is find candidates in every state in this country and every congressional district in this country who do support absolutely a woman's right to control her own body," he said.
Kelley Robinson, executive vice president of Planned Parenthood, emphasized to the crowd that pro-choice supporters must make that their litmus test at the polls.
"Let this sink in for a minute, if every one of the 13 million-plus Planned Parenthood supporters showed up at the ballot box — if we activated our network — we would be the difference in this election," she said.
Correction: An earlier version of this article incorrectly identified this event as the "We Choose" forum. The correct name is "We Decide."