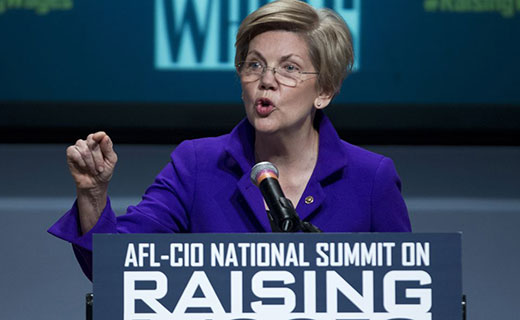 WASHINGTON – Sen. Elizabeth Warren, D-Mass., used that signature line in her Jan. 7 keynote address to the AFL-CIO's Raising Wages Summit. The fiery tell-it-like-it-is Warren says she "sees the evidence" every day "that the economy isn't working for tens of millions" of people.
Warren, elected in 2012 to the late Edward M. Kennedy's old U.S. Senate seat, has quickly carved out a role as an articulate spokesperson for workers, and she didn't disappoint the packed house at the summit. She also didn't leave her own party out of the critique.
"Republicans, and too many Democrats" backed legislation that "turned them loose to rig the market," she said of Wall Street. It ran roughshod over the rest of us, said Warren, who created, advocated and eventually forced the Obama administration to create the Consumer Financial Protection Bureau as part of the Dodd-Frank financial re-regulation law.
Congress' ruling Republicans have retaliated by trying to strip the bureau of power to stop the financial finagling that led to the 2008 crash. That won't stop Warren, even though Democrats lost their U.S. Senate majority in the 2014 election.
"Trickle-down, when all the varnish is removed, was that all the income went to the top 10 percent in the hope that it would come down" to the rest of us, she declared. Trickle-down advocates also pushed tax cuts for the wealthy, she noted.
"So what's the result? The rich are doing great. The lobbyists are doing great. The giant corporations are doing great. But we need an economy where everyone else is doing great." However, "many politicians looked the other way" as workers got hurt, she declared.
Warren urged the crowd to "talk openly and honestly about what we believe," including the fact that a rising stock market benefits only the minority that own stock and that increasing dividends for Wal-Mart owners still leave Walmart workers having to go to food pantries to feed their kids, for example. Instead, workers and their allies should believe and fight for:
That "no one should work full-time and live in poverty. Raise the minimum wage!"
The "right to come together and organize."
Equal pay for equal work. The median female worker still earns only 77 cents for every dollar the equal median male earns, data shows.
"After a lifetime, a worker is entitled to retire with dignity. That means protecting Social Security, protecting Medicare and protecting our pensions."
Investments in infrastructure "and paying for them."
"Trade policies and tax codes that will create American jobs, because we will never give up on these three words: 'Made in America.'"
Specifically, the first goal should be to "break up the Wall Street banks" that caused the crash and "remind the politicians that they don't work for the banks, they work for us." Her colleague, Sen. Sherrod Brown, D-Ohio, has introduced legislation to achieve a break-up.
Warren did not offer any specifics on how conference participants should fight for those goals. She left those details to other panels and other speakers, but she reminded the crowd that the future of the U.S. is at stake.
"I grew up in an America that believed in its future," she declared, after detailing her family's story of how it descended into poverty after her father's heart attack decades ago. Her mother took a minimum wage job just before the bank foreclosed on their house; the car had been repossessed. Her father later got a low-wage job and the family survived, barely.
"It believed in its future and it believed in its kids. If we fight today, that's the kind of America we can have," Warren declared. She got a standing ovation.
Photo: Sen. Elizabeth Warren. | Jose Luis Magana/AP