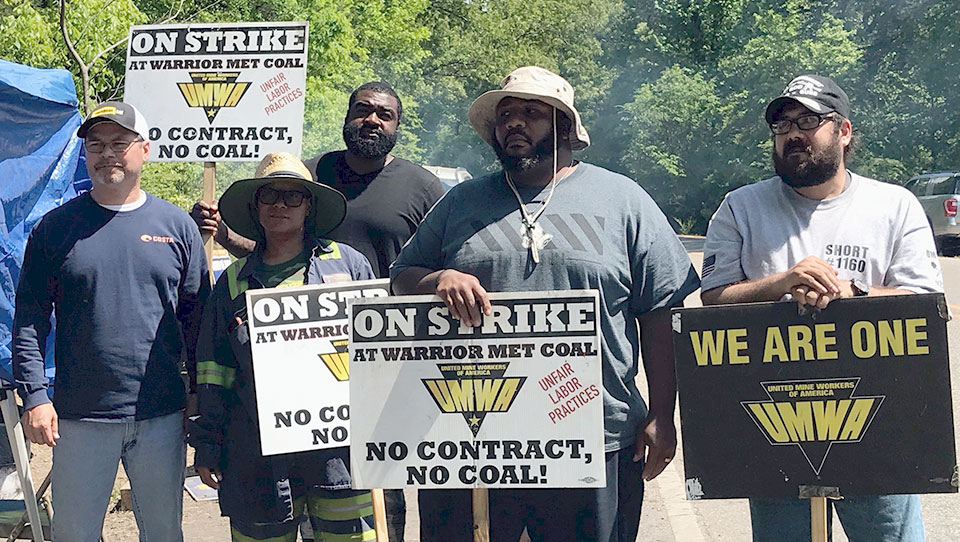 BROOKWOOD, Ala. (PAI)—Some 1,100 Mine Workers and their allies are standing strong against corporate refusal to make them whole as the strike the Warrior Met coal mining firm in Alabama forced them to call passed the 10-week mark in mid-June.
"We'll be here one day longer than y'all can stand!" the union tweeted on June 15, accompanying a video from the hashtags #warriormetcoalaintgotnosoul and #UnitedWeStand.
But the workers took their fight beyond the mine itself. On June 22, led by union President Cecil Roberts, they descended on the Manhattan offices of the hedge funds who finance and back Warrior Met—and who reap the profits.
The miners, labor, and community supporters will leaflet in front of Manhattan office buildings that house BlackRock Fund Advisors, Inc., State Street Global Advisors, and Renaissance Technologies. Stuart Applebaum, President of the Retail, Wholesale, Department Store Workers Union and Sara Nelson, Association of Flight Attendants president, are scheduled to picket, too, UMWA Legislative Director Phil Smith reported.
"These hedge funds are among several entities that invested in Warrior Met five years ago when the company emerged from bankruptcy," Roberts said. "But they insisted on dramatic sacrifices from the workers to the tune of $1.1 billion. The company has enjoyed revenues amounting to another $3.4 billion since then, much of which flowed into these funds' accounts. It's time to share that wealth with the people who created it – the workers."
Warrior Met, which emerged from the ruins of bankrupt Jim Walter Energy several years ago, is now profitable but forced the workers at its mines to walk. A lot of its profits came from the first, post-bankruptcy, contract it forced on workers, which included $6-per-hour pay cuts, to $22, among other givebacks.
At the time, company bosses promised the workers would be made whole once Warrior Met made money. Now it's making money, and bosses don't want to make the workers whole. That's forced the UMWA members into the union's first strike in Alabama in 40 years, after the old contract expired on April 1.
Company refusal to keep its word is important for workers anywhere, but especially in northern Alabama, which had a prior history of union solidarity and strength, an exception in the otherwise union-hating South.
While talks are ongoing, they're not getting very far, so UMWA has reached out for both community support and labor solidarity.
Several unions, notably the United Food and Commercial Workers, sent checks to the strike fund run by the four UMWA locals which represent workers at Warrior Met's two mines, its central shop, and its processing plant.
The fund is not only paying miners forced to strike but bought health care coverage for them, too—an important point for coal miners exposed to the dangers of black lung disease.
And union leaders, including AFL-CIO Secretary-Treasurer Liz Shuler and AFA-CWA President Sara Nelson—the two women widely assumed to be leading contenders to succeed Richard Trumka atop the labor federation when he steps down—have traveled to Brookwood, Ala., the firm's center, to stand in solidarity, encourage the miners and march on picket lines.
"Instead of rewarding the sacrifices and work of the miners, Warrior Met is seeking even further sacrifices from them, while demonstrating perhaps some of the worst labor-management relations we've seen in this industry since the days of the company town and company store," Mine Workers President Cecil Roberts said when the forced strike began.
"We have always been ready to reach a fair agreement that recognizes the sacrifices our members and their families made to keep this company alive. At this point, Warrior Met is not….Despite Warrior Met's apparent appetite for this conflict, we will prevail."