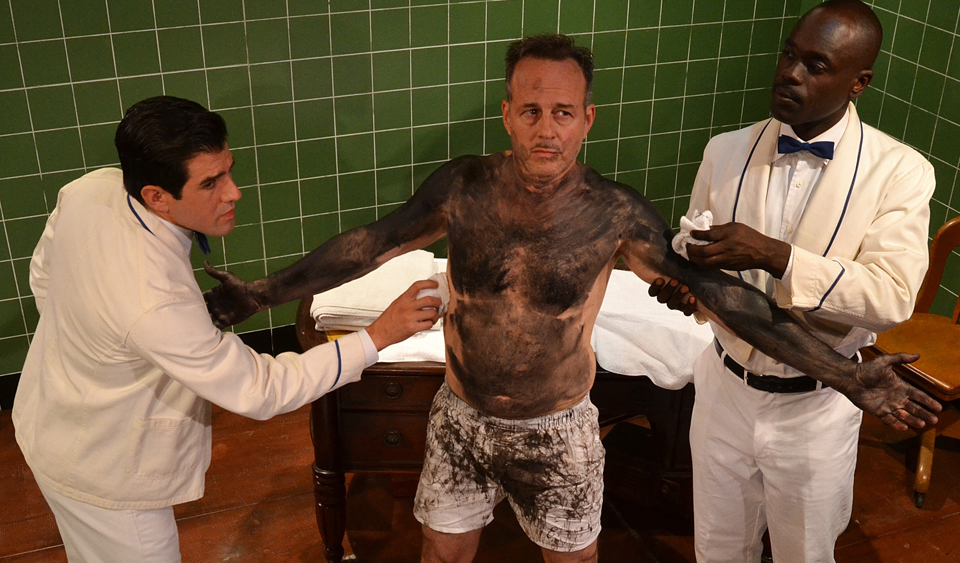 LOS ANGELES—My weekend playgoing curiously featured two plays centered on the theme of washing crime away.
In the wake of Pan Am Flight 103
L.A. is currently amidst the Hollywood Fringe Festival, which generally features new work presented on a modest budget. One exception this year is Deborah Brevoort's The Women of Lockerbie, a 75-minute play originally published in 2006 and loosely inspired by a true story. Written in the structure of a Greek tragedy, it dramatizes the triumph of love over hate. It has enjoyed numerous productions around the country. The Little Earthquake Ensemble production now on view is not billed as an L.A. premiere, but in any case I had never previously encountered it.
Pan Am Flight 103 departed London for JFK airport in New York on December 21, 1988. Not long after takeoff a bomb exploded onboard and the plane crashed amongst the hills of the small town of Lockerbie, Scotland. Everyone died, 259 crew and passengers, and the debris—plane parts, luggage, clothing—fell scattered on the ground. Bodies were still strapped into their seats, some recognizable, some unidentified, some never found at all, pulverized into flame and ash.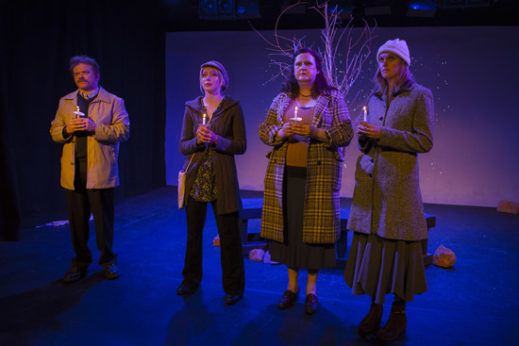 The play takes place on a single night, the seventh-year anniversary of the crash in Lockerbie. A memorial service has been held in the community. This year, for the first time, Bill (Alan Heitz) and Madeline Livingston (Leah Verrill, who is also a producer of the show), an American couple who lost their 20-year-old son Adam, have attended. Part of the play treats the differing coping mechanisms they have deployed in their grief. Madeline is still inconsolable, ruminating daily on what she might have done differently to save her son. For all practical purposes, she is barely a functioning person in her inability to let her son go. Bill has taken up the slack, attending stoically to her caretaking, but as a corollary to her unrelieved grief, he himself has not fully grieved his own loss.
The women of Lockerbie whom they encounter have their own strategy for coping with the tragedy: One bakes scones, another meticulously cleans house. The Americans have secured a warehouse in town where they keep everything that was found from the crash, and this night they have ordered it all to be burned. Ostensibly the reason they give is contamination of the blood and body parts sealed in plastic bags; but the women suspect otherwise, that the U.S. simply wants to assert its property rights to the victims' clothes (since it was a U.S. carrier) and pack the incident away.
The women are grieving themselves, of course: Eleven people on the ground died in the crash, including the husband and the daughter of Olive Allison (Lisa K. Wyatt), the women's leading spokesperson. It comes as something of a healing shock to Madeline when she realizes that the people she meets in Lockerbie also lost loved ones. The tragedy did not simply happen to her alone.
The women want to take all these 11,000 items of clothing and wash them in the stream running through the Lockerbie hills before they return them to the families. The act of washing will be both a loving gesture of kindness toward the families, and a physical, intimate release of their own collective community grief, a cleansing ritual for the necessary restoration of order. That night they confront the boorish U.S. State Department officer, George Jones (Ed Ackerman), who has the unhappy task of ordering the burning and dealing with the 200 mobilized women of Lockerbie along with the assembled mass media there to cover the event.
"The mothers are the worst," Jones says to Bill, feeling assured of some fellow male solidarity, until Bill takes out photos of his son to show Jones.
One of the issues Brevoort successfully deals with is the explanation for the tragedy. Was it fate? Was it simply meant to be? God's will? Was there a purpose in it? Or was it simply a criminal act that hopefully one day will be properly prosecuted but that no one on the plane or on the ground could possibly have done anything to prevent. Universalizing the story, Verrill says, "Everyone has a battle they are fighting and love can be the answer."
Fittingly, the anniversary, and the action of the play, takes place on the winter solstice. From this night on the light will start returning.
Audiences have responded to the poetic quality of the play, which frankly did not strike me so powerfully. The women do try to support and soothe Madeline with their own hard-earned wisdom and experience, as well as some prepared readings, knowing at the same time that everyone will grieve in their own way. One reason I could not wax so enthusiastic over the script is that even in a small house, some of the actors, especially Woman 1 (Liz Fenning) and Woman 2 (Liesl Jackson) of the chorus, and also Ms. Wyatt as Olive, fielded such a broad version of a Scottish brogue and as often as not failed to project their voices, that much of this purported poetry was lost. I heard others in the audience make the same observation. Director Jim Blanchette might have been attempting to be too fastidiously faithful to the accent.
Brevoort does supply some comic relief in the role of Hattie (Eloise Coopersmith), a locally hired cleaning woman assigned to George Jones's office.
The bombing is alluded to in the play as a hateful, terrorist act, but no details are offered. After years of sanctions against his country, Muammar Gaddafi handed over two Libyan nationals for trial in the Netherlands in 1999, later accepting national (but not personal) responsibility for the bombing and paying compensation to the victims' families. The only person to be convicted was Libyan intelligence officer Abdelbaset al-Megrahi, who was jailed for life on 270 counts of murder. In 2009, the Scottish government released him on compassionate grounds after being diagnosed with prostate cancer; he died in 2012.
That act of compassion echoes the women: As Olive Allison puts it, "Hatred will not have the last word in Lockerbie."
The set by Carrie Ackerman is simple—a bare tree set on a hillcrest, with the starlit sky above and a little creek running by.
The Women of Lockerbie has only one more performance, on Wed., June 20 at 9 pm, at studio/stage, 520 N. Western Ave., Los Angeles 90004. The theatre has limited seating, so reservations are advised. Recommended for age 14 and up. For tickets and more information, go to hollywoodfringe.org/projects/5080.
"You need dark men to make you white"
It's often been pointed out that for the rigid class system to survive—especially in the South, but really everywhere—rich whites have successfully appealed to poor whites to identify with their "whiteness" instead of their class interests, which generally are far more aligned with their Black neighbors and co-workers in factory and field. "Whiteness," like color and race, ethnicity, religion, sexuality, even gender itself, is a social construct with a code of conduct that ensures its constant replication. Beneath the surface, and occasionally out in the open, there are always movements and individuals that come along to subvert the code.
Tom Jacobson's new play Tar, in a world premiere production along with the two others in his "Ballad of Bimini Baths" trilogy, Plunge and Mexican Day, peels off the constructs of race with considerable humor in an overall searing tragic story that lasts but 70 minutes on-stage but will likely stay in your mind for a long time. Like the two other plays, now on stage in L.A. in productions by different companies at different theaters, this is set at a landmark bathhouse in L.A. that attracted Angelenos for half a century until it closed in 1951.
Tar takes place in a private tiled chamber at the bathhouse (set by Justin Huen) on one October night in 1939. Europe is already at war, and Americans are feeling the jitters. We meet the Mexican-American attendant Zenobio (Adrian Gonzalez)—who was an unseen character referred to in Plunge—and his African-American assistant Amen (Noel Arthur). Next door, at the elegant Palomar Ballroom, Count Basie and his orchestra are among the first African-American headliners, and Amen especially would love to sneak in the service entrance to hear them.
However, they have an important assignment to complete. Stretched out on a desk table, under a white sheet, is the body of a man whose protruding limbs indicate that he is covered with pitch. He had been brought to the bathhouse having been fished out of the La Brea Tar Pits, a landmark geological site that still exists, next to the Los Angeles County Museum of Art (also referred to in Plunge). In it are the skeletal remains of ancient mastodons and other animals trapped in the tar and preserved for thousands of years. The man had apparently fallen in drunk.
The bathhouse workers' job is to clean this guy up with kerosene, the only product that can cut through the black gunk. Only they are in for a big surprise: It turns out that this man Donald Walter (Tim Meinelschmidt) is not dead. The two-way racial hazing between Amen and Zenobio that started the play now has acquired a third, white partner. Donald is not only racially white (although for the time being he has a black body), but he is part German and in fact a Hitler admirer. He is crazed by racism. I found it not entirely coincidental that in 2018 Jacobson chose the name "Donald" for this character, and also cast an actor with such an obviously German name!
Jacobson finds scores of ways to drive home his observations about the stereotypes we have of racial groups—behavioral, gastronomical, sexual, esthetic. He also undercuts the sense of white hegemony by having each of the attendants make a family claim on the very land on which the bathhouse stands.
Amen is a professional actor who has appeared in some "sepia" pictures and also has higher aspirations. He proves his mettle by reciting Shakespeare on demand, the Merchant of Venice monologue: "Hath not a Negro eyes?" Challenged by Donald that there are no Negroes in Shakespeare (he's somehow forgotten about Othello), Amen replies: "I made it my own—that's acting." Which of course is also a clever take on the whole question of representation in the arts.  Amen, who previously worked three years as a Pullman porter forced to respond to the generic name "George," takes no guff from this unrepentant baiter who is at the bathhouse for nothing less than a "race-lift."
After all, why is a Black actor assuming a "white" part any different from a white actor (like Paul Muni, for example) playing Benito Juárez?
A great spinner of tall tales and African-American folk wisdom, Amen explains to Donald how segregation actually works in Black people's favor: No long lines (and fewer diseases to catch) at colored-only drinking fountains; no big lawyer's fees for the long drawn-out court trials that white people endure, since Black people are going to get the same quick verdict anyway; and premium balcony seating at the movie theatre where they don't have to crane their necks to see the film.
As the story unfolds, questions arise as to just how and why Donald "joined the mud people" in the tar pits. It seems a man came into the home of Donald and his wife Vivian and cut her to pieces, but who and why? Amen uses another Shakespearean trick—the play within a play that Hamlet stages to reveal the crime at Elsinore—to unspool the sordid mystery at the heart of this race- and sex-besotted thriller.
Tar is among the many powerful comments on race that we are seeing on the stage these days—including the recent Native Son, in which Noel Arthur also had a critical role. It's a bravura performance in all three roles. I hope the play gets extended for a longer run.
Tar plays through July 2 at the Playwrights' Arena at Atwater Village Theatre, 3269 Casitas Ave., Los Angeles 90039. Performances are Sat. at 8 pm, Sun. at 4 pm, and Mon. at 8 pm. For reservations call (800) 838-3006 or go to the company website.