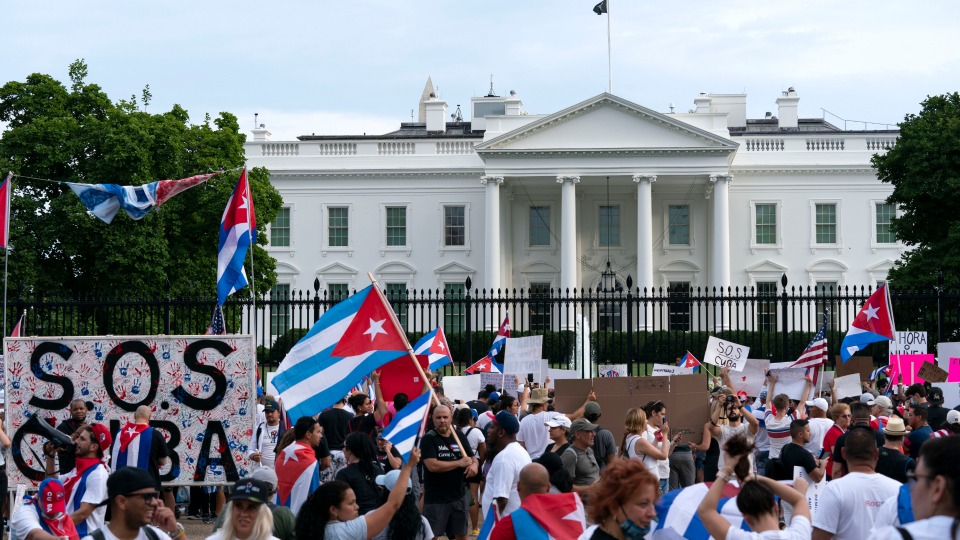 Washington-backed anti-government forces are plotting a new series of protests in Cuba over the next two months, according to information posted on a private Facebook group. MintPress News discovered that the organizations behind July's riots in the capital Havana are organizing a general strike for Oct. 11, the day after Cuban Independence Day.
This will be followed by a series of nationwide demonstrations on Nov. 20, according to the investigative news website's report.
An announcement shared by Facebook page La Villa del Humour, among other groups, urges organizations and individuals to prepare for next week's strike.
"We summon all worthy Cubans, lovers of freedom, their neighbors, their friends, and their families to a national strike on Monday, October 11," the message says.
No single organization or individual has been named as the organizer of the forthcoming action, and there are suspicions of U.S. involvement as part of its longstanding operations towards regime change in Cuba.
Washington has pumped billions of dollars into subversive anti-government media operations for decades, and July's protests were backed by a social media campaign with origins in the United States.
Next month's demonstration is badged as "a peaceful march in favor of human rights and against violence" which will converge at the National Capitol building in Havana.
La Villa del Humour spokesman Alex Perez Rodriguez has struck a different tone, however, calling on Cubans to "hit the streets" until the government falls.
The group started as an innocuous Facebook page for residents of the town of San Antonio de los Baños and is named after a local comedy festival. But it soon became a forum for the exchange of anti-communist memes and the promotion of anti-government actions, with many of the frequent posters residing in the U.S. state of Florida.
One prolific commenter even lists his employer as the Miami Herald, a notoriously anti-Cuba newspaper which has helped to agitate for regime change in Havana.
U.S. efforts to oust the Cuban government have intensified in recent months, with $20 million allocated from the House appropriations budget to promote "democracy programs" and "free enterprise and private business organizations" in the country.
A similar amount has been gifted by the U.S. government's Agency for Global Media, which is used to spread anti-government propaganda in Cuba via media and online organizations.
During July's protests, Miami Mayor Francis Suarez called for airstrikes and other military intervention against Cuba in order to oust its government.