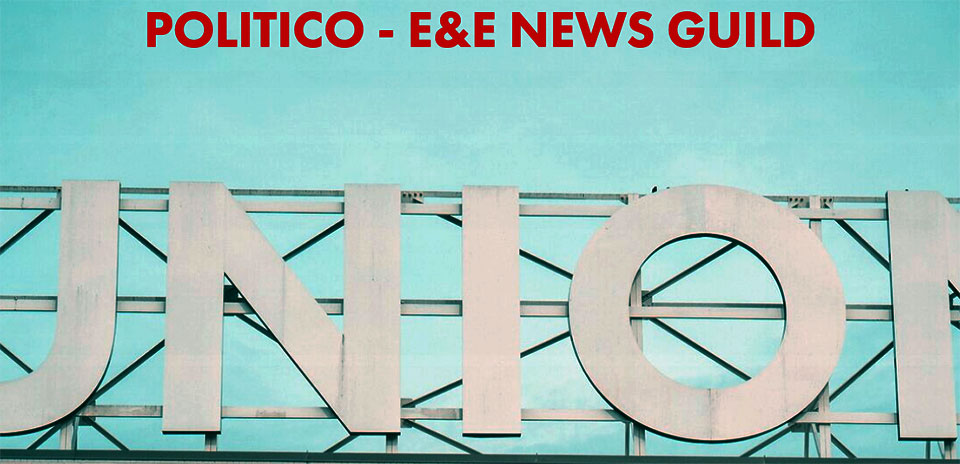 ARLINGTON, Va.—Another month, another potential big win, this time at Politico and an allied
publication, and by card check recognition, for the Washington-Baltimore News Guild.
Of course, Axel Springer, the German publishing house which bought Politico and the allied Energy and
Environmental News for $1 billion in late August, may not have much choice in the matter, though the
two sides are discussing the bargaining unit.
Leaders of the PEN Guild, which will be the new WBNG affiliate, showed up with signed union election authorization cards from more than 80% of the 250-plus workers. "PEN" stands for "Politico and Energy and Environmental News."
"The PEN Guild's broad support includes members from every department, reporting team, and medium within the newsroom and spans from recent college graduates to long-tenured newsroom stalwarts with decades of journalism experience. They all believe newsroom employees of Politico and E&E News deserve to have a voice in decisions that affect us all," the new unit's leaders said in a release.
That point came home to the workers after a loophole in the Axel Springer takeover documents resulted in workers' 401(k) accounts being frozen for all of 2021. The deal finally closed in late October.
"If employees had had a seat at the table, I doubt something as important as our retirement and healthcare savings would have been missed," staffer Leah Nylen, who's been hit by four corporate takeovers of newsrooms in the last 15 years, told The News Guild. At each, including the Axel Springer takeover, workers lost pay or benefits, she said.
Other goals of the new unit are "equitable pay, a diverse and inclusive workplace, and job protections for everyone," the PEN Guild leaders said. Improvements in those areas, through collective bargaining "will make the newsrooms of Politico and E&E places where we are able to do our best work possible."
"Great journalism is the result of passionate and hard-working journalists: Reporters who hold elected officials accountable and explain the inner workings of government agencies, graphic designers and data teams who illuminate their words, producers and copy editors who fact-check their work and keep our sites running smoothly; and so many others," the PEN Guild said in its mission statement.
"We take pride in this work and the acclaim it has won for our publications…But these achievements have not resulted in just conditions for everyone, and not all of us enjoy the same protections and perks."