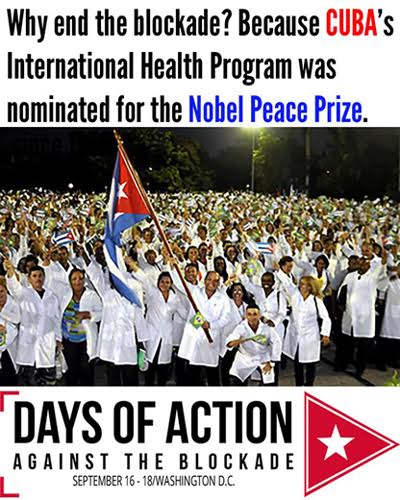 WASHINGTON — "Our job is to speak for ourselves, Cuba will speak for itself." So began orientation for the day of advocacy on Capitol Hill. Nalda Vigezzi, a social services worker from Boston and a leader in National Network on Cuba, instructed us on some of the ways the Cuba-America relationship has changed since December 17, 2014 when Presidents Raul Castro and Barak Obama shocked the world, pronouncing an end to the 54 year stalemate between the two nations.
Our mission this year was to meet with freshman Representatives and Senators who may not yet be fixed in their beliefs and are interested in some education on the Cuban blockade, how it works against business, health and even against the U.S. political position on the world stage.
IFCO/Pastors for Peace and the International Committee for Peace, Justice and Dignity for the Peoples as well as the Institute for Policy Studies and the National Network on Cuba arranged for and planned a full schedule, including visiting Congress members and Senators and an all day conference.
To prepare for these meetings, we learned that according to the Pew Research Center, 59 percent of Republicans favor scrapping the embargo; that Cuba's biotech industry is booming and it is one of the "Big Three" biotech giants in the global south, along with Brazil and India. We learned about the almost $50 million per year wasted for Radio and TV Marti and USAID regime change programs in Cuba. We cringed to learn about the Cuban Adjustment Act of 1966 which declared the U.S. Attorney General has discretional authority to adjust the status of Cubans who are in the U.S. This Act does not say such status adjustment must be automatically used in the case of every Cuban present in U.S. territory but over the years the stipulations have been applied in an automatic manner.
Representative Jim McGovern, D- Mass., a long time supporter of open relations with Cuba came to the orientation to voice his support for open trade and travel, saying, "Congress should free up all the tools so that Cuban society can grow and then see what the Cubans make of their country. We ought to treat Cuba as we treat every other country and then I think Cuba's future is bright." He reinforced that the U.S. improved its position with every Western Hemisphere nation when Obama decided to 'turn a new leaf' with Cuba. It represents an acknowledgement by the government that "Cuba is not in our front yard or back yard, because it is not our yard!" During the Q&A a woman who was born in Cuba but raised in the U.S. spoke about the fierce desire for sovereignty which all Cubans share.
We had information packets prepared for each Congressperson. They included an article entitled, "US/Cuba Relations, the Trouble with Normal," by Jose Pertierra, printed July 15, 2015. The article clarifies that "it is not normal to maintain a multimillion dollar budget to Fund Radio and TV Marti as propaganda instruments. It is not normal for the U.S. to imprison without due process or civil rights dozens of persons in Guantanamo, as well as torturing them…. It is not normal that Washington earmarks a $30 million budget for fiscal year 2016 for a project whose declared purpose is to remove the government of Cuba from power."
Those who support HR 684 – Freedom to Travel to Cuba Act of 2015 and HR 3238 – The Cuba Trade Act of 2015 turn out to be a complex and interesting group. Congressman Ralph Abraham , R – La., is already co-sponsoring The Cuba Trade Act of 2015. His legislative director Ted Verill told us that Louisiana could sell every grain of rice to Cuba with mutual benefit. Rice spoilage is exponential over time and currently Cuba gets its rice from Vietnam, with many days delay as the rice travels across the Pacific and through the Panama Canal. However, Representative Bonnie Watson-Coleman, D-Fla., a member of the Progressive Caucus is wary of supporting either bill because of the "human rights questions" that she feels Cuba has not resolved. And for our other demands: stopping USAID regime change funding and returning Guantanamo to the Cubans, we found no political will in the aides that we visited.
After the visits, my group retired to a nearby watering hole to discuss the day. We were disappointed with the slow pace of Congress in facing the reality of a sovereign Cuba, but we concluded that we'd had a powerful advocacy day in which we tried to educate and influence foreign policy aides. The combination of our experience, (most of us had travelled to Cuba more than once), and our political analysis may not have dramatically reversed our leaders' positions, but we challenged them with facts, our intellect and our deep understanding that Cuba is a world citizen. The U.S. could profit in many ways from open relations and sharing of resources.
In January 2015, Professor John M. Kirk of Dalhousie University in Nova Scotia, wrote to the Norwegian Nobel Committee indicating he was "delighted to nominate the Cuban medical internationalism program for the Nobel Peace Prize."
Please add your name to this petition and circulate it to all your friends, colleagues and contacts: http://salsa3.salsalabs.com/o/51018/p/dia/action3/common/public/?action_KEY=17248

Photo: International Committee for Peace, Justice and Dignity for the Peoples