It seems like the NFL either can't learn, or just doesn't want to learn that offensive, outdated and blatantly racist team names and logos have no place in professional sports.
A day after the Cleveland Indians announced they would stop using the "Chief Wahoo" logo after the 2018 season, NFL Commissioner Roger Goodell went on the air and said he does not see the Washington Redskins nickname changing—wrong call Goodell, wrong call.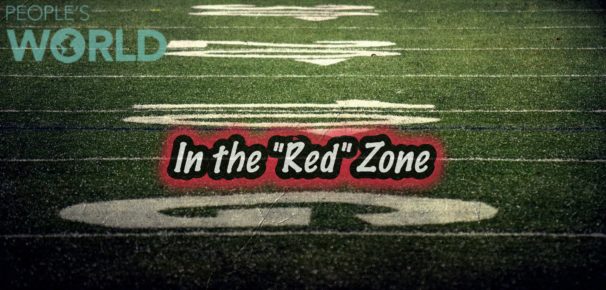 "I don't see him changing that perspective," Goodell said Tuesday, January 30 on ESPN's Golic and Wingo show, when discussing Redskins owner Dan Snyder's fierce determination too keep the nickname and the logo.
Snyder has long claimed that the nickname won't change because it's not disparaging to Native Americans, but rather a term of honor and respect. Snyder backs up his claim by saying that the team was in fact named after the team's first coach, William Henry "Lone Star" Dietz, as a way to honor his "Native American heritage," and Walter "Blackie" Wetzel, former president of the National Congress of American Indians and chairman of the Blackfeet Nation, who helped create and approve the logo.
Someone forgot to tell Snyder that the whole "I'm not racist because I have a Black friend"—Native Americans in this case—defense does not give him a pass for being offensive.
Goodell takes it one step further by saying in the interview: "The interesting thing is that Dan Snyder has really worked in the Native American community to understand better their perspective. And it's reflected mostly in a Washington Post poll that came out [in May 2016] that said nine out of 10 Native Americans do not take that in a negative fashion, the Redskins' logo or the Redskins' name, and they support it."
That 2016 poll asked 504 Native Americans if they considered Redskins an offensive term.  Nine percent found it offensive, while  one percent had no opinion.
"The Washington Redskins team, our fans and community have always believed our name represents honor, respect and pride," said Snyder in a 2016 statement. "Today's Washington Post polling shows Native Americans agree. We are gratified by this overwhelming support from the Native American community, and the team will proudly carry the Redskins name."
Suzan Harjo, who belongs to the Cheyenne and Hodulgee Muscogee tribes, told the Washington Post: "I just reject the results…I don't agree with them, and I dont agree that this is a valid way of surveying public opinion in Indian Country.
I completely agree with what Harjo said in 2016, but the Supreme Court doesn't.
Back in 2014 the U.S. Trademark Trial and Appeal Board revoked six federal trademark registrations belonging to the Redskins based on a provision of federal law that prohibits the registration of trademarks that may 'disparage…or bring…into contempt or disrepute' and persons, living or dead.' 15 U.S. C. 1052(a).
Of course, Snyder and the Redskins appealed the ruling.
Last year, The high court found that the law used to prevent the Redskins from registering trademarks relating to the word "Redskins" and the logo was unconstitutional.
Justice Samuel Alito, writing the opinion, said the law was "improper under the First Amendment of the U.S. Constitution" and that it is "far-fetched to suggest that the content of a registered mark is government speech, especially given the fact that if trademarks become government speech when they are registered, the Federal Government is babbling prodigiously and incoherently."—Just another bullshit example of legally sanctioned racism.
Oneida Nation representative, Ray Halbritter, released a statement calling for the Redskins to follow the Indians' example:
"Cleveland's decision should finally compel the Washington football team to make the same honorable decision. For too long, people of color have been stereotyped with these kinds of hurtful symbols—and no symbol is more hurtful than the football team in the nation's capital using a dictionary-defined racial slur as its team name. Washington Owner Dan Snyder needs to look at Cleveland's move and then look in the mirror and ask whether he wants to be forever known as the most famous purveyor of bigotry in modern sports, or if he wants to finally stand on the right side of history and change his team's name. We hope he chooses the latter."
So where does the NFL go from here? Nowhere.
By his on-air comments Goodell made it known that he will not work with Synder and Washington football to address the teams racist nickname and logo. He will just keep collecting his five year $200 million salary quietly.
With the NFL's credibility tanking, Goodell would do well to take a page out of the MLB handbook.
I'll admit though, just changing a team name and logo doesn't cure the decades of racism found in our American history, but it's a start, and it keeps the issue front and center, while creating opportunities for fans and the public to finally address this very real issue.