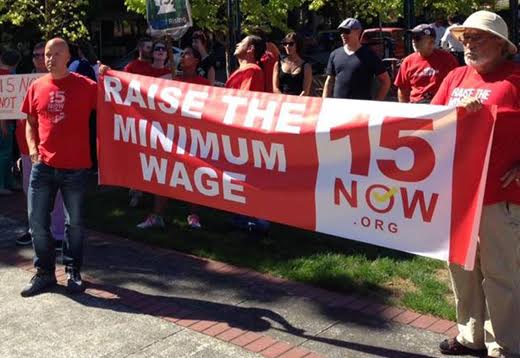 SEATTLE — Tacoma voters approved in the Nov. 3 elections, a ballot measure to raise the minimum wage to $12 an hour by the year 2018.
Vince Kueter, a "15 NOW (Tacoma)" volunteer told a reporter he is "proud of the work we did and happy about the partial victory," even though $12 or even $15 an hour is below the pay needed to support a family.
"15 NOW" had succeeded in placing a measure on the ballot that would have mandated an immediate $15 minimum wage. The Tacoma City Council then placed a rival $12 minimum wage measure on the ballot. Voters rejected the $15 minimum but approved by a wide margin the $12 minimum wage.
The current state minimum wage, highest in the nation, is $9.47 an hour. The national minimum wage last raised in July, 2009, is a pitiful $7.25 an hour.
The victory in Tacoma follows minimum wage increases in SeaTac and Seattle, with the Evergreen State inspiring similar struggles nationwide.
Washington State votes exclusively by mail ballot. According to the Sec. of State, 36.9 percent of the nearly four million registered voters have mailed their ballots back.
Voters approved a "Move Seattle" transportation plan to spend $930 million over nine years to improve mass transit, streets, highways and bridges in the Emerald City. They also approved an "Honest Election" ballot measure to reverse the corruption of the U.S. Supreme Courts Citizens United ruling.
The most closely watched race in the Seattle City Council election was between the incumbent socialist candidate, Kshama Sawant, and challenger, Pamela Banks, an African American woman who is the director of the Seattle Urban League. Sawant won the election 54.4 percent to Banks 44.4 percent, a case of two good candidates running against each other.
Sawant was credited with helping push through by a unanimous vote Seattle's minimum wage increase. She also campaigned for rent control blasting Seattle as unaffordable for working class people. This reporter visited Sawant's headquarters on Capitol Hill a few days before the election and found the office crowded with volunteers, young and old, of all races. Sawant's reelection tells us voters are now ready to cast their ballots for a self-described "socialist."
Statewide, voters approved by over 70 percent a measure to crack down on trafficking in body parts of rhinos, tigers, and other wildlife, one of many signs of voter concern for the environment and endangered species.
In Federal Way, between Seattle and Tacoma, Republican Teri Hickel was ahead of Democrat Carol Gregory in the race for a seat in the Washington House of Representatives. If Hickel wins it could open the way for Republicans to win majority control of the legislature in the 2016 election.
Also underlining the ultra-right danger, voters approved Tim Eyman's I-1366. This initiative, put on the ballot by Eyman's hired signature gatherers, instructs the state legislature to reinstate an earlier Eyman ballot initiative that had been overturned by the State Supreme Court. That initiative required a two-thirds supermajority for any increase in state taxes, a flagrant violation of majority rule.
This may be Eyman's swan song. He is facing criminal charges that he embezzled money donated to support his extremist ballot initiatives.
Washington has no state graduated income tax and depends entirely on the sales tax to fund state services like education, transportation, public health, roads and bridges. The State Supreme Court found the legislature in violation of the State Constitution that requires them to provide equal public education for every child. The high court is fining the legislature $100,000 per day for failing to correct the under-funding.
Two years ago the legislature approved $1 billion in tax giveaways to Boeing to keep the aircraft company from transferring thousands of jobs to non-union South Carolina. Boeing's thanks was to transfer the jobs anyway. Dozens of other big corporations like Microsoft enjoy similar legislative tax largesse—main source of the state's fiscal crisis.
The Sequim schools (this reporter's alma mater) campaigned hard for a $49 million bond issue in this election. A solid majority of 57 percent voted yes but it failed because 44 percent voted no, the third time in as many years that minority rule has left Sequim children trapped in crumbling, moldy old school buildings.
Yet there was also some good news. A band of grassroots stalwarts spent hours doorbelling for Democrat Mark Ozias, to be elected one of three Clallam County Commissioners. Ozias, 45, never ran for public office before. He is the director of the Sequim Food Bank and a member of the Sierra Club. In debates he proclaimed the urgent need for Clallam County to do its share to curb global warming. He cited the zero snowpack in the Olympic Mountains, the wildfire destroying Olympic forests, the drought forcing farmers to curtail irrigation. Ozias said the county needs to construct reservoirs to store water during the dry seasons.
He was running against Republican incumbent, Jim McIntire, a tea party extremist. "There is no shortage of water," he said. "Mother nature will provide."
McIntire and fellow Republican Commissioner, Bill Peach, attempted to hand over $1 million in taxpayer funds already earmarked for a sewer project to the Port of Port Angeles without a public hearing and no signed contract.
Selinda Barhuis, Clallam County Treasurer, refused to sign the checks. It created an uproar with McIntire and Peach accusing Barhuis, falsely, of overstepping her authority. Peach even called her a "felon."
Ozias promised he would end this Republican bullying. When the votes were counted Ozias won with 54 percent of the vote.
Photo: 15 Now Tacoma Facebook.