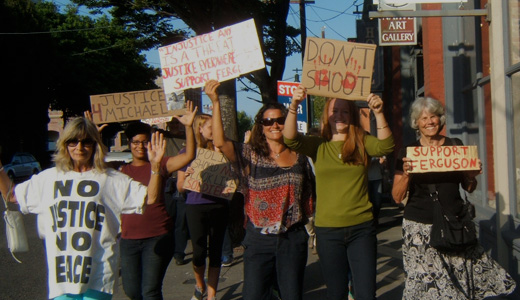 PORT TOWNSEND, WA — Protesters, their hands up, marched through this paper mill town August 20, chanting "No Justice, no peace" to show their anger at the police shooting in Ferguson, Missouri, of Michael Brown, an unarmed African-American teenager.
Brown, 18, was killed by Ferguson police officer, Darren Wilson. Eyewitnesses and forensic evidence indicate that young Brown had his hands up when the police officer fired, striking Brown at least six times.
Frances Sheldon-O'Neal, 17, who enters her senior year at Port Townsend High School this month, initiated the protest rally and march. Marching with her were her sister, mother, and grandmother — three generations of a family speaking out against what they see as a racist killing. Others came from Sequim, Port Ludlow, and other towns on the Olympic Peninsula.
"I wanted to raise awareness about this issue and also to support the people of Ferguson, Missouri, to let them know there are people here on the west coast who care about them," Sheldon-O'Neal told the People's World.
"Mike Brown was killed. He was shot so many times. He will never come back. He had his whole life ahead of him."
She added, "I think this is a national issue. Everywhere, police are using excessive force. There is a heavy influence of the military. There was the shooting of Trayvon Martin, Oscar Grant, the woodcarver in Seattle (Native American Indian, John T. Williams)," she added.
Penelope Grace, a Port Townsend resident wore a T-shirt stenciled with the words, "No Justice, No Peace." She said, "I was visiting Los Angeles when police beat Rodney King and L.A. erupted in violence. This is a problem that repeats over and over. It has not changed. Racism is a factor in this situation. I've seen it and lived it and we've got to end it."
Linda Brewster, a MoveOn organizer held a sign that read, "Stop the War on People." She was elated that a teenager initiated the action and that so many other young people joined the protest.
Police violence is an issue that is certain to continue burning fiercely, she said.
"A Grand Jury report in Missouri is not expected to be completed until October," Brewster added. She pointed out that calls are mounting for the removal of St. Louis County, Attorney General Bob McCulloch from the case. McCulloch's father was a policeman killed in the line of duty. He has such close ties to the police that civil rights and civil liberties organizations have warned that he is incapable of insuring an impartial investigation. President Obama sent U.S. Attorney General, Eric Holder, to Missouri to launch a Federal probe.
The protesters joined hands and sang, "We Shall Overcome."
Sheldon-O'Neal sent out a message, later, that another rally against police violence will be held at John Pope Marine Park in Port Townsend, Wed. Aug. 27 at 5:30 p.m.
Photo: Tim Wheeler/PW