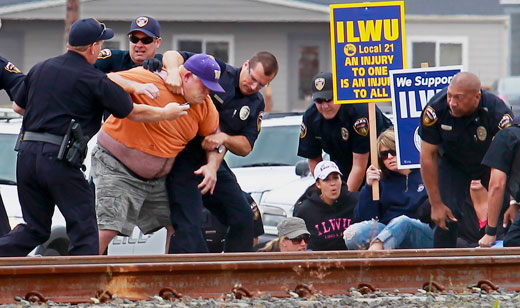 SEATTLE – The arrests Sept. 21 of two union officers and the wives and mothers of 10 longshoremen are seen by union members here as part of a major assault underway against this state's labor movement.
The wives and mothers of the International Longshoremen and Warehouse Union went to the railroad tracks near a Columbia River grain terminal where they blocked a shipment on a Burlington-Santa Fe train from being unloaded at the EGT Grain Terminal on the port of Longview.
ILWU Local 21 President Dan Coffman says two longshoremen officers and 10 wives and mothers of workers were arrested.
Police brought in tactical vehicles, canine units and, dressed in full riot gear, hit the women with hot pepper spray.
Unions here say the action by police amounted to the taxpayers of Washington state being made to pay for the private security operations of a company out to kill workers' rights.
In protest, Longview workers, along with workers at other ports in this state, stopped working at their jobs and stood, frozen in silence, for 30 minutes. As workers stood silently the train, under escort of riot gear clad police, rolled into the EGT terminal.
ILWU workers have been out of their jobs at the $200 million EGT terminal, which is under contract to hire them, because the company is filling their positions with scabs from another union. The ILWU had refused to go along with company rules that allow EGT to ship jobs overseas at will.
200 have been arrested in protests against the company over the past several months.
Jeff Johnson, president of the Washington State Labor Council, AFL-CIO, said, "The labor movement in this state has a proud history of being aggressive when it comes to workers' rights. We have almost 20 percent of the workforce in unions, the fourth highest state for union density in the nation and there are powerful forces out there that want to change that."
A look around the state at recent or current labor battles seems to confirm his assessment.
1,600 Tacoma teachers were forced out on strike last month, stalling the opening of school for 28,000 students in Washington state's third largest school distract.
"They came to us after two years with no pay increase and demanded a 1.9 percent pay cut," said Rich Wood, media representative for the Tacoma Education Association.
The Masters and Pilots, a major ferry union on Puget Sound, recently lost collective bargaining rights, according to union members here, because a TV reporter who wanted to "make it big" did a series entitled "Waste on Water."
After the series ran union members were demoralized, there was legislative backlash and the union's bargaining position was weakened, say local union leaders who have worked hard to correct what they say were the misconceptions viewers got about the workers.
That and other stories are being covered by reporters from publications affiliated with the International Labor Communications Association this week at the group's convention here. The Peoples World is among those participating.
"There is an attack on public workers because so many are in unions," Johnson told the labor journalists. "Those who oppose union rights know that if they can weaken those rights in the public sector it will be easier for them to do it elsewhere."
"The country needs labor journalists now, more than ever," he told them, "because the corporate media, if they cover the workers' stories at all, covers them like they cover a natural disaster. The story comes out of the blue, from nowhere. It wreaks havoc and then its over."
Photo: Law enforcement personnel wrestle ILWU Local 21 longshoreman Kelly Muller to the ground. Wives and mothers also sit on the tracks to prevent a grain train from pulling in to the EGT grain terminal at the Port of Longview Sept. 21. A dozen officers in riot gear stood guard along the tracks. Longshore officers and about 10 wives and mothers of Longshore workers were arrested.(Bill Wagner/The Daily News,/AP)