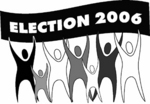 Tim Burga of the Ohio AFL-CIO says "there's a real mood for change" in his state. Noting the impact of deaths of Ohio soldiers in Iraq, the loss of manufacturing jobs and national and local corruption scandals, Burga says Ohioans are "really frustrated" with the Bush administration and Republicans. "People feel they just don't shoot straight — no pun intended."
Nationally, political forecaster Charles Cook has projected a net gain of six to 14 seats for Democrats in the House of Representatives this fall — "one notch short of the 15-seat net gain necessary to win a majority." But these projections, Cook emphasizes, "tend to understate seat changes when there is a wave."
The challenge for the varied components of the progressive movement, looking to break the right-wing stranglehold on Congress, is to create that wave.
A number of major organizations are releasing candidate ratings and political game plans aiming to get that wave rolling. The AFL-CIO will announce its election plans at its Executive Council meeting in San Diego next week. The League of Conservation Voters just released its 2005 environmental scorecard, forming the basis for its 2006 plans.
In the Senate, Democrats need to pick up six seats to topple GOP control.
One of the nation's key Senate races, rated a toss-up by Cook, is in Ohio, between Republican Sen. Mike DeWine and Democratic Rep. Sherrod Brown. Brown has a 100 percent pro-labor and environment record and is a strong civil liberties and antiwar advocate. DeWine voted wrong on 12 of the 19 Senate votes the AFL-CIO considers vital for working families, and gets only a 45 percent rating from LCV.
DeWine's GOP colleague in Pennsylvania, Sen. Rick Santorum, voted wrong on 18 of the 19 working family issues. His battle against State Treasurer Bob Casey is also considered a toss-up.
Santorum's anti-working-family record is shared by Missouri GOP Sen. Jim Talent, who faces State Auditor Claire McCaskill. Talent barely won this seat in 2002. Recent polls have shown McCaskill ahead 47-44 in what is considered an extremely tight race.
Other hotly contested Senate races include open seats in Minnesota and Tennessee, now held by Democrat Mark Dayton and Republican Bill Frist, respectively, and the Rhode Island seat held by Republican Lincoln Chaffee.
If Democrats win these six toss-up races, the GOP lock on the Senate ends.
In the House of Representatives, the Republicans have to worry about holding onto 44 seats considered competitive or that "have the potential" to become competitive, while the Democrats will have to fight to keep 20, in addition to picking up 15 seats from the Republicans.
In Ohio's 18th Congressional District, Republican Robert Ney, believed to be under investigation because of his Abramoff bribery links, says he is running for re-election. Ney had to give up his chairmanship of the House Administration Committee because of the scandals. His Democratic opponent will be decided in the May 2 primary.
Anti-worker GOP Rep. Deborah Pryce, in the nearby 15th CD, faces her first serious challenge since she was elected in 1992 — Mary Jo Kilroy, president of the Franklin County Board of Commissioners.
Democrats must hold onto Ohio's 6th District seat held by Tim Strickland. Strickland, with a strong progressive record, is running for governor against right-wing Secretary of State Kenneth Blackwell who helped manipulate Ohio's voting process to produce a Bush win in 2004.
In Texas, the GOP sleaze factor has made the 22nd CD race between notorious Tom DeLay and Democrat Nick Lampson a toss-up. In California's 50th CD, where Republican Randy Cunningham resigned in disgrace over his Abramoff involvement, the race is rated competitive.
A big race in Illinois is for the 6th CD seat being vacated by far-right Henry Hyde. Christine Cegelis, who almost beat Hyde two years ago, and Iraq war vet Tammy Duckworth are competing for the Democratic nomination in the March 21 primary.
In the 8th CD, Democratic Rep. Melissa Bean angered many in labor with her pro-CAFTA vote. Six Republicans are vying to unseat Bean, including investment banker David McSweeney who has "lent" his campaign nearly $1 million.
A key toss-up race is in southeastern Pennsylvania's 6th District, where GOP Rep. Jim Gerlach is being challenged for a second time by Lois Murphy. In 2004 she lost by only 2 percentage points. Murphy was associate legal counsel for NARAL Pro-Choice America and is a trustee of the Women's Law Project.
New Mexico's 1st CD race is another hot one. Republican Heather Wilson, who voted right on only three of the 16 working families issues, faces state Attorney General Patricia Madrid, who would be the district's first Latina representative.
In Indiana, GOP Reps. John Hostetter and Mike Sodrel, with anti-working-families records, are seen as highly vulnerable.
Democrats have a good chance to take the open Republican seat in Minnesota's 6th CD.
Other tight races are in Arizona, Colorado, Connecticut and Iowa, and more could emerge in the coming months.