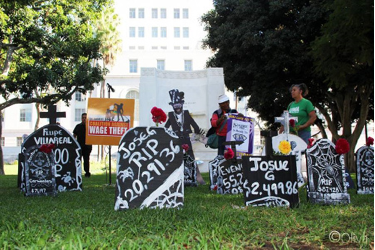 LOS ANGELES – "We are dying to get paid!" Hundreds of workers and community members filled Los Angeles City Council Chambers on Oct. 29 and built a wage theft cemetery in front of City Hall, because stolen and poverty-level wages are preventing breadwinners and their families to thrive in our communities.
Over 46 percent of workers in L.A. are earning poverty-level wages. Every week, $26.2 million dollars are stolen from the pockets of workers; every week!
Workers who fall ill are forced to make the impossible decision of staying at home or going to work sick. Do you really like seeing a poverty-wage worker at your local McDonald's to be coughing over your fries? Want pneumonia with that?
That's why the L.A. labor movement has joined community, clergy and civic leaders to urge that the L.A. City Council move forward with passing a comprehensive minimum wage policy that includes: $15 an hour, wage theft enforcement, and guaranteed paid sick days.
With City Hall visible in the background, the graveyard picture is what people called "the cemetery of stolen wages."
Of the 46 percent of Los Angeles workers who are earning poverty wages, 2/3 are women, and women are already earning only 2/3 of what men earn. The "gravediggers" and the demonstrators are demanding protection from retaliation for workers who report wage theft (and who report getting sick!). Without this protection, workers generally do not report wage theft at all.
An unknown percentage of such workers victimized by wage theft are undocumented, and admit to fearing that a work complaint could lead to deportation. The number of calls to the national 9to5 helpline serving working women took a huge dive during the recession. Employers felt safe depriving workers of wages, knowing there would be little danger either of discovery or of consequences.
And some 77 percent (more than 3/4) of workers who do report and win wage claim judgments never receive the money due them. Hence the grave stones in the picture. A few thousand or even a few hundred dollars lost wages can mean life or death in the big city, homelessless, undiagnosed and untreated sickness, and food insecurity.
The cemetery and demonstration were timed for Halloween, All Saints Day, and the Mexican Day of the Dead, or Día de los muertos. A "chupa" – visible in the picture, center, wearing the top hat – represented bloodsucking employers running around stealing wages. "When we took the chupa to the City Attorney to ask for help and for our wage theft ordinance to be drafted after five years waiting," said Cathy Deppe of 9to5, "the spokesperson attorney who met us in the lobby said his office was too busy fighting individual wage claim cases to finish drafting the ordinance. He said if he could make the time, he would visit our graveyard."
The Day of the Dead has passed. But the bloodsuckers are still wandering among us.
Photo: PW