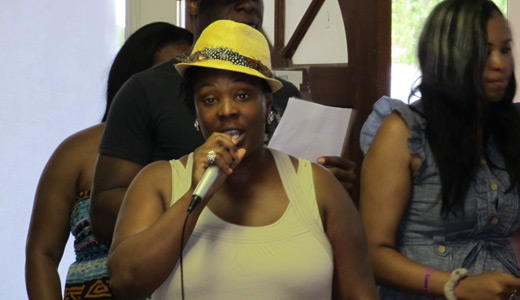 OAKLAND, Calif. – Juneteenth, the holiday celebrating the day in 1865 when black former slaves in Galveston, Texas, finally learned they were free, is increasingly becoming a festive day across the United States.
At one such event, organized here on June 16 by the Nitty Gritty Community Club, recognition of historic and ongoing struggles for full emancipation was blended with celebrating achievements of African Americans today, and projecting what is needed so the struggle for black equality can move forward.
Music, dance and spoken word mingled with the awarding of certificates of recognition to young and older students who have achieved milestones in education, and to activists making significant contributions to the community.
As awardees received their certificates, a theme running through their remarks was the importance of the community support they received.
Among some 15 honorees was Layloni Marshall, a mother of three who just earned her bachelor's degree in social work while holding down a full-time job. "Going to school as a single mother is a very hard job," she said. "I couldn't have done it without my 'village' of friends and family who supported me at every step."
Fadeelah Muyhee, an increasingly well-known performer, told how the actions of a high school teacher marked a turning point in her life: "A bunch of us were cheating on a test, and my teacher saw others copying from me. She called me out of class. I was waiting for the worst, but she said, 'I won't fail you, in fact, I'll give you an A for leadership. Now, I want you to join my Youth Power Club.' That changed my life. I learned about my history, my life."
Turning to that former teacher, Cassandra Lopez, Muyhee said, "I'm striving to be just like you. I hope I can do for a young person what you did for me – seeing something in me that I didn't see in myself."
The struggle for emancipation is long and ongoing, Lopez told the crowd. From the flood of lynchings after Reconstruction, when federal troops were withdrawn from the south, to the current railroading of young black men into prison at an ever-increasing rate, African Americans have always had to fight for full inclusion in the broader society.
"We have overcome, when that seemed impossible," Lopez said. "We have made a way when there was no way."
An urgent task today, she said, is to make sure Republicans can't take over the White House in the upcoming elections. "Don't sleep on this election," Lopez told the audience. "We're only partly emancipated – let's finish the job!"
A very special part of the program was the awarding of certificates of achievement to several young students, ranging from one who just graduated from preschool to others transitioning into high school.
Photo: Fadeelah Muyhee, honored, addresses the audience. Marilyn Bechtel/PW