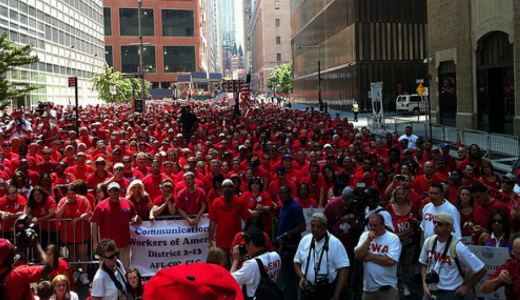 NEW HAVEN, Conn. – Workers at AT&T in Connecticut know from hard experience that solidarity is key to the victory of any strike, and especially for the 45,000 Verizon workers fighting in the surrounding states to save their jobs and benefits at the bargaining table.
Unlike the rest of the east coast, Connecticut is not home to the Verizon land line business. But Communications Workers of America Local 1298 is no stranger to tough contract battles. They held out a full year beyond other locals around the country to reject takebacks in benefits by AT&T two years ago, and they are getting ready now for new negotiations next year.
So the CWA in Connecticut and its allies are standing in solidarity with their sisters and brothers at Verizon. They are traveling to Boston and New York to walk the picket lines. They are picketing in front of non-union Verizon Wireless stores in Connecticut, with the first picket scheduled for Thursday. They are refusing to do business with any Verizon management on the job. And they are making financial contributions to the strike fund.
"Unions are the last ones standing in the way of the corporate robber barons that emerged from the turn of the last century. It's all about greed. We will stand with Verizon workers because their fight will be our fight in April," says Bill Henderson president of CWA Local 1298. The local represents more than 5,000 workers at AT&T, AT&T Mobility and other workplaces in Connecticut and throughout New England.
"There are over 100 giveback issues on the table that Verizon refuses to move on, which represent a $20,000 reduction in pay for the average worker," Henderson emphasizes. These include elimination of pensions, health care cost sharing and moving jobs overseas.
Like AT&T, Verizon is attempting to make its profits even higher by turning tens of thousands of secure jobs with good benefits into a few low wage jobs. Workers are furious at this wealthy company whose earnings in the first six months of 2011 are $6.9 billion, of which $85,000 a week goes to pay their CEO.
"Shame on Verizon for taking advantage of a stalled economy, sitting on record profits, beating up on their workers to satisfy their insatiable greed," says Henderson.
The Working Families Party in Connecticut, of which CWA is a part, is calling on all supporters to ask Verizon management to bargain in good faith.
Verizon workers are taking a stand for all working people with their strike, supporters say. Their strike is a signal to tea party Republicans that workers are standing up and organizing on the job and in elections against those who would destroy collective bargaining rights. It is up to everyone to stand by the side of these courageous Verizon strikers.
Photo: Communications Workers of America.