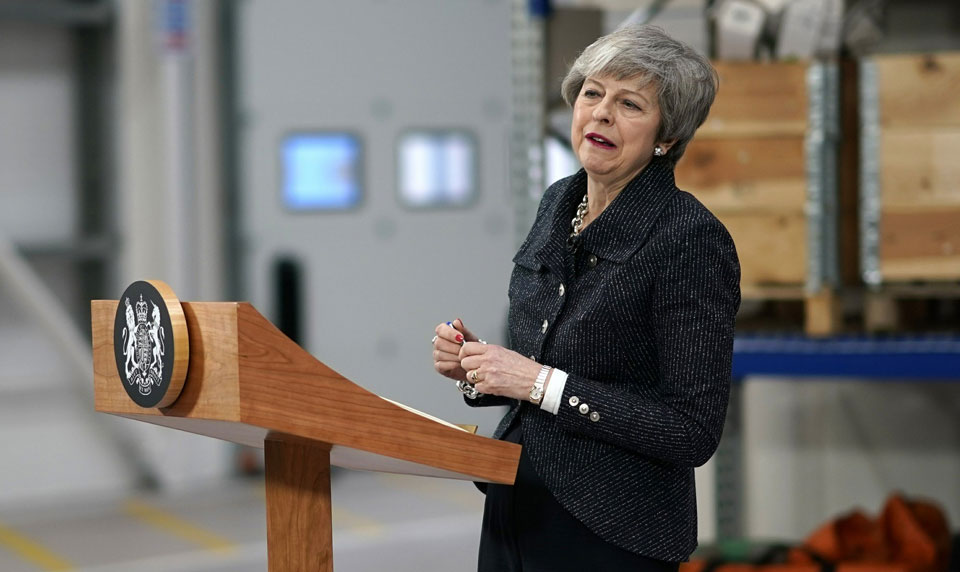 People's World correspondent Al Neal will be reporting from Europe on Britain's scheduled departure from the European Union, due to take place March 29. This is his first dispatch, filed this morning from London. (Prior coverage of Brexit available here.)
LONDON — The large English seaport town of Grimsby on the south bank of the Humber Estuary, the best spot for fish and chips according to locals, was where British Prime Minister (PM) Theresa May delivered a surprise speech on the UK's planned withdrawal from the European Union today.
May's speech comes ahead of a vote scheduled for Tuesday, March 12, when Parliament will be asked to approve her "Plan B" divorce agreement from the EU. If defeated, MPs would move to vote on either delaying Brexit by asking for an extension of Article 50 or securing a no-deal divorce.
Standing before orange-vested dock and warehouse workers—given only 30 minutes notice of the visit—inside Danish-owned energy company Orsted's east coast hub, May appealed to MPs and UK citizens to support her deal or risk having Brexit canceled altogether.
"Next week, MPs in Westminster face a crucial choice: whether to back the Brexit deal or to reject it," she said. "Back it and the UK will leave the European Union. Reject it and no one knows what will happen…we may not leave the EU for many months, we may leave without the protections that the deal provides. We may never leave at all."
She continued: "Brexit does not belong to MPs in parliament. It belongs to the whole country. It belongs to the people who voted for it and want to see it implemented, so we can all move on to a prosperous future."
And with Grimsby voting 71 percent to leave the EU, those "people" she spoke of are the ones now rethinking their original decision and hoping for a second referendum—a YouGov survey showed the town backs a second public vote by a margin of 55 percent.
Reactions to May's speech were quick and direct.
Labour Party MP Jo Stevens said, "It smacks of complete hypocrisy to hear the prime minister saying the EU's behavior will determine the outcome of next week's vote. She and her government are the only people responsible for this whole debacle. Their botched deal and tactic of running down the clock to scare people with a no deal disaster will be judged by future generations."
The Scottish National Party' parliamentary leader Ian Blackford echoed Stevens' response and encouraged May to stop passing the buck and take responsibility for the Brexit crisis she created.
May will be returning to Brussels today, after shifting Brexit blame onto the EU, to try and break the negotiations impasse over the weekend.
EU negotiators say they've offered the PM possible solutions to the Irish backstop, an issue many UK lawmakers say could risk binding the UK to EU rules and regulations forever. The backstop is a measure that would keep the UK's Northern Ireland in a customs union with the EU in the event of a "no-deal" Brexit, maintaining its open border with the Republic of Ireland. The new EU backstop proposals include a renewed focus on improving the backstop review system and design it to speed up the process for finding a better solution.
Of course, the EU proposals fall short of the UK's demands, which were made by Attorney General Geoffrey Cox this week. Cox wanted a complete change in the system to allow the UK to leave the backstop border without EU approval—a demand flatly rejected by EU negotiators.
As it stands, not enough Conservative MPs are likely to back May's deal Tuesday, and the Prime Minister refused to say if or how she'd instruct her Conservative Party MPs to vote on the EU divorce question—or how she herself would vote.
With only 21 days left before Brexit day ("B-Day"), the political storm clouds on the horizon grow darker. And the next 72 hours will be critical in determining whether they pass by or unleash a torrential downpour upon Westminster.