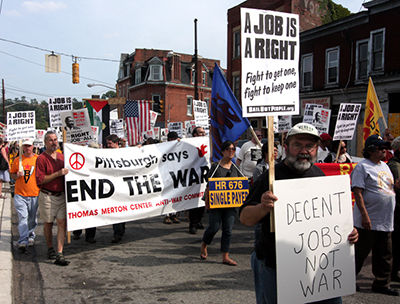 Of all the ideas out there on how to pull us out of the economic mess we're in, none makes more sense than the program laid out by the AFL-CIO and a coalition of civil rights groups and other organizations.
The program stresses government-funded steps to create jobs, while meanwhile providing expanded financial relief to those who have not been able to find jobs. The AFL-CIO and its allies already have launched a nationwide campaign aimed at winning support from the White House and Congress for the program – and already they've won pledges of support from some 200 members of Congress.
AFL-CIO President Richard Trumka noted that the federal Economic Stimulus Package created or saved one million jobs and pulled us back from the brink of a Depression. But we haven't hit bottom yet. If we don't act, everything will be even worse . We need jobs! Now! "Quick action is needed," Trumka added, "before more people lose their jobs, their homes, their health care and their hopes." As Trumka indicated, probably the most important problem that must be tackled is this: more than one in every four American workers today is jobless or at best underemployed.
The AFL-CIO and its allies propose extending the payout period for unemployment benefits by up to a year. That would enable thousands of families to escape bankruptcy, home foreclosure and loss of health care . That would in turn increase spending overall and thus create new jobs. The program also would expand health care coverage for some of the jobless and expand the federal food stamp program, among other immediate steps.
The program calls for increasing federal aid to hard-hit states that together face a deficit of almost $2 billion next year. Without more federal help, states would have to cut back their workforces and vital services even more, at a time when government services are needed the most.
Federal aid would go as well to local governments to keep them from laying off more workers and curtailing more of their services.
One of the most ambitious aspects of the proposed program calls for the federal government to spend as much as $3 trillion to put the jobless to work repairing the nation's battered infrastructure. They'd repair crumbling roads and and collapsing levees, for example, retrofit old, broken-down school buildings to make them safe and energy-efficient and expand railroad, airport and broadband capacity.
Federal funds also would go to badly needed local community projects. The program would use some of the money left in the Troubled Asset Relief Program TARP that helped big banks and other large financial institutions. The excess money would go to small community banks, enabling them to lend money to small and medium sized businesses which could then create jobs.
Although many members of Congress have endorsed the program, many have not. Nor does President Obama appear overly eager to support a measure that calls for increased federal spending in the face of growing concern over the federal deficit by Democrats and Republicans alike.
The AFL-CIO and its allies hope to overcome the Democratic reluctance and Republican opposition through their newly-launched campaign that's being waged by thousands of volunteers. They've been visiting homes, workplaces and elsewhere, and making thousands of phone calls to spread their vital message.
The message is simple: We need jobs! Now!
Photo: Scott Marshall