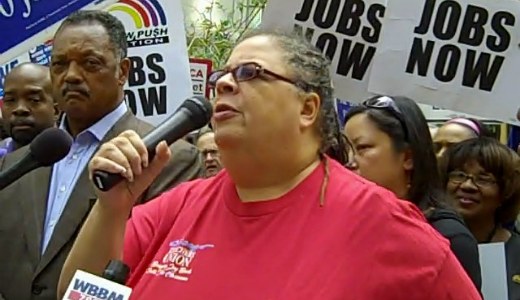 CHICAGO – Flanked by teachers, postal, transit, hotel and immigrant workers and veterans, Rev. Jesse Jackson declared, "Enough is enough," and called for a new people's coalition to engage in mass demonstrations to protect workers' rights and create jobs.
"It's tax cuts for the wealthiest Americans and job cuts for working-class Americans. We intend to escalate this struggle, to have massive demonstrations and if necessary civil disobedience to make our case" said Jackson. (story continues after video)
The Sept. 10 demonstration was called in the face of mounting layoffs and attacks on public workers – and as President Obama introduced the American Jobs Act.
Speakers demanded the bill's immediate passage to save the jobs of teachers, police and firefighters and put construction workers to work repairing the nation's infrastructure.
"This is an important crossroads in our nation's history," said Susan Hurley, Chicago Jobs with Justice director. "We need to pass this plan and there's no reason Republican representatives in Illinois and around the country should oppose it.
"We need to pass it, but we need to go much further," said Hurley. "We need to create millions of jobs for the 20 million people out of work."
Hurley called for the rich and "those who caused the crisis" to pay for jobs creation.
Those who spoke reflected the deep-seated anger over the mounting attacks of public and private sector workers. They blasted the lies being told by corporations and public officials and highlighted the commonalities of the struggles.
Public school teachers, who have been at the point of attack, have suffered an estimated 300,000 layoffs nationally. In addition, Chicago teachers are battling Mayor Rahm Emanuel who is intent on forcing teachers to work a longer school day will little increase in pay. Emanuel also wants to eliminate any voice teachers have in how the longer school day is planned.
"The attack on teachers is founded on lies. The truth is they're trying to destroy the public sector," said Karen Lewis, president of the Chicago Teachers Union. "They're trying to steal money from the taxpayers, give it to the rich and pretend that's okay."
Due to "lack of funds," neighborhood post offices across the country are scheduled for closure, including twelve on Chicago's predominantly African-American South and West sides.
"What you're hearing in the corporate media is what we call the big lie," said National Association of Letter Carriers Branch 11 president Mack Julion, referring to management assertions the postal service is going broke because of worker's wages and pensions.
"What's killing the postal service is politics," said Julion. "The postal service exists to provide postal service to everyone."
Julion said the USPS has two pension funds that by law have become overfunded by a combined $82 billion. He said without the over funding the USPS would have run a $500 million surplus last year instead of a $5 billion deficit. He called for passage of HR 1351, currently pending in Congress would restore funds to the postal service and eliminate the deficit.
There is no need to gut postal worker contracts, cut service, close offices or lay off workers, said Julion. He warned this was a "front door attempt" at privatization of the postal service "piece by piece."
Joining public workers at the rally were private sector workers. Hyatt hotel workers are on strike in four cities including Chicago. They've been without a contract for over two years and are battling corporate greed for decent wages and to stop contracting out.
Striker and Unite Here member Ida Martinez, like other speakers, called for unity in the face of the corporate attack.
"We're all in this fight – hotel workers, transit workers, postal workers, teachers. We are the middle class and pretty soon we won't be the middle class," said Martinez.
Martinez noted the billionaire Penny Pritzker, whose family owns the Hyatt chain, also sits on the Chicago Board of Education. As a board member, she also supports anti-union policies and is a proponent of school privatization.
"All we want is a decent life," said Martinez.
Photo: John Bachtell/PW