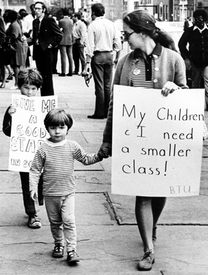 We salute Joyce Wheeler on her retirement from the Baltimore City Public Schools.
She has given 38 years of devoted service to the children of our city.
We love and admire you, Joyce, for:
• being an exemplary elementary classroom teacher for 27 years
• being a staunch BTU building rep who walked the picket lines in 1975
• toiling for 11 years to raise science literacy as Baltimore's only elementary science specialist
• advocating for quality public education and against privatization
• actively engaging in the movement for world peace and equality
No apple is sweet enough for this teacher who truly left no child behind
We wish you many years of a peaceful, happy, active retirement!
Judy Ann Alberti, Terrie Albano & John Bachtell, Mark Almberg & Sarah Staggs, Jim & Margaret Baldridge, Les & Pam Bayless, Marilyn Bechtel, Debbie A. Bell, Dennis Barnebey, Baltimore-Matanzas Sister City Association, Dan Burdick, Marion "Honey Bee" Burns, Andrea Bowden, Winfield & Solin Coleman, Kamela Carnes & Family, Jeanette Davis, Jeanne Dresser-Silverberg, Armeta Dixon, Jenn & Sam Delgado, Helen & Garland Evans, Cindy Farquhar & Sharon Jones, Peter French, Gabe Falsetta, Joelle Fishman & Art Perlo, The Greens in Chesapeake, VA, Dr. David Gillespie & Francie Zembower, Ted Gilbert, Carl Gentile, Frances Gabow & Rookie Perna, Kae Halonen & Sam Stark, Lilo Heller, Herman Heyn, John & Karolyn Huffman, Erika Hamerquist, Leah Lurie Heyn, Susan & Mike Horton, Valency Hastings, Rosita B. Johnson, Marlene Jordan & Sam Friend, Brooke Jacobson, Estelle Katz, Linea & Mikko King, Joyce Kramer, Juan Lopez, Pepe Lozano, Rollin & Mary Morford, Diane Mohney & John Vago, Salima Siler Marriott, Caroli Mullen, Scott Marshall, Elena Mora, Barbara A. Meyers, Dan Margolis, John Neubauer, Max Obuszewski, Wayne Ostlund, Melissa O'Rourke, Dick Ochs, The Raders, Theresa Reuter, Barbara Russum, Patti Struthers, Mary L. Smith, Peggy & Ben Sears, Mike Shulman, Seymour & Carmen, Mary M. Thurlow, Rose Nyenewe Taylor, Kay & Walter Tillow, Carolyn Trowbridge, Jarvis Tyner, Steve Valencia, Steve Vause & Carlyn Syvanen, Betsy Wheeler Valle, Morgan P. Wheeler, Anita C. Wheeler, Maureen, Sean & Nick Wheeler, Tina, Chelsea, Erin Wheeler & Tion Watters, Tim Wheeler, Sam Webb, Lena & Walter White, Walker/Bennett Family, Carl Wood, Susan Webb, John Wojcik, Roberta Wood, Jill Warzer, and a group of Joyce's co-workers.