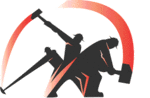 On this Labor Day, we salute the fighting spirit of the labor movement against corporate greed and anti-democratic politicians. We salute labor's struggle for unity and action of all workers, their families and communities.
From the struggle to raise the minimum wage to the struggles for jobs, immigrant rights, renewal of the Voting Rights Act, passage of the Employee Free Choice Act, affirmative action, health care for all and quality public schools, the labor movement has provided crucial leadership and resources for these just causes.
We also salute the stance by labor in calling for a prompt withdrawal of U.S. troops from Iraq.
The battle to change Congress and restore "checks and balances" to government is the next great battle. We salute the millions of union members in the U.S. who will engage in this battle and through their sweat, make this country and world a better place.
¡Sí se puede! United, we will win!
A Teamster • Aaron Moss • Alan P. Donohue • André Brochu • Annie Fox • Barbara A. Samuelson • Barbara Collins • Barry Weinstein • Carol Sorflaten • C.T. Weber • Delmer Berg • Dorothy Kohl • Doug Smiley • Earl Harju • Emile Schepers • Everett Hoagland • Fay Bussell • Gregory R. King • Jack Bussell • James Thompson • Jerome Moss • Joe Bernick • John P. Falchi • John Smith • June Dennis • Karl Dennis • Karl Sorg • Karl Weichinger • Lee Dlugin • Lewis Lubka • Mark Jordan • Michele Artt • Pat Barile • Raymond Tate • Robert Jastad • Tampa Bay Club, CPUSA • Tony Ryan • W.T. Whitney Jr. • The Baltimore Wheelers: • Tim and Joyce • Morgan and Tina • Nick and Maureen • Susan M. • Steve Vause and Calyn Syvanen • Marion "Honeybee" Burns California: Abe Blashko • Leo Blashko • Lilo Heller • Sara Alchermes • Armando Ramirez • Cassandra Lopez • Danny Morales • Gail Ryall • Jacqueline Cabasso • John Kitchenka • John C. Reiger • Juan Lopez • Marilyn Bechtel • Siri M. Margerin • Tri-Valley CAREs Connecticut: Alfred L. Marder • Art Perlo • Brian Steinberg • Dorothy Johnson • Eda diBiccari • Edie Fishman • Edward Broderick • George Fishman • Henry Lowendorf • James H. Barnes Jr. • Joelle Fishman • Joseph Taylor • Lola Johnson • Mary D. Johnson • Melvin Gonzalez Mendez • Pamella Saffer • S. Yusuf B. Gursey • Sallie Caswell Thomas • Tom Connolly • W. Reed Smith Jr. Illinois: Joan Elbert • Barbara Russum • Bea Lumpkin • Bill Appelhans • Bill Mackovich • Carolyn Black • Carroll Krois • Dee Myles • Doug Freedman • Frank Lumpkin • John Bachtell • Kevin Collins • Lance Cohn • Mark Almberg • Marguerite Horberg • Martha Pedroza • Mike Giocondo • Pepe Lozano • Roberta Wood • Scott Marshall • Shelby Richardson • Sijisfredo Aviles • Sue Webb • Terrie Albano Massachusetts: Amilcar Cabral Club • Gary Dotterman • Jack Martis • Leandro Della Piana • Maja Weisl Johnson • Nick Burlak • Wadi'h Halabi Minnesota: Bill Comiskey • Carol Sorflaten • David Bednarczuk • Dean Gunderson • Doris Marquit • Erwin Marquit • Gerald Erickson • Gina Socha • Harry McAllister • Jane Thomson • Janet Quaife • Mesaba Co-op Park (Hibbing) • Michael Wood • Mick Gardiner • Morgan Soderburg • Mostafa Chat • Peter Molenaar • Robert Lippert • Salam Bushra Missouri and Kansas: Colan Holmes • Garon Foxx • Glenn Burleigh • Jim Wilkerson • Jocelyn Cochran-Biggs • Joey Mooney • John Pappademos • Julie Terbrock • Katrina Molnor • Kaveh Razani • Margarida Jorge • Mary Barbur • Nafisa Kabir • Phil Webb • Quincy Boyd • Russ Ford • Steve Johnson • Tony Pecinovsky • Yvette Harris • Zenobia Thompson New Mexico: Caroline Hoescher-Hilton • Che' Fox • Dan R. • Emil Shaw • Joe Hook • Juan T. • Luis Sosa • Mike S. • Pablo Trujillo • Rosamund Evans • Rose Shaw • Sandra Han • Virginia C. New York: Angie Lebowitz • Betty Smith • Bill Davis • Bob Beachman • Carole Marks • Charlotte Sinovoi • Dan Margolis • Eileen Reardon • Estelle Katz • Esther Moroze • Gabe Falsetta • Gary Bono • George Robbins • Gloria Freedman • Grace Bassett • Judith Paulsen • Ken Besaw • Linda Feldman • Martin Sawma • Michael Moore • Rose Bilander Pennsylvania: Asad Ali • Billie Penn Johnson • Denise Edwards • Donna Puleio Spadaro • Dr. A.S. Mahdi Ibn-Ziyad • Gary Puleio (In Memoriam) • George Edwards • Joe Kopnitsky • Ken Heard • Ben Sears • Dave Bell • Debbie Bell • Diane Mohney & John Vago • Evie & Larry Horwitz • Frances Gabow • The Incognito Family • James M. Bradford • Jimmie Wayne Moore • June Krebs • Leonard Pepper • Rookie Perna • Rosita Johnson • Sharon Hurley Texas: Andrea Greimel • Andy Sivak • Brad J. • Celia Joanna Stanford • Elaine & Gene • Francisco Paco Cantú • Frank and Sheila Valdez • Hernando Martinez • Jaime P. Martinez • John W. Stanford •Paul Hill • Richard S. Pressman • Stewart Minor