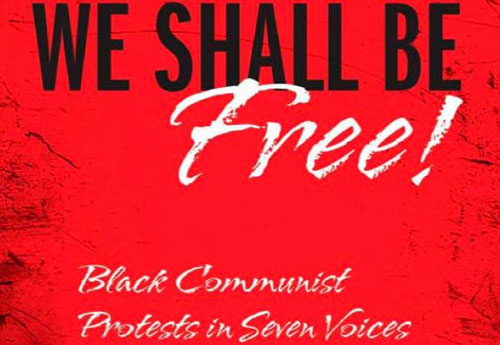 In his preface to We Shall Be Free!: Black Communist Protest in Seven Voices Walter T. Howard writes that he hopes to "break new ground in the scholarship of the African American left … [by] address[ing] a particular need to give voice to black Communists and to respect the intellectual contributions found in their protest writings."
The seven voices presented are from the well known African American Communist Party USA leaders B.D Amis, Harry Haywood, James W. Ford, Benjamin J. Davis, Louise Thompson Patterson, William L. Patterson and Claudia Jones.
Upon opening We Shall Be Free! and diving into the unique, historically specific contributions, I felt a little lost, though. While Howard does provide a brief biographical introduction prior to each "voice," he doesn't provide historical context regarding why certain articles, essays and/or speeches were selected or what they meant to the larger political landscape and time. They seem random.
It may seem like a small point, but historical context would have added significantly to Howard's presentation of African American Communist voices. As is, their voices are largely without context, seemingly lost and isolated. This is, in my opinion, the only shortcoming of We Shall Be Free!.
In Howard's book we see – over time – the evolution of the party's approach, its strategy and tactics, as it experimented with different organizational forms in its efforts to recruit African Americans and to build the black liberation and African American equality movements. This is probably one of the most important aspects of this collection of voices.
For example, let's first look at B.D. Amis and then James W. Ford. Amis, general secretary of The League of Struggle for Negro Rights, repeatedly refers to the NAACP, as well as Black church leaders, for example, as "Negro misleaders," whom we should have "absolutely ignored," as we would have built a "more genuine mass movement" without them.
While context would have placed this opinion within a specific historical moment, his voice still illuminates – when coupled with the other voices – an emerging and evolving Communist perspective.
Written as a speech for the Thirteenth Plenum of the CPUSA, in September 1931, Amis' opinions would eventually be at odds with those of other African American leaders, like James W. Ford, who just five short years later would help found and build the National Negro Congress. The NNC would eventually become a broad federation of over 3,000 civic, religious and fraternal organizations – like the NAACP, the Urban League and hundreds of Black churches and fraternities – and ultimately become, as Gerald Horne points out, the "embodiment" of CPUSA popular front politics.
However, without context, this history is confused and muddled. Was Amis at odds with the larger CPUSA perspective? Did his perspective change and evolve along with other CPUSA policies?
Ford, a founder of the National Negro Congress, held a completely different perspective than Amis. Ford even went so far as to encourage party members to work with Marcus Garvey's Universal Negro Improvement Association, in spite of its separatist views.
According to Ford, Garvey and the party are "both agreed that black men should be freed from the domination of imperialists in Africa and throughout the world. We both agree that Mussolini's fascist hordes should be driven from Ethiopia …," therefore, he said, the party and Garvey should work together.
Ford gave this analogy: "Those who argue against unity of action NOW are in the position of the man who would not accept the help of his friend in moving furniture from his burning house because the friend wanted to advise WHERE the furniture should go LATER."
Furthermore, Ford asserted, as a result of the party's evolution towards popular front unity, communists "have not only been in advance of all sections of the population" in the struggle for African American equality, "but for a long time were pretty much alone in it …" As a result, "[T]he Negro people have acquired a profound appreciation" for the Communist Party.
Probably one of the most illuminating, if often neglected, African American voices is that of Louise Thompson Patterson. An excerpt from Chapter 5 of her unpublished memoirs is included in We Shall Be Free!, and it wonderfully gives us a glimpse of Louise Patterson's many contributions, while she worked for the International Labor Defense, the International Workers' Order and the National Committee for the Defense of Political Prisoners.
"Well my work for the IWO was akin to the labor movement," Louise Patterson writes. "[W]e were interested in working with workers and giving them the benefits of our program." The IWO was, as Arthur J. Sabin points out, a "highly successful, financially stable insurance company" attacked in court and eventually dismantled due to its association with the CPUSA.
Louise Patterson told the IWO, which had included "16 different national groups, [and] ethnic groups," "You know, I'd like to see black people get into this organization." Shortly thereafter, she was organizing "down south" and bringing the benefits of the IWO to southern African American sharecroppers.
The last section of We Shall Be Free includes the full text of W.E.B. Du Bois' application to join the Communist Party,USA.
Howard's We Shall Be Free! is a compact, little book. But it packs a good punch, and largely succeeds at "giv[ing] voice to black Communists," while respecting "the intellectual contributions found in their protest writings."
In all, We Shall Be Free! is an important contribution to African American and Communist history, and my criticisms regarding the lack of historical context are peripheral. During this African American History Month We Shall Be Free! should be read by all carrying on the traditions of these great Communist leaders.
Book information:
We Shall Be Free!: Black Communist Protest in Seven Voices
By Walter T. Howard
Temple University Press, 2013, 208 pages
Photo: Amazon.com