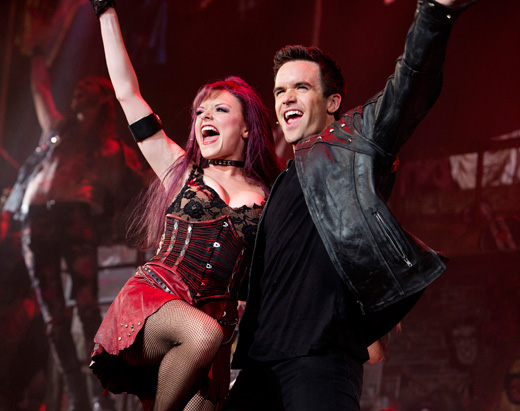 "We Will Rock You" the musical, is a sheer delight for lovers of the British band Queen in particular and of classic rock in general. Like "Mamma Mia!" which features Abba's disco music, "We Will Rock You" creates a story to cleverly wrap around Queen's songs. However, director Ben Elton's book conjures and weaves a saga far more imaginative than Mamma's rather trite one. "We Will Rock You" is set in a dystopian future, where instead of book burning, "Globalsoft's" totalitarian state led by Big Sister Killer Queen (the hilarious Jacqueline B. Arnold, who spoofs Black stage and screen stereotypes) has-horror of horrors! — banned rock 'n' roll music!
Somehow, although it's never explained why or how, classic rock songs and lyrics filter through the mind of a teenager called Galileo Figaro (Brian Justin Crum), who teams up with another social misfit he dubs Saramouche (Ruby Lewis). They make common cause with keepers of the flame, the Bohemians-aged outsiders who remember rock and the day the music died-in their crusade and rebellion to revive, rehabilitate, and resurrect rock 'n' roll. (The musical playfully panders to its audience, many of them hailing from the generation that came of age during Queen's heyday and are roughly the same age as the Bohemians.)
No Brechtian agitprop play, "We Will Rock" You soft peddles its anti-censorship, antifascist pop politics, which are mostly played for laughs in this rather humorous show. There's even a droll torture scene that makes witty use of Queen's "Flash Gordon" number.
The two-acter has a multi-media vibe and two-level stylish set with an eight-piece orchestra sporting dual drum sets belting out the live tunes from above. Architect Mark Fisher is the original production designer and video director, with Arlene Phillips' frenetic choreography rousingly hoofed by a large cast accompanied by fabulous singing. At the Bohemians' lair is what's presumably a replica of the Freddie Mercury statue located near the Charlie Chaplin statue at Switzerland's Lake Geneva. (Here's the fun fact of the day: According to a plaque on that Swiss sculpture, four-octave Freddie Mercury was actually born in Zanzibar.)
There's just one flaw in this overwhelmingly enjoyable production: While the Globalsoft dictators suppress rock, they themselves perform rock 'n' roll numbers, which sort of undercuts their point. But this is a mere quibble: A splendid time was had by all as the musical transformed the Ahmanson into a joyous Radio Ga-Ga-palooza. To paraphrase that enlightened philosopher Jerry Lewis: "You're only young once, but you can stay immature forever."
Now, here are two hints from your humble reviewer to enhance your theatergoing experience to the fullest: See/hear this merry madcap melodious musical with a kindred spirit who enjoys Queen music and having a good time. And although I'm loath to spoilers, let's just say that when you think the play is over, DO NOT LEAVE. Stay put for a grand finale that's, well, sure to rock you!
We Will Rock You is playing Tuesdays through Fridays at 8:00 pm, Saturdays at 2:00 and 8:00 pm, and Sundays at 1:00 and 6:30 pm through Aug. 24 at the Ahmanson Theatre, 135 N. Grand Ave., Los Angeles, CA 90012. For more info: www.centertheatregroup.org/; (213) 628-2772.
L.A.-based reviewer Ed Rampell co-authored "The Hawaii Movie and Television Book." (See: http://hawaiimtvbook.weebly.com/.) Rampell and co-author Luis Reyes will be signing books at the Egyptian Theatre on July 27 at 4:00 pm, at 6712 Hollywood Blvd., Hollywood, CA 90028. (See: http://www.americancinemathequecalendar.com/content/don-the-beachcomber-the-origins-of-the-american-tiki-bar-enchanted%E2%80%88island.)
Photo: Ruby Lewis and Brian Justin Crum in the national tour of Queen and Ben Elton's "We Will Rock You," which will play at the Center Theatre Group/Ahmanson Theatre, July 15 through August 24, 2014. Photo by Paul Kolnik.