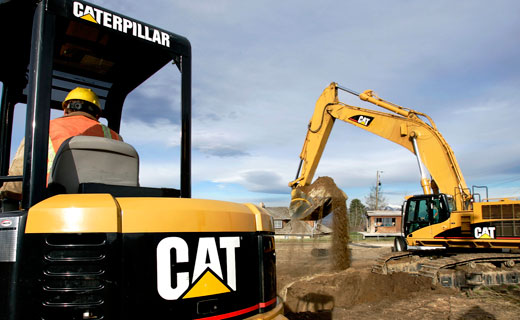 WASHINGTON (PAI) – Ross Baize, a veteran United Auto Worker and safety committeeman at Caterpillar's big plant in Peoria, Ill., found out three years ago that federal job safety and health law protecting whistle-blowers is weak – very weak.
Just over three years ago, a colleague with 38 years of seniority and a nearly-perfect attendance record was inspecting a dangerous jam on an orientation track in the Cat plant. He pulled out debris from in front of a sensor to get the track going again, and "a stop came down, striking his left hand," Baize told senators at a Labor Committee hearing in D.C. on Apr. 29.
It turns out there was no lockout/tagout mechanism on the track to stop it while a worker fixed it. The worker reported the injury and was taken for medical treatment. A whistle-blower complaint was filed on his behalf in the first weeks of 2011, Baize explained.
And Cat suspended the worker for two and a half months without pay. Even though he followed its manual for such inspections, the firm claimed the worker didn't shut off an air pressure valve before checking the orientation track.
The Occupational Safety and Health Administration (OSHA) investigated and later fined Cat $7,000 for the lockout/tagout violation, which the firm paid. But the case didn't stop there.
Even before OSHA's probe and fine, the UAW filed a grievance against the lack of lockout/tagout protection on the track. When Baize and his UAW committeeman told Cat that, Cat's response, in April 2011, was to eliminate his job and knock him down three pay grades.
Thanks to the UAW's contract and his seniority, he later bid for and won a job at his old pay grade.
Wait, the problems whistle-blowers face aren't over. Baize filed a complaint to OSHA about Cat's presumably illegal retaliation. But because the UAW contract says you must try in-house grievance channels first, he didn't file it until 34 days after Cat killed his old job. The Occupational Safety and Health Act gave him only 30 days to file. Case dismissed.
It's cases like Baize's that brought him and other witnesses to Washington on April 29, the day after Workers Memorial Day, telling the Senate Labor Committee that laws protecting on-the-job whistle-blowers need to be stronger – much stronger.
"I learned the day that I called in my complaint that it was probably going to be deemed untimely," he said. And his colleague's story of suspension without pay still is a frequent occurrence in at least his former sector in the Cat plant in Peoria, Baize said afterwards.
It's also common elsewhere, and that led OSHA's administrator, Dr. David Michaels, to urge the panel to strengthen whistle-blower protection laws.
Michaels, supported by Baize and most of the other witnesses – the exception was a GOP-named employment lawyer – all backed measures to put teeth into whistle-blower laws.
He proposed setting a 180-day deadline for filing whistle-blower retaliation complaints, just as several states do now. Michaels also noted that if OSHA dismisses a whistle-blower complaint – either about retaliation or about the job safety problem itself – that's it. There's no appeal. "And that's wrong," he said.
The workers should have the right to appeal, to an independent outside authority, such as an administrative law judge, Michaels said. And if the worker is still not satisfied, he or she should have a "private right of action" – in other words, the right to sue to enforce the law.
And firms like Cat shouldn't be able to get away with suspending whistle-blowers without pay. Michaels says Congress should change the 1970 Occupational Safety and Health Act to let the agency order immediate reinstatement of workers "that OSHA finds have suffered illegal termination."
And the 1970 law says the disciplined whistle-blower must prove the offending employer hit back "because of" whistle-blowing. Michaels wants lawmakers to change that burden of proof, so the worker has to show only that whistle-blowing was "a contributing factor" to company discipline.
"Employees who stand up for what is right, who act with the public good in mind, and who are brave enough to come forward when others will not, should be held out as models of civil responsibility," not disciplined, Michaels said. "We owe it to all workers to provide effective recourse against retaliation for those with the courage to address wrongdoing or unsafe conditions."
The few senators at the hearing gave the workers, and Michaels, a generally sympathetic reception. But they did not promise any action on the proposals, or on the Protect America's Workers Act, a comprehensive strengthening of the OSH Act. Sen. Patty Murray, D-Wash., who sat in on the hearing for a while, introduced that bill, with strong union and Obama administration backing, several years ago. It's gone nowhere.
Sen. Bob Casey, D-Pa., who chaired the hearing, noted that without the UAW, Baize would have been hit even harder, and with no protection against Cat's retaliation at all. He also pointed out that union workers, because of the protection of a contract, are more likely to speak up about unsafe conditions.
But not always, Baize told Press Associates Union News Service in an informal conversation afterwards. Even with the union contract and the protections it gives, there are still a lot of workers at Cat, he said, who are afraid to speak up and speak out.
Photo: http://www.kirk.senate.gov/