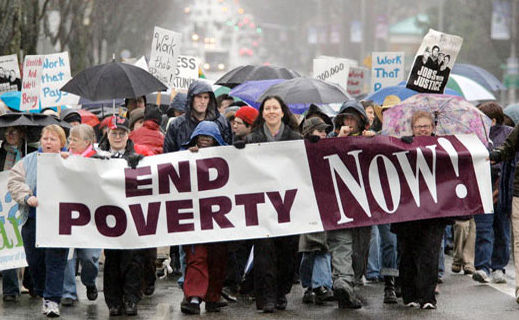 Here is a story from The New York Times that will absolutely blow your mind. The global anti-hunger organization Oxfam says that the richest one percent in the world will probably control more than half of the world's wealth within the next year.
We are headed to a world where just one percent of the population own and control more than all the rest of us combined.
So much for free trade lifting the lives of the world's poor.
So much for job creators and investment that benefits everyone.
So much for the universal value of tax breaks for the rich.
So much for stopping government spending to balance the budget and give more and more to the rich.
Oxfam has just blown a hole in all the arguments of the Wall Street crowd, the financial elite, and the radical rightwing.
This massive inequality and the resulting poverty and massive misery have got to be the most important issues in America and in the world.
Here's a factoid from the New York Times story: "The 80 wealthiest people in the world altogether own $1.9 trillion, the report found, nearly the same amount shared by the 3.5 billion people who occupy the bottom half of the bottom half of the world's income scale."
And the inequality has been increasing since 2010.
There is no moral, economic, nor political justification for this appalling economic state of affairs!
Photo: AP