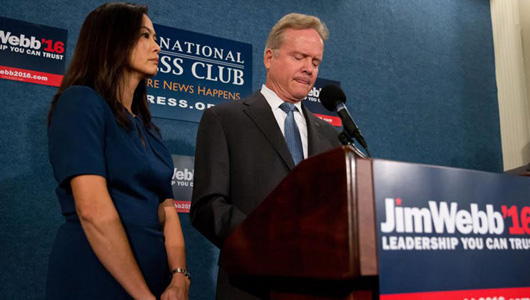 WASHINGTON – Former Virginia Senator Jim Webb announced here yesterday he's dropping out of the Democratic Party primary race because "my views on many issues are not compatible with the power structure and base of the Democratic Party, and frankly, theirs are not compatible with many of mine."
He made his announcement at the National Press Club and fueled speculation he might run as an independent by saying that he said he "intends to remain a voice" in the presidential election.
"How I remain as a voice will depend on what kind of support I'm shown in the coming weeks," Webb said, "as I meet with people from all sides of America's political landscape; and I intend to do just that."
If he runs as an independent, observers believe he will take votes away from the Republican nominee. In fact, he was a Republican until 2006 and had served as Ronald Reagan's secretary of the Navy.
During the recent debate between Democratic Party presidential hopefuls, Webb voiced positions markedly different from mainstream Democratic voters. He said that he supports the coal industry and nuclear power and that although he's for immigration policy reforms, he believes that a country "defines itself" by having "firm borders." Furthermore, he said he is against the anti-nuclear development agreement with Iran.
On the campaign trail, he made clear he is a strong supporter of gun rights.
At a meeting of the International Association of Fire Fighters, he said he dislikes government-enforced equity measures to achieve a healthy middle class. The term "income inequality" is not a useful phrase, he said.
On the other hand, as a senator he worked closely with Bernie Sanders to craft and pass the Post-9.11 GI Bill, the most significant veterans legislation since World War II. He also co-authored legislation that exposed 60 billion dollars of waste, fraud and abuse by private wartime contractors in Iraq and Afghanistan.
Moreover, he was an ardent opponent of the war in Iraq.
As a freshman senator, he famously refused to have his picture taken with President George W. Bush as a protest against the war. At the time, Webb said "leaders do some symbolic things to try to convey who they are and what the message is."
A graduate of the Naval Academy, Webb was a rifle platoon commander during the Vietnam War and was awarded the Navy Cross, the Silver Star Medal, two Bronze Star Medals and two Purple Hearts.
He is also a journalist and novelist. He won an Emmy in 1983 for a report on the Lebanese civil war for PBS NewsHour and has written 10 books.
At his press conference yesterday, a reporter asked Webb if he still considers himself a Democrat.
He answered, "We'll think about that."
Photo: Jim Webb (right). | AP