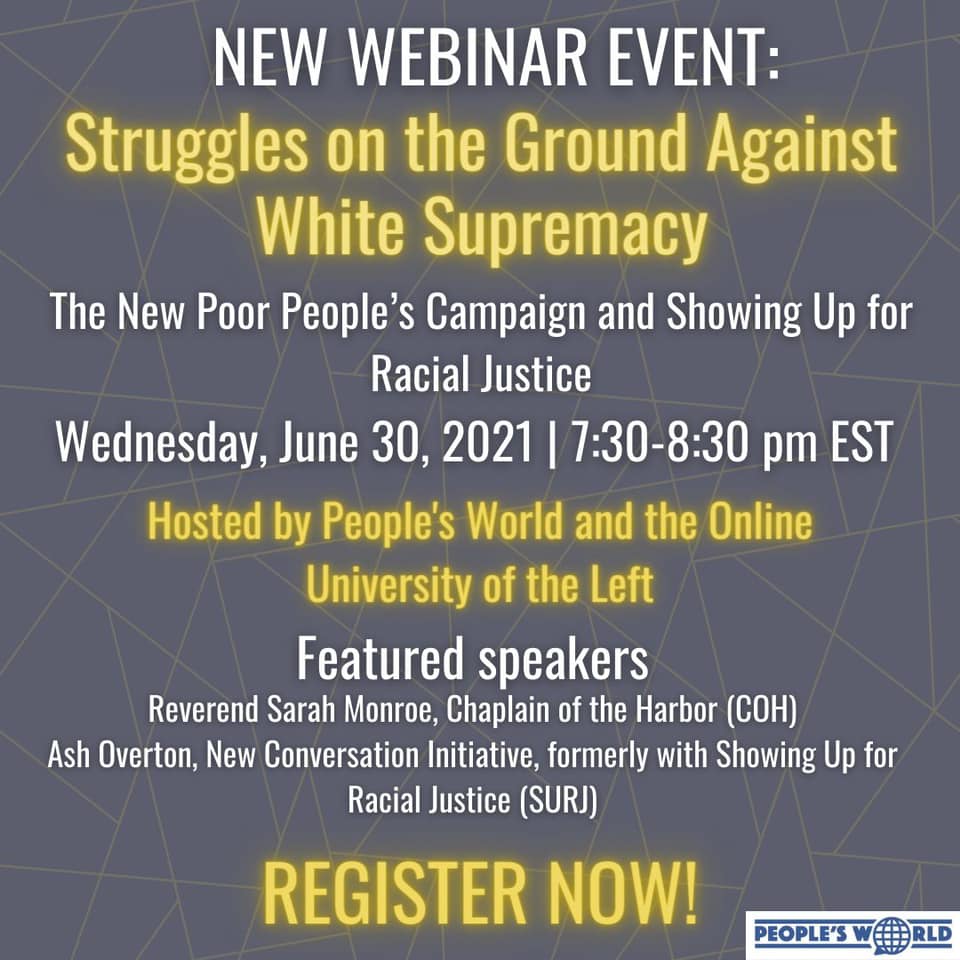 Grassroots Organizing: The New Poor People's Campaign and Showing Up for Racial Justice

A webinar organized by the Online University of the Left (OUL) and People's World

Wednesday, June 30, 2021

7:30-8:30 pm EST
Progressives everywhere are concerned about the spread of white supremacy and neo-fascist movements linked emotionally to former president Donald Trump. Although Trump lost the 2020 presidential election, he managed to secure 74 million votes.
As a result of the election, the Democratic Party has slim majorities in both legislative chambers, but conservatives control the Supreme Court and campaigning has already begun for the 2022 Congressional elections. In addition, some 30 states are red; that is governorships and legislative bodies are controlled by the Republican Party.
While political movements struggling against racism, worker exploitation, misogyny, and environmental damage have grown, the future remains unclear. And it is in this context that struggles to build multiracial working-class movements are more vital than ever.
But what is being done to build such movements? What can progressives learn from on-the-ground movements? What must we do to attract those 74 million voters and build for survival in 2022 and 2024?
To address these issues, People's World and Online University of the Left are hosting a discussion on June 30, 2021. Click here to register.
Featured speakers:
Reverend Sarah Monroe, Chaplain of the Harbor (COH). Sarah Monroe founded Chaplains on the Harbor in 2013. She was ordained to the priesthood on April 23, 2014, and serves as priest and missioner with COH. She works in both Aberdeen and Westport, focusing on pastoral care and street outreach, leadership development, worship, and community building. She is engaged in the New Poor People's Campaign in the state of Washington.
Ash Overton, New Conversation Initiative, formerly with Showing Up for Racial Justice (SURJ). Both organizations use "deep canvassing" to mobilize for voter participation. "Deep canvassing is about working to create mutual understanding grounded in lived experience, instead of in debate or talking points."