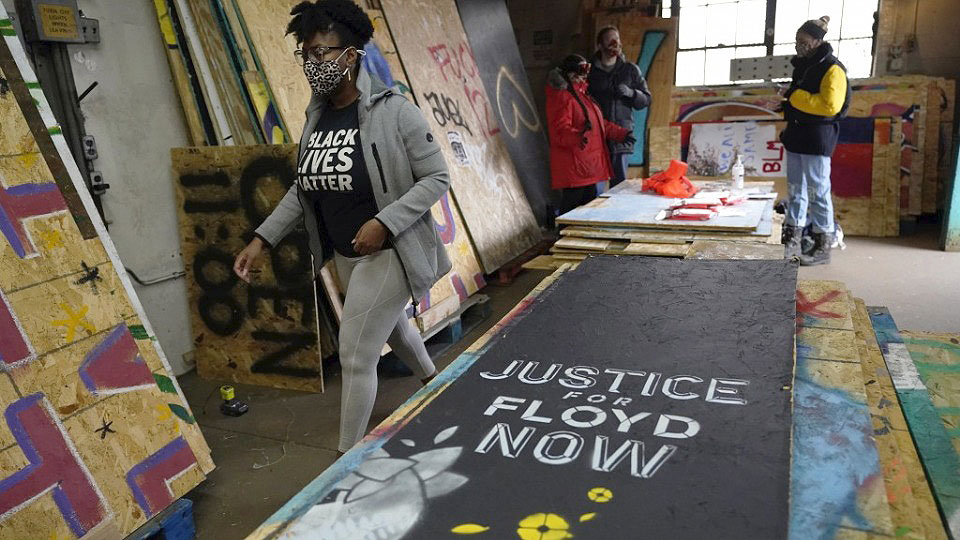 MINNEAPOLIS—A weekend of marches, rallies, and news conferences kicked off the fight for justice for George Floyd and the conviction of former MPD officer Derek Chauvin charged with murdering Floyd.
This overview and photos of the events from Friday to Sunday show a level of commitment to justice by a coalition of groups intent on organizing thousands and thousands to flood the streets of Minneapolis and in other cities across the nation to demand Chauvin be convicted.
Television, print, and online media from every corner of the globe are covering the trial.
Friday, March 5—Press conference
Heartache and tears, anger, and solidarity reverberated across the room at a press conference held in Minneapolis organized by Families Supporting Families Against Police Violence, a national organization of families of people killed by law enforcement.
Friends and family members of those killed by police in Minnesota came to tell their stories as an act of solidarity with the family of George Floyd. They spoke of the grief and anger that never goes away. For some, their loved ones were killed years ago; for others, more recently, like the family of Dolal Idd, who was killed by officers of the Minneapolis Police Department (MPD) on Dec. 30, 2020, in a hail of bullets.
Following the families' statements, a cloth scroll, two-feet wide and an estimated 50-feet long was unrolled by the organizers. It lists 470 lives taken by police violence in Minnesota, most of them since 2000. Handwritten entries noted each person's name, age, and the date they were killed. The national and international press in the room were visibly moved by this display that marked what they then understood were not the deaths of armed criminals in battle with police, but of those who were unarmed, those experiencing an emotional crisis, or those whose actions, like reaching for their identification, was sufficient cause for an officer to pull the trigger.
Below are a few of the stories shared at a press conference that People's World wishes to share with our national and international readers. For nearly 100 years, People's World has been on the side of those seeking to end the racism and violence endemic in our nation's law enforcement agencies. From the 1930s Scottsboro Boys case to the 1970s fight to free Angela Davis to George Floyd today, People's World and its predecessors have stood on the side of justice and freedom.
Valerie Castile, mother of Philando Castile
Philando was killed in July 2016 as he sat in his car with his young daughter and her mother. Castile had been pulled over on a stretch of road known in the Black community as an area they were often profiled for stops without cause. After the officer had asked for his car registration and license, Philando told the officer who approached his car that he had a licensed firearm in the car. Moments later, the officer discharged his firearm, allegedly fearing Castile was reaching for a gun. The officer was acquitted even though, as Ms. Castile said, the authorities had everything they needed to get a conviction. "He should have been convicted with the amount of evidence that was against him."
The reason cops are not convicted, she said, is because according to Minnesota law they can just say they feared for their life and pull the trigger. That excuse "is too vague," she said.
"We stand here today in unity and in force," she exclaimed. "We're not going to tolerate this and sit back and not say anything about the murder of our children."
"We have to be brutally honest with what is going on in this country. The only person that's in jail is the Black guy," she said, referring to Mohamed Noor, the Somalia-American MPD officer who was convicted for killing Justine Ruszczyk Damond in 2017, a white woman in Minneapolis. "He committed the ultimate sin, he killed a white woman," Castile said.
Jackie Smith, mother of Quincy Smith
Jackie Smith spoke about her son Quincy, who was a 24-year-old new father when he was shot and killed by five St. Paul police officers on Dec. 9, 2008. Quincy had previously filed a complaint of police brutality against one of the officers.
Ms. Smith has been outspoken in pressing for justice—stance for which she said she has experienced periodic harassment from police officers. Each time, she says, she stands her ground. "When they pass by my house and wave, I wave back.
When they say you need to be quiet, I say, God has got me talking." Minnesota families like Smith's are demanding the state legislature extend the statute of limitations so that Quincy's son, whom she is raising, can still seek justice should she die before justice is won.
Ashley Quinones, wife of Brian Quinones
Brian Quinones, 30, was an up-and-coming hip-hop recording artist in September 2019 on this way home to his wife and son in a suburb of Minneapolis. Officers in a squad car turned on their flashing lights to pull him over for allegedly running a red light.
The officers followed him into the parking lot of his apartment complex. Police allege he then got out of his vehicle brandishing a knife. Officers demanded he drop the knife, and when he didn't, officers fired, killing him.
Ashley Quinones said, "I am here praying that Minnesota can do something right for the first time in its history and prosecute a killer cop who killed a man who did nothing but be Black," referring to the demand to convict Derek Chauvin.
"This is ground zero," she added, "This the fight of our life."
The family of Kobe Hisler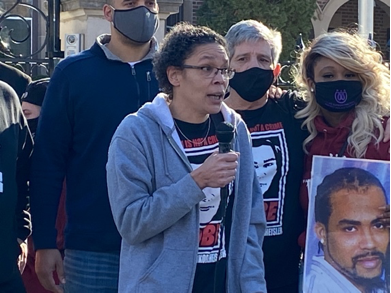 The younger brother of Kobe Hisler, Ethan, spoke on behalf of his family. Kobe was murdered by the Brooklyn Center police on Aug. 31, 2019, in the living room of his grandparents' home. His grandmother witnessed him being shot multiple times, including in the head.
Kobe, 21, was on the autism spectrum. His grandfather had called 911 fearing Kobe would harm himself. When the officers arrived, Kobe's grandfather said Kobe had calmed down and they were no longer needed.
Uninvited, the officers walked into their home anyway. Kobe was sobbing and became more agitated by their presence. The officer's repeated demands on him caused him to suddenly run for the door.
In their report, they claimed he was reaching for a knife. They shot and killed him just 12 minutes after arriving. The Minnesota Bureau of Criminal Apprehension determined the shooting was justified.
Ethan, who is still in high school, was angry and did not mince words about the BCA. "Police don't ever get convicted. The BCA is corrupt."
Paul Johnson, friend of Travis Jordan
Paul Johnson spoke about his dear friend, Travis Jordan, who was killed by two MPD officers outside Johnson and his wife's home in North Minneapolis in November 2018. Travis was an "artist, surfer, and saumya, animal lover, loving son and boyfriend, and my best friend," Johnson said.
"From the moment the officers arrived on the scene, they began violating written policies on how to handle a mental health crisis. In roughly 3 minutes and 45 seconds, they agitated and coerced Travis, knowing he may have a knife, out of the safety of our home, needlessly placing Travis and themselves into a situation where they could claim fear for their life."
As Travis came out of the front door toward them with a knife in his hand, the officers shot and killed him. The officers' disregard for following proper protocols and total lack of empathy and human decency caused the death of Travis, he said.
"Travis' family, Taren Vang, (Jordan's girlfriend), my wife, and I stand in solidarity with the Floyd family and families of all stolen lives," Johnson said.
Bayle Gelle, father of Dolal Idd
Just eight blocks from where George Floyd was murdered, Dolal Idd was killed by MPD officers on Dec. 30, 2020. Dash camera video showed squad cars hemming in his vehicle at a gas station parking area shortly after 6 pm. According to MPD statements, the pre-planned action was predicated on what the MPD called a "probable cause" weapons investigation.
The MPD officers at the scene claimed Dolal fired first through the window of his car. The officers responded with a hail of bullets. Idd's father accused the MPD of "hiding the truth" behind the grainy video the city released allegedly showing Dolal fired first. "This is our city, this is our country… We have to stop this system. We need to fight for justice."
Hours after Dolal was killed, Hennepin County sheriff's deputies around 2:15 a.m. demanded entry into Gelle's home in Eden Prairie, where his son also lived, ostensibly to search for weapons. Gelle told a Minnesota Public Radio reporter, "I thought they were going to kill us."
Deputies cuffed Gelle and other family members with zip ties while they searched the home. Deputies only told the family when they were finished that Dolal had been killed. The outrage over this military-style killing and cruel treatment of the family is still reverberating in the Somali-American community.
Sunday, March 7—Silent March to demand Justice for George Floyd
Activities for the weekend before the trial began were capped with a silent march that commenced mid-afternoon Sunday in downtown Minneapolis. It was led by pallbearers carrying a white coffin draped with red roses. Musical accompaniment appropriate for the moment followed along the march that an estimated 1,000 people attended.
At an intersection, the procession stopped for nine minutes of silence, representing the time that Derek Chauvin pressed his knee into George Floyd's neck. During the nine minutes, the names of the other 400-plus people killed in the state of Minnesota by police were read aloud in alphabetical order from the 50-foot-long scroll.
According to a participant, even after nine minutes, only the people whose last names began with "A" through "J" were read. The march ended with a rally and chants at the Hennepin County Government Center, where the trial is taking place. The march was organized by the Racial Justice Network and other groups fighting for justice and against police violence.