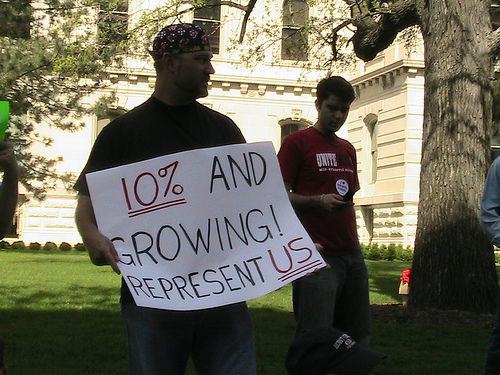 This morning the U.S. Department of Labor released its weekly jobless claims figures for the week ending Nov. 7. Coming in at 502,000 new initial jobless claims, the number marked a slight decrease over the previous week (about 12,000) and continued a recent trend of almost microscopic incremental decreases in the weekly claims over the past month or so.
However, the figure is still historically very high – at the depths of the economic crisis earlier this year weekly claims peaked at about 690,000.
Moreover, an economics reporter on CNBC noted this morning that the "lower" tally of 502,000 still indicates that every week in the U.S. as many people file for initial unemployment claims as live in a medium sized city like Atlanta, Ga.,(population circa 567,000). This is a staggering concept – the idea that each week a medium-sized U.S. city joins the ranks of the unemployed. Yet, this is touted as evidence of economic "improvement."
Reflecting on this mornings "improved," but "disappointing" report, President Obama announced that he will convene a "Jobs Summit" in December to explore the means for tackling this seemingly intractable problem of mounting unemployment even in the face of positive GDP (Gross Domestic Product) numbers from the third quarter of 2009. It is unclear from this morning's announcement who will be invited to attend the summit, but it does present something of an opportunity to include organized labor, progressive grassroots movements, and community organizations (including those fighting foreclosures and cutbacks to municipal budgets) in the discussion of solutions to the problem that impacts them directly.
We can be fairly certain that President Obama's leading economic advisers (Larry Summers et al.) will be involved. Since they are the prime architects of more than 25 years of neo-liberal globalization that brought us to this crisis, it is imperative that we have other forces represented to counter what are likely to be decisions badly skewed in favor of big business.
Moreover, President Obama's recent use of the oft-repeated phrase "employment is a lagging indicator of economic growth" reflects a tendency within the administration since March to favor the perspective of Wall Street in economic policy (without, it should be mentioned, reaping any political benefit for doing so).
In thinking about this morning's jobless claims report, combined with the monthly unemployment numbers from October (10.2% official unemployment and 17.5% "real" unemployment), and President Obama's decision to convene the Jobs Summit in December it raises the issue of a second (this time real) stimulus for the economy.
Ever since China announced its stimulus of nearly $800 billion it has been hailed (even among big business) as a successful and even model stimulus. China's stimulus was exclusively directed at creating employment through massive infrastructure development, employment retention in state-run factories, and procurement of natural resources to lower energy costs for the public (the government included generous increases in state subsidies for energy costs as a component of the stimulus plan).
On the other hand, the U.S. stimulus, while significant because it even got passed, was divided into a two-year phased plan that front-loaded tax breaks and added only a small percentage to direct employment programs – road repair, retention of public employees, etc. Many of those tax breaks have, unfortunately, been offset by rising unemployment since the stimulus went into effect. When one loses their income, the benefits of a tax cut go with it.
The lesson from the current U.S. stimulus, the rising unemployment rate since the Spring, and the historically high continuing and initial unemployment claims point toward the urgent need for a new stimulus that is front-loaded with an emphasis on immediate jobs creation.
Study after study going back decades has highlighted the need for repairing the U.S. infrastructure, building and repairing our schools, hiring more teachers for those schools, providing updated educational supplies, and improving (as well as greening) the country's energy grid. Therefore, there already exist sectors of the U.S. economy that await job creation – if only the funding is provided and deliberately directed to those ends.
The Jobs Summit in December must mark a change in direction for the administration in the handling of the economic crisis. It is a change that can only be brought about through the explicit involvement of working people and their progressive grassroots allies in the process of mapping the policies that will lift us out of crisis.