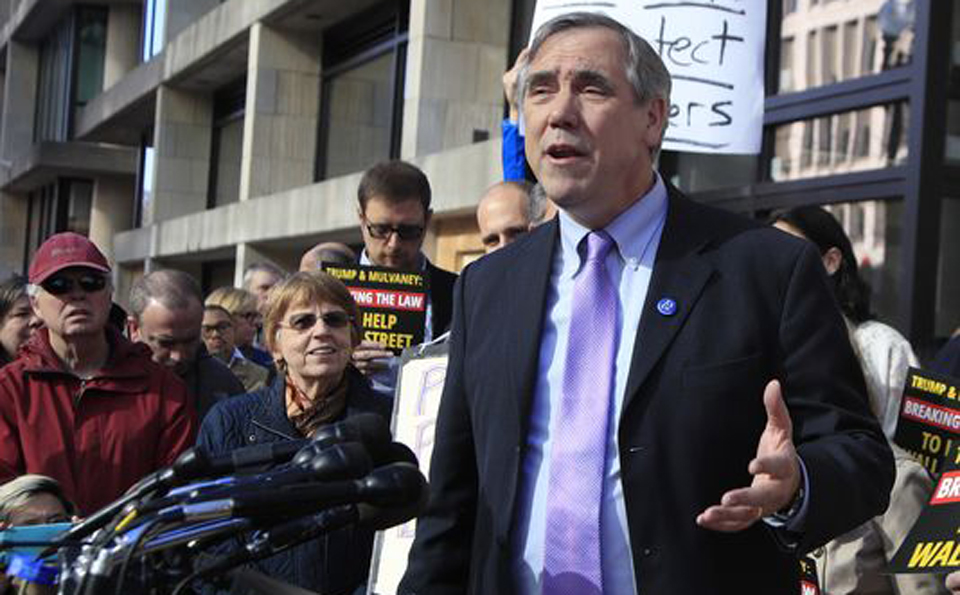 WASHINGTON—The leader of one big union, the Teachers' Randi Weingarten, and the labor-backed National Domestic Workers Alliance joined thousands of other people who took to the streets on June 1 in a mass protest against GOP President Donald Trump's policy to rip families apart.
Weingarten and her teachers, NDWA, United We Dream, the American Civil Liberties Union, Moms Rising and MoveOn.org were among the groups protesting the Trump policy of forcibly yanking young children away from their parents at the U.S.-Mexico border, regardless of whether the parents are legitimate refugees fleeing war and famine, legal immigrants or other entrants.
And four days later, the United Nations Office of Human Rights joined the chorus of condemnation. "The harsh policy and unlawful detention is never in the best interests of the children," it said.
Trump promulgated the policy of arresting everyone, regardless of status, and separating the families, sending parents to jail, screaming and hysterical children to a detention facility – and preventing both groups from communicating with each other.
And even if parents are later released, when they prove their reasons for entering the U.S. are legit, they're not always reunited with their kids. Federal officials admit they've lost track of 1,645 kids so far.
Trump Attorney General Jefferson Beauregard Sessions – named for the Confederate president and a rebel general – enthusiastically carried out the president's edict. Immigration and Customs Enforcement (ICE) and Border Patrol agents fanned out along the border to implement it, often at gunpoint.
All that sent Weingarten and the others into the streets in a National Day of Action for Children on June 1. It sent the ACLU into drafting court cases to stop the wholesale roundups – using information it sued for and won that showed ICE and Border Patrol abuses of the kids predated Trump, and continue.
"Claudia Gonzalez, a young woman was shot and murdered by a U.S. Customs and Border Protection agent. This isn't an isolated incident. In a new report by the ACLU, children describe 'being stomped on, punched, kicked, run over with vehicles, tased, and forced to maintain stress positions by CBP officials," United We Dream added.
"Hundreds of children have been ripped from their families: 658 kids in the first 13 days of the program alone," an angry Weingarten, a middle school civics teacher from New York City, said.
The tactics, she said, reminded her of a dictatorship. She called Trump's policies "cruel and inhumane" and demanded Congress stop all funding for the Border Patrol and ICE agents who are carrying out Trump's dictates.
"Today, in 2018, in a just and supposedly free America, babies are being ripped from their parents' arms. Mothers and fathers are being beaten and murdered by government officials. These policies are typical of tyrannical and dictatorial regimes, not democracies. America is forcing families to make the heartbreaking decision of whether to leave their children behind or risk rape, abuse or even death if they try to cross the border with them," Weingarten said.
"That's on top of the Trump administration losing track of — by their own admission — nearly 1,500 children when they forcibly separated them at the border from their families. Activists, educators and communities around the country are demanding an answer: #WhereAreTheChildren?"
"We are rallying to put an end to these horrific practices" and that the U.S. fund immigration attorneys and child advocates, not ICE agents, the Teachers' leader concluded.
The ACLU is also circulating a petition, aiming for 100,000 signatures, demanding the Department of Homeland Security end the abuses, which it says are rife. They include but are not limited to: "Threatening children with rape and death, depriving children of food and water and holding them in freezing and unsanitary detention cells, shooting children with Tasers and stun guns, punching a child in the head repeatedly, running over two 17-year-olds with patrol vehicles and subjecting a 16-year-old girl to a search in which they forcefully spread her legs and touched her genitals."
ACLU also said ICE and the Border Patrol break the law with all those practices and by holding kids longer than 72 hours. And the kids must be in "safe facilities, (with) adequate food and water, and proper medical care." They aren't, ACLU said.
The family separations and abuse also sent Sen. Jeff Merkley, D-Ore., to a corporate-run child detention center in Brownsville, Texas. When he tried to enter, police threw him out. "What are they hiding about the conditions these innocent children are being held in?" he asked in a Facebook post. The kids are "in an old Walmart with blacked-out windows and high security."
"The policies of @realDonaldTrump's administration — conducted in our names — are inhumane and unacceptable. I won't stop speaking out until these children are reunited with their families. Please join me. We must be heard," Merkley added.