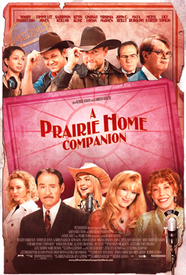 MovieREVIEW
Prairie Home Companion
Directed by Robert Altman,
written by Garrison Keillor
Rated PG-13, 105 min.
There's pleasure on so many levels in Robert Altman's "Prairie Home Companion," it's hard to know where to begin.
The movie opens with Kevin Kline leaving an empty diner that looks like Edward Hopper's moody painting, "Nighthawks." The narrator is his voice explaining that he's Guy Noir, a private detective from the late 1940s who lives in 2006. But because work is a little slow, he's making $5.15 as a security guard at the Fitzgerald Theater in St. Paul, Minn., where a live radio variety show called "Prairie Home Companion" is broadcast. "The show should have been retired before it ever started,"suggests Noir.
Then we meet the cast and crew of the variety show. It's their last performance. The theater has been bought out by the "Ax Man" (Tommy Lee Jones), a Christian speaking with a cadence that makes one think he's studying Chinese. Dusty and Lefty (Woody Harrelson and John C. Riley) are a cowboy singing duo whose act features "dirty" jokes and songs that are stupid and corny/funny at the same time.
Yolanda and Rhonda Johnson from Oshkosh, Wis., (Meryl Streep and Lilly Tomlin) are a sister singing duo of dark gospel humor. Their back and forth sick family banter is darker and funnier still.
Yolanda's daughter, Lola (Lindsey Lohan), is 16, and she has at least an album's worth of suicide inspired tunes. She looks nothing like the Lindsey Lohan you might be used to seeing.
Virginia Madsen, blond curls, puffy lips and white trench coat, plays an angel. Some of the cast see her, some don't. Once we realize she ushers people "home," it almost doesn't matter.
Why would anyone plunk down almost $8 to see this?
Because, of course, of Garrison Keillor, known as G.K. in the movie, whose mind and wit are the fertile ground for "Prairie Home Companion," a real radio program based in St. Paul, which has aired on NPR for the past 32 years and boasts 4 million listeners each week. Keillor sugarcoats his attack on the very white-bread culture, while the audience is clapping and laughing to let us know how much they enjoy and relate to where he's going, just as we who listen over the airways do.
On Memorial Day this year, Keillor wrote and sang a ballad about the madness and uselessness of war. It was a tribute to those who died and a clear attack directed at warmongers. For the last six years his unapologetic attacks on Bush have felt refreshing.
In the movie, the audience is rarely noted. This is a backstage movie as imagined by Keillor. It is a fictionalized story and an imagined backdrop for a real radio show. The cast has a blast, but the story is how the always uncomfortable-looking Keillor has honed his medicine, his magic, into such a sharp weapon you realize how it cuts both ways.