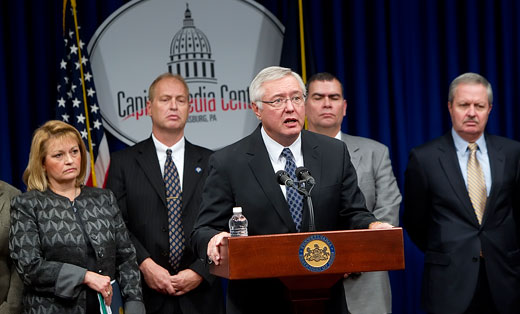 There is no escaping the charges Joe Paterno, his staff and his superiors including the entire Penn State University Board of Trustees should face for their systemic lack of action relating to allegations of boys being sexually abused at the school dating back to 2002.
Paterno, 84, was fired Wednesday night, Nov. 9, after reports surfaced that he did not alert police after a graduate student approached him in 2002 with an eyewitness account of sexual abuse. The grad student told Paterno he saw Paterno's assistant coach Jerry Sandusky engaging in inappropriate behavior with a 10-year-old boy in a school shower. The grand jury summation describes how Sandusky was caught raping the young boy.
Paterno had announced he would retire after finishing the season. But the school Board of Trustees announced his dismissal, effective immediately.
Sandusky, 67, who coached the football team for 23 years under Paterno, was arrested and is being charged with 40 sex crimes against at least eight boys from 1994 to 2005. All of the minors were under the care of Sandusky's charity for impoverished youth called "The Second Mile Foundation," which he founded in 1977. Sandusky had access to hundreds of boys. He denies all the charges.
According to the grand jury report, Paterno reported the 2002 account to his immediate superior, Athletic Director Tim Curley. Curley and another administrator, senior vice president for business and finance Gary Schultz, were charged with perjury and obstruction and have also been removed from their jobs. Paterno however, has not been charged for any wrongdoing.
In his resignation statement Paterno called the scandal a tragedy. "It is one of the great sorrows of my life," he said. "With the benefit of hindsight, I wish I had done more. I am absolutely devastated by the developments in this case. I grieve for the children and their families and I pray for their comfort and relief."
But critics are outraged that Paterno and the others didn't do more. They could have stopped the sex abuses if they had immediately reported the witnessed crime to the authorities.
"It could have been stopped, but it wasn't because the image of Joe Paterno Nittany Lion Football was deemed more important than the children at risk," writes sports columnist Dave Zirin on his website Edge of Sports.
Zirin notes those responsible for covering up the sex abuse scandal are guilty of protecting a program before a child.
"It's connected to the Bowl Championship Series, 'conference realignment' and all the ways in which college football has morphed over the last generation into a multi-billion dollar big business. This isn't about Sandusky. This is about a culture that says the football team must be defended at all costs: a culture where the sexual assault of a 10-year-old is reported to Paterno before the police."
Zirin points out the football team regularly draws 100,000 fans to the college town and produces $50 million in pure profit for the university. He sights a report, which says every Penn State game pumps $59 million into the local economy.
Given the profits, a certain mindset kicks in, says Zirin. "Protect the team above all concerns," he writes. Penn State has been modeled as the school others aspire to become, he adds.
"Every school aspires to be the kind of place where football is so valuable that children can become collateral damage. If the allegations are true, if the school in fact knew this was going on, then the program should be shut down. Joe Paterno should be instructed to take his 46 years and 409 wins, and leave in disgrace. It's tragic that it's come to this for a legend like Paterno. But it's even more tragic that protecting his legend mattered more than stopping a child rapist."
Ironically after Paterno was fired thousands of Penn State students staged a mini-riot Wednesday evening near the universities campus to protest the firing. Many of them chanted, "We want Joe! We want Joe!" Some threw rocks and bottles. A TV news van was tipped over and its windows were kicked in and a lamppost was toppled.
Meanwhile on the following day, news of the sex abuse scandal, Paterno's firing and the mini-riot were all a major topic of discussion on social media sites.
One Facebook user named Angela wrote, "I cannot understand the students at Penn State. Riots? Really? For what? Paterno knowingly continued to employ a pedophile who allegedly used the football facilities to lure and abuse children on a regular basis over many years. You want to be outraged? Fine. Be outraged about that. I don't care how many games Paterno helped the Penn State football players win, it's morally indefensible that, as the assistant coach's immediate supervisor, he chose to do nothing to protect those children, the university, and the community. No matter how you look at it, that kind of spectacular failure to lead, from a coach no less, is a firing offense."
Another Facebook user, Arianna wrote, "The more I read/learn about Sandusky at Penn State, the more I feel sick to my stomach. I'm just as disgusted with the college culture that values the prestige of its sports program more than it does people, especially children. As much as I love Michigan football, I think we all need to take a hard look at our values and how we contribute to this culture simply by placing such high premium on our teams. Maybe if we all turned off our television sets on Saturdays more often, there'd be less incentive for criminals like Sandusky to get away with such horrid crimes."
Photo: Penn. State Police Commissioner Frank Noonan, center, and Penn. Attorney General Linda Kelly, far left, hold a news conference, Nov. 7, to discuss details surrounding the case of Penn State former defensive coordinator Jerry Sandusky and allegations against him of sex abuse crimes involving boys. At the State Capitol in Harrisburg Pa. Former Penn. State Vice President Gary Schultz and Athletic Director Tim Curley have surrendered for an arraignment on charges of perjury and failure to report abuse. (The Patriot-News, Christine Baker/AP)