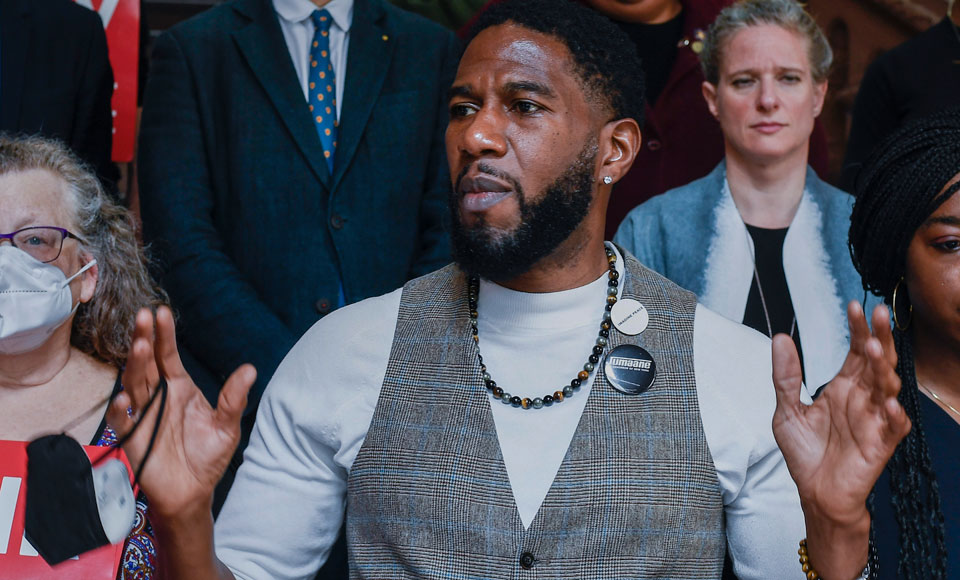 NEW YORK—New York State's first of two primary elections was held June 28. Marked by mass confusion, there is debate over the assessment of progressives' accomplishments and the severity of the low turnout.
Democratic Gov. Kathy Hochul, the state's first female governor, won her three-way primary, capturing nearly 68% of the vote. New York City Public Advocate Jumaane Williams, the progressive choice, won over 19%, and Rep. Tom Suozzi (NY-3, Long Island and Queens) came in third with 13%.
"We cannot and will not let right-wing extremists set us backwards on all the decades of progress we've made right here, whether it's a Trump cheerleader running for the governor of the State of New York or Trump-appointed justices on the Supreme Court," Hochul told supporters at her election night victory party.
Hochul was an unelected incumbent who had moved from her lieutenant governor office to the governor's seat after Gov. Andrew Cuomo resigned last August. Virtually every union and Democratic elected official and many moderate and liberal social change organizations endorsed her. She raised nearly $35 million before the primary, with a goal of $70 million by November.
Though trade unions stayed clear of him, the more left-leaning social change organizations and elected officials endorsed Williams. Suozzi was "the common sense Democrat" who promised to lower taxes and fight crime. His website omitted an endorsement page, but forces trying to clear Cuomo's name did support him.
In the Democratic primary for lieutenant governor, Lt. Gov. Antonio Delgado won with over 61% of the vote. Progressive challenger Ana María Archila grabbed about 25%, and Diana Reyna, Suozzi's pick, won more than 14%.
Delgado, who was appointed barely more than a month ago, used to represent NY-19 (Hudson Valley) in the U.S. House. Archila was a founder of the immigrants' rights organization Make The Road, and she led its political action arm as well as the Center for Popular Democracy. Reyna was the first Dominican woman elected in the state when she served in the New York City Council from 2002 to 2013. She was also a deputy to the Brooklyn Borough President's office when now-NYC Mayor Eric Adams held it.
In the four-way Republican gubernatorial primary, Rep. Lee Zeldin (NY-1, Suffolk County, Long Island) won with nearly 44%. Andrew Giuliani won nearly 23%, Rob Astorino gathered nearly 19%, and Harry Wilson collected nearly 15%.
Zeldin defended former President Trump against impeachment, rejected the electoral votes of Arizona and Pennsylvania, and was against establishing the Jan. 6 commission. Giuliani was a special assistant to Trump. His father is formerly misnamed "America's Mayor" Rudolph Giuliani, the unhinged greatest ally of Trump's Big Lie.
Astorino was a Westchester county elected official who ran but lost other subsequent elections. Wilson is a multimillionaire who served in a couple of positions for former President Barack Obama but posed as a regular Republican for law, order, and lower taxes. Only Wilson publicly acknowledged President Joe Biden's 2020 victory.
Hochul is a typical moderate. On the one hand, she led the fight for record public funding for the Buffalo Bills' new stadium—$850 million from public taxpayers, $250 million from Erie County, and $600 million from the state. On the other hand, in response to recent Supreme Court decisions, she convened special sessions of the legislature to defend the state's relatively strict gun ownership rights and its more liberal abortion rights. Protecting choice became (perhaps) her main campaign theme.
"Jumaane and Ana María ran competitive, people-powered campaigns that elevated the issues facing New York's working class," Sharon Cromwell, Deputy Director of the New York Working Families Party told People's World.
"And despite being outspent by many multiples by all of their opponents, they both came in second place ahead of candidates running to the right of Hochul and Delgado. Jumaane outperformed every poll that had Suozzi well ahead of him. So while we didn't come up victorious in the end, these results underscore that the progressive movement in New York State is strong and growing every day."
Chaos reigns
This first primary season was constantly befuddled. The so-called independent redistricting commission failed to agree on new boundaries for the Assembly, State Senate, and U.S. House seats. The Democratic-dominated legislature then submitted maps, but Republicans challenged those of the State Senate and U.S. House. The presiding judge ordered those districts to be redrawn.
Originally, candidates running for those two offices had to gather new petition signatures. That required a new, August 23 primary date. Since the Assembly districts were not challenged until too late in the game, those boundaries will stand for now. Thus, their June primary dates remained. (Since there are no districts involved, the four statewide offices as well as the U.S. Senate seat kept the June primary. Because there were no challengers for State Attorney, Comptroller, and the U.S. Senate, there were no actual primaries for those offices this year.)
The redistricting battle and now two primary dates obscured the lieutenant governor commotion. Lt. Gov. Brian Benjamin, appointed after Hochul assumed the governor's seat, was arrested in early April on bribery and fraud charges. Existing election law did not allow a substitution, so Hochul faced running in November with an opponent's lieutenant governor primary winner. (The primaries for the two offices are separate; the winning candidates form a team for the general.)
To avoid that discomfort, Hochul successfully pressured the legislature to change the law and allow a last-minute replacement. This was a blow to Archila and Reyna, no longer in a two-way race with no incumbent, however defined. The replacement, former Rep. Delgado, means the Democrats must win an open seat instead of defend an incumbency.
Defeat for progressives?
Pundits of various stripes have written off the June Assembly primaries as a disappointment for progress. They base their conclusion on comparatively lower vote totals for Williams and Archila as well as alleged disappointments in Assembly races.
Admittedly, Williams' vote was significantly lower than that of previous insurgent candidates. Four years ago, activist actor Cynthia Nixon won nearly 35% in her primary challenge to then Gov. Andrew Cuomo. In 2014, law professor Zephyr Teachout won slightly more than 33% against Cuomo in his first reelection primary. (That year, a third candidate won about 4%.)
During the campaign, Williams' daughter was born prematurely and his wife battled cancer (now in remission). Struggles like that defeat people who merely go to work and return home. For candidates, they are major distractions. He raised less than a million dollars and did not gain the attention given to Teachout and especially Nixon, who was covered by news and entertainment outlets. Higher level endorsements that went to Archila did not go to Williams, due in part, no doubt, to Hochul being the first female governor and someone who is a non-abrasive substitute for Cuomo.
Williams won about 47% in a two-way race against Hochul for lieutenant governor in 2018. This might have lifted expectations unreasonably high, especially since 2018 was a very special year.
Why? Trump's presidential victory in 2016 sharpened political tensions and the momentum certainly extended into 2018. By 2018, Cuomo was the perfect foil. He had warred against the WFP and other progressives for two full terms. He had tacitly supported a group of renegade Democrats in the State Senate, the Independent Democratic Conference. The IDC caucused with Republicans and prevented the elected Democratic Party majority from exercising its power. All eight IDC members faced formidable challengers in 2018.
Perhaps the progressive primary vote in a statewide race has a ceiling of 25 to 35% now. Progressive results in opinion polls are difficult to marshal into election campaigns—"everyone" has an opinion; far fewer people vote, especially in primaries.
"It wasn't the wins that we wanted," said progressive Democratic consultant Camille Rivera. However, she added, "Tom Suozzi had millions of dollars and could not outpace people like Jumaane who had none." Williams agreed on election night, pointing out he and Archila had spent less per vote than did their opponents.
The WFP's "We Can't Wait" slate won two of its nine elections. With some overlap, and in contrast to very successful 2020 results, the Democratic Socialists of America endorsed 10 non-incumbents, with only two winning. So few moderate incumbent seats were flipped.
Three WFP-endorsed candidates running in open-seat primaries fell short, with the best result winning 35% (Illapa Sairitupac in Manhattan's District 65). Including We Can't Wait candidates, ten WFP-endorsed candidates challenging incumbents all lost, though Samy Nemir Olivares in Brooklyn's District 54 nearly won.
In fairness, and to the side 2018 successes against the IDC, defeating incumbents is nearly impossible. Six of the We Can't Wait candidates attempted just that.
Progressives Sarahana Shrestha (AD 92–Hudson Valley) and MaryJane Shimsky (AD 103–Westchester county) defeated incumbents. These victories outside of New York City show progressive growth.
In AD 37 (Queens), leftist Juan Ardila won a four-way race for an open seat, with an impressive 44% of the vote. Ten progressive incumbents defeated challenges from the center and the right. Some of the losing candidates hail from establishment families, and many received gigantic donations from real estate, crypto-currency, super PACs, and New York Knicks owner James Dolan.
Moreover, a slew of progressive incumbents who did not have primary challenges represent safe districts. So the family of left-of-center Assembly members will possibly grow. In only one race did candidates from the WFP, DSA, or the New York Progressive Action Network oppose one another.
"Most of our supporters … are people who have always believed in this platform," said Shrestha. "I don't think it's the voters who have changed."
Was the turnout horrible or merely typical?
Around 15% of registered Democrats voted for governor. (18% of registered Republicans did so.). Four years ago, the figure was 28%. A terrible drop and reason for alarm? Yes and no.
The year 2018 was full of headlines on Cuomo, Trump, and the IDC. Matching that, in the confusion of this year, might have been impossible. Previously, gubernatorial primaries were held in September. To align all primaries, the date was moved to June for the first time. That noble goal was stymied after the maps were ruled to be partisan gerrymandered.
Between the divided primaries and funding from the one percent, Cromwell is convinced "the dynamics of the primaries was changed." She told People's World, "Our candidates worked tirelessly for every vote. But we can't underestimate the effect of the divided primary on turnout, or the impact of the relentless attack mailers and robocalls from big real estate PACs."
Excluding the low 10% turnout in 2014, 18% is typical for the past 20 years. Of course, that typical figure is horrible. The numbers are not steady. The decrease in 2014 was followed by the increase in 2018, which was followed by the decrease this year. Voter engagement remains a critical problem.
Obviously, in hotly contested Assembly races, the turnout was greater than in the others. Within New York City, 10 of the 31 contested primaries had three or more candidates. The Assembly districts average nearly 135,000 residents. Regardless, District 76's Rebecca Seawright (Manhattan) pulled the largest vote total in NYC with less than 10,000. And that is a Democratic-rich district.
"It is clearer each day that our Republican opponents have become actively hostile to democracy and fight only for the interests of extremists, billionaires, and big corporations that harm our communities," Archila said in a statement. "I look forward to supporting efforts to build progressive leadership across the state and ensure that New York remains a strongly blue state in this November's general election."