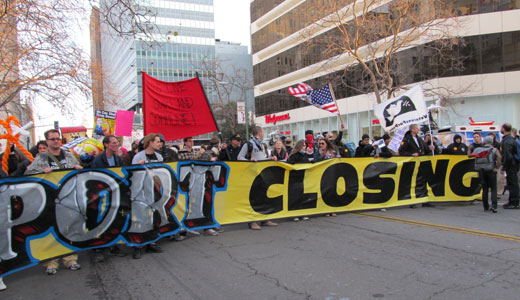 OAKLAND, Calif. – Thousands of Occupy Oakland demonstrators shut down the Port of Oakland – the nation's fifth busiest – Dec. 12 as part of a West Coast-wide protest against giant corporations at ports from San Diego to Anchorage, Alaska.
Among those targeted: financial giant Goldman Sachs, half owner of the port operating firm SSA Marine, and the multinational grain terminal EGT, currently battling longshore workers in Longview, Wash.
The marchers first peacefully blocked port terminals before longshore workers were due for the morning shift. After an arbitrator ruled the picketing created an unsafe condition, most of the longshore workers, members of the International Longshore and Warehouse Union, went home.
Demonstrators marched to the port again before the evening shift of workers was due to appear. Enough came back in the early morning Dec. 13 to prevent the 3 a.m. shift from working. As a result, no ships were unloaded.
Police in riot gear were a strong presence but did not clash with protesters.
The action, coming just weeks after a highly successful labor-backed Nov. 2 protest closed the port impacted all port workers, including the truck drivers who waited fruitlessly in long lines, and who lost a day's pay.
Some drivers told reporters they backed the occupiers' overall aims but regretted the loss of pay. Occupy Oakland organizers said some others had helped to blockade the port.
Meanwhile a group of West Coast drivers issued an open letter expressing admiration for "the strength and perseverance" of the longshore workers and urging support for the truck drivers' struggles "to win dignity, respect and justice."
The occupiers did not discuss their plans in advance with the ILWU, and in the days before Dec. 12, the union said in a statement that any actions that "have not been vetted by our union's democratically-led process do not hold water, regardless of the intent."
Unlike the Nov. 2 protest, the Dec. 12 action did not have broad support from organized labor, though some union members including longshore workers did participate.
In an open letter to Occupy Oakland, Mayor Jean Quan said she shares the occupiers' concerns, but questioned the shutdown. Calling the port "one of the best sources of blue-collar jobs left in our city," she asked how an action causing thousands of workers to lose a day's pay would bring positive change.
Among actions up and down the coast:
In Los Angeles, where the action was initiated, the focus was on a firm that fired over two dozen port truck drivers for wearing Teamsters union shirts to work in their effort to organize. SSA Marine was also targeted for abuses including its treatment of the largely immigrant truck driver workforce. Hundreds of protesters gathered at 5 a.m. outside the SSA terminal at Long Beach, where they blocked traffic to an SSA pier before they were forced to leave by police.
In Seattle, police attacked demonstrators who built a barricade blocking traffic from entering Harbor Island, using smoke bombs and arresting nearly a dozen protesters.
Elsewhere in Washington State, demonstrators in Bellingham lay down on railroad tracks, and the Port of Longview was shut down after occupiers rallied there.
In landlocked Denver, Salt Lake City and Phoenix, Ariz. protesters targeted Walmart distribution centers. Occupy Denver said its action focused on multinational corporations' "wanton pursuit of profit at the expense of human values" that has "lowered the standard of living for all, only to enrich the wealthy."
And on the opposite coast, hundreds of demonstrators in squid costumes marched outside Goldman Sachs offices in New York City, shouting "We fry calamari" and "Everyone pays their tax, everyone but Goldman Sachs!" Police made a number of arrests.
Photo: Marilyn Bechtel/PW