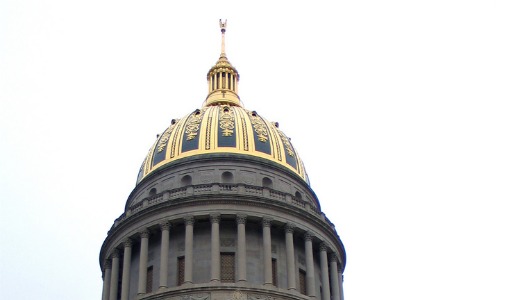 SHEPERDSTOWN, W.Va. – Earl Ray Tomblin, a Democrat, and Bill Maloney, a Republican, will line up alongside Mountain Party candidate Bob Henry in October for a special election for governor. The election is gaining national attention as the first major battle previewing the politics of the 2012 election cycle.
Tomblin, the Democrat, is the acting governor, former president of the state Senate, and "good ol' boy" extraordinaire. "God loves coal, and so do I," he declared at a recent "rally for coal" to protest EPA objections mountaintop-removal mining.
Tomblin is "pro-life," courting the conservative Christian fringe groups. He got the top endorsement from coal industry and natural gas lobbying groups. He claims to be pro-labor but always supports roadblocks in the way of public employee bargaining rights, offering "direct" negotiations with the legislature instead.
The West Virginia labor movement thus supported challenger Rick Thompson, a strong advocate for workers rights, in the Democratic primary three weeks ago. Thompson, like every other Republican and Democratic candidate, is also a supporter of natural gas exploration of the vast Marcellus Shale, a mile or two below the West Virginia mountains, which uses the environmentally controversial "fracking" method of drilling. Most of the Democrats support fracking if appropriate inspection, taxation and regulation is legislated. That is stalled. Earl Ray Tomblin can't be bothered to wait, however. Documented reports that water faucets in Pennsylvania's fracking areas can be set on fire with a Bic lighter are dismissed by Tomblin as "inflammatory." Meanwhile, Republicans call all regulation a "job-killer."
Claims that fracking's very capital intensive development will spill over into much needed diversity and jobs simply belie the history of West Virginia and coal. The same claims have been made for coal here, but West Virginia is now ranking at the bottom of all states in family income.
On the plus side, Tomblin does support investments in higher education, critical for West Virginia. He supports the Affordable Care health reform act. He opposes cutting public employee benefits, retirement, and health care. He favors collecting greater revenues from coal and gas corporations.
However he is all but silent on West Virginia's 9.6 percent official unemployment, or tens of thousands of youth never having useful work, or the state having nearly the lowest (53.5 percent) of its workforce actually even working or seeking work.
But, of course, Republican Bill Maloney is much worse. His only claim to fame is a career in the mining and gas industries, and fronting for the "tea party" vote. His solution to every issue is: shut government down, and let business "do its thing." In other words, a complete fraud in terms of creating any jobs or improvements for working people. All he is really interested in is cutting his rich friends' taxes and waging war against the public workers delivering needed services to people. Here's a candidate for governor who does not even know how a bill is passed.
The Mountain Party candidate, Bob Henry, is a nationally recognized poet and environmentalist who has led a celebrated fight against mountaintop removal mining. But he can't seem to make up his mind about Marcellus Shale fracking, or job creation, or education. On the one hand he supports gas development as a resource for "green development," but on the other he supports private property rights that would effectively block any natural gas development.
Henry is against all trade agreements and all wars. He is pro-choice, and against discrimination based on sex orientation. However his only effective role will likely be as a spoiler that could help elect Republican Bill Maloney – clearly the worst outcome.
On the biggest economic issues of the national 2012 elections, Tomblin will be an ally for working class West Virginians, but a weak one.
The challenge for progressives is to find a mobilization path, beyond the governor's race. The truth is that only grassroots and independent initiatives can overcome the weaknesses of the gubernatorial candidates and turn out the working class vote.
On local and state issues, West Virginia will be constructing its implementation of the Affordable Health Care Act right alongside the election cycle. A positive implementation can directly improve the lives of 700,000 West Virginia workers, and create more jobs than natural gas fracking at the same time. Working people can be directly organized in this process since a worker navigating the public access exchanges will greatly benefit from collective advice and bargaining power. Vermont is leading the way on how small states can break out of the wasteful, multi-payer, health care for profit paradigm.
Further, with the lowest youth workforce participation, and highest youth unemployment rate, West Virginia desperately needs a youth jobs program equivalent to or larger than the classic WPA program of the 1930s.
On overall national issues, the best alternative is to sign up now for the Obama presidential campaign.
Granted, this does not address the sharp divide on the state's environmental issues. But, we are the poorest state in the nation, and other things will have to come first if the serious challenge from the right is to be defeated.
Image: W. Va. State Capitol. Taber Andrew Bain // CC 2.0