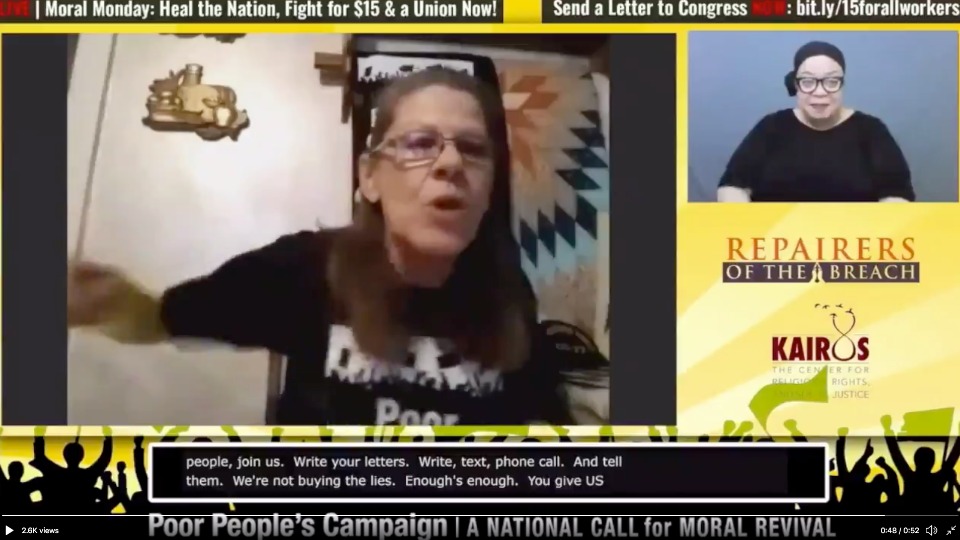 CHARLESTON, W. VA. (PAI)—Pam Garrison, of Fayette County, W. Va., has toiled at minimum wage jobs her whole life. She calls it "getting us for slave wages."
The minimum wage is "the only thing that hasn't doubled and tripled" since she first started working years ago, says Garrison, co-chair of the New Poor People's Campaign in the Mountaineer State.
So Garrison and a group of other West Virginia workers, mobilized by the NPPC, met privately for several hours Feb. 18 with Sen. Joe Manchin, D-W. Va., via Zoom, to press their case, after a prior Zoom protest to the lawmaker's office on Feb. 15.
And raising the minimum wage to $15 an hour is a social justice issue, too, adds the Rev. William Barber II, the NPPC co-chair.
"This is our economic Selma," he declared, referring to the famed civil rights campaign site in Alabama in 1965. "There are 62 million workers who make less than $15—and they're the first to go to work" despite the coronavirus pandemic, "the first to get sick and the first to die."
So the West Virginia workers will be back on Feb. 22, but this time masked and in person, at Manchin's office in Charleston, the state capital. They'll keep pressing him for the $15 hourly minimum included in the $1.9 trillion American Recovery Act now moving through Congress because Manchin is balking.
Manchin, the sole elected statewide Democrat in now deep-red West Virginia, reluctantly admitted in the Feb. 18 session the current $7.25 federal minimum, and even West Virginia's $8.75, is too little in the state with the second-highest share of poor, 17.54%, in the U.S. The Recovery Act would raise it in four stages to $15 an hour in 2025 (by which time even $15 will be sorely outdated).
Instead, Manchin wants to raise the wage to $11 or $12, participants said afterwards, and then not index it to median wages. The Recovery Act indexes it after 2025.
Garrison's reply to that? "We don't live. We survive." Manchin's lower figure "is not good enough to live on."
One tipped worker told Manchin she only cleared $67 a week and lost her house and drives a 25-year-old car. He "tried to say" a higher minimum wage "is debatable" because it could hurt small businesses worker Brianna Griffith reported. "That's a cop-out."
Manchin also offered to help that worker individually, which irked several of the workers, Barber and his co-chair, the Rev. Liz Theoharis, as Manchin evaded addressing the systemic economic injustice.
Manchin's vote is vital. The Democratic-run House has included the $15 minimum wage by 2025 in the
Recovery Act. But with the Senate split 50-50, any defecting Democrat could sink the $15 wage.
Which will lead NPPC campaigners not just to Manchin's office, but to events in Pennsylvania, Michigan, Illinois, California, New Hampshire, D.C., and at the office of Sen. Kyrsten Sinema, D-Ariz., the other Democratic doubter. They'll be joined by members of the Service Employees, the Communications Workers, and other unions, NPPC staffers said.
But for right now, the workers focused their arguments on Manchin.
Tipped workers, whose minimum is $2.13 an hour, "can't qualify" for federal pandemic aid because of that low paycheck, 14-year service industry worker Aly Martinez-Diaz told the group, and Manchin beforehand. "That really sucks." The $15 minimum wage plan would cover tipped workers, youth subminimum wage workers, and disabled workers, too.
"You need to talk to people who are there" trying to get by on federal minimum wages, said Jean Evansmore. The group, she added, was trying to raise Manchin's awareness of what it's like to be poor.
"These are our health care heroes," said Sherri McKinley of SEIU1199WV in Huntington, a big health care workers' union in the Mountaineer State. "They're taking care of people in the emergency rooms. They're taking care of the developmentally disabled.
"Jordan Rutherford," another 1199WV member who met Manchin "makes $9.85 but doesn't qualify for state assistance. He's working 50 or 60 hours a week and had to take in a roommate because he couldn't afford the rent. How can $7.25, or $8.75 in West Virginia," its state minimum, "pay the bills? It's not possible," said McKinley. Rutherford could not attend the Feb. 18 zoom press session.
How far the workers got with Manchin is debatable. "He had to go to $11 because of his unwillingness to go to $15," said NPPC Policy Director Shelly Barnes.
"To be working and homeless, that is taking advantage of people," Garrison said in the prior session with reporters. "You're getting us for slave wages. You won't cover us when we get sick. And when you work and still need help to put food on the table, that's immoral."
"Now, it takes working two or three minimum-wage jobs to keep the lights on" and people out of food lines, she added.
"Now is not the time for anyone to be left out," said Theoharis, the national campaign co-chair. "It is time to raise wages, to protect workers and to have everybody organizing together" to achieve those goals.
Watch the Poor People's Campaign's virtual march on Manchin's office earlier this week: