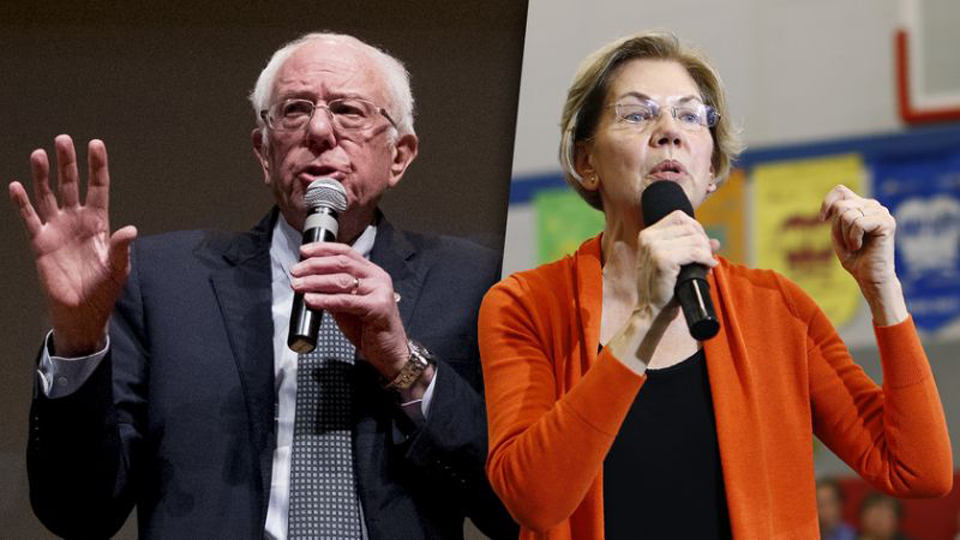 MANCHESTER, N.H.–What do Democratic presidential hopefuls Bernie Sanders, Elizabeth Warren, Michael Bennet and Amy Klobuchar do when they want to be out on the campaign trail – but instead are stuck in the U.S. Senate, serving as jurors in the impeachment trial of GOP President Donald Trump?
The answer, at least with two weeks to go before New Hampshire's first-in-the-nation presidential primary of Feb. 11, and the Iowa caucuses eight days before, is rely on phone banks, canvassing, surrogate speakers and volunteers. Lots of volunteers.
Oh, and the candidates can, and did, campaign on Sunday when the Senate wasn't sitting in judgment of Trump.
Presidential hopefuls have always relied on grass-roots troops to canvass supporters, discuss issues with the unconvinced and turn out their backers on primary and caucus election days. But for Vermont's Sanders, Massachusetts's Warren, Minnesotan Klobuchar, and Colorado's Bennet, that's even more vital now, since they're sitting at their Senate desks during the week.
Personal stories from volunteers on the ground or on the phones help those hopefuls. Susnik Lama, a medical student who's taken time out from her studies to be the field organizer of Sanders's Manchester, N.H., office, said in an interview that health care and student loans brought her into the campaign, and people's worries about health care – which her volunteers relate to – bring voters in, too.
"People talk about health care a lot" when the legions of Sanders volunteers knock on their doors, she said. "Either they're trying to have health care coverage for themselves, or for their families, or for their relatives." So Sanders' Medicare For All plan has great appeal to them.
"Most have a huge respect for Bernie" because he's championed that for years, she adds.
And for Lama, health care was #1 – she's had her own ills – but wants to ensure she, her family and "my future patients" all can get care when they need it. "But the first time he talked about canceling student loan debt, I was like 'Whoa!' For me, that's thousands of dollars."
"Beating Donald Trump is a popular issue, So is Medicare For All and, recently, combatting climate change," she adds. "But there also have been instances of voters telling us they're struggling to pay their mortgages – or their medical bills." Or, for others, their college loans.
"But having health care as a human right, the cost of housing and having a sustainable environment" are all key to voters, Lama says.
There are thousands of Susnik Lamas out in the field for Sanders, or on the phones. Campaign Communications Director Freeland Ellis said by phone that "in the last two weeks, we've had 100,000 volunteers, and they've gotten incredible support" for Sanders from the voters.
Besides Manchester, Sanders volunteer canvassers spent their days in Merrimack, Laconia, Keene, Durham, Berlin, Portsmouth, Plymouth, Exeter, the state capital of Concord, and other villages and towns, the campaign website shows. Most of those towns had phone banks, too.
New Hampshire phone banks run in three shifts per day, and not just in New Hampshire. Sanders has enlisted callers from a phone bank in his native Brooklyn, N.Y., for example. Like the other campaigns, Sanders is not only enlisting volunteers and running phone banks just in Iowa and New Hampshire. He's also set them up in Nevada, California and South Carolina.
And surrogates stump. Sanders, who actually kicked off his New Hampshire campaign with a rally last August, enlisted famed actress Susan Sarandon to speak for him in Manchester on Jan. 18 and then travel the rest of the state – with half a dozen stops – a week later.
That came just after Service Employees New Hampshire Local 1984, which at 10,000 members is the state's second-largest union, got out in front of its parent SEIU and backed the Vermonter, on Jan. 12.
"For decades, Sen. Sanders has represented the interests of workers all across this country, and during these past few months, he has taken the time to support Local 1984 specifically," said local President Rich Gulla. Sanders criticized GOP Gov. Chris Sununu for refusing to bargain for a new contract.
Former Vice President Joseph Biden, former South Bend, Ind., Mayor Pete Buttigieg and Rep. Tulsi Gabbard, D-Hawaii, aren't pinned to U.S. Senate chairs. So Biden held town halls in Claremont and Salem on Jan. 24-25 before returning to Iowa, and Buttigieg hosted a town hall at the University of New Hampshire's main campus in Durham the next day. Gabbard will campaign for five days throughout the state in the last week of January. She may have to explain why she voted "present" on impeachment.
Sanders's support shows up in the Granite State's polls, where he's led for months. He also won the state primary in 2016 against former Secretary of State Hillary Clinton. His lead in the latest two is notable: One, by New Hampshire's WMUR-TV and state universities, published Jan. 26, gave him 21.7% of the vote, followed by Biden (16.7%), Buttigieg (14.5%), Warren (13.1%) and Klobuchar (7.5%). Six other hopefuls, including Gabbard (4.8%) and Bennet (0.6%), trailed.
The other,  by CNN, released the same day, gave Sanders 25% to Biden's 16%, Buttigieg's 15%, Warren's 12%, and Klobuchar's 6%. It did not include the others. But CNN also reported 49% of New Hampshire voters haven't definitely decided who to support, while 31% have.
Nationally, Biden leads Sanders by several percentage points, as he pounds the theme of electability, and – more recently – that Trump is afraid of him, as shown by the Republican's efforts to get the Ukrainians to dig up dirt on Biden to interfere in the 2020 election. That's what the impeachment trial is about, but no canvassers nor Democratic voters interviewed for a separate story mentioned it. The only two Republicans interviewed did, to blast the Democrats.
Meanwhile, Warren relies on on-the-ground troops, also inspired by personal tales.
Bostonian husband-and-wife Patrick Townes and Jessica Kensky, injured survivors of the terrorist bombing at the Boston Marathon several years ago, held Warren's volunteers rapt on Jan. 26. They related how Warren not only visited them in the hospital after the horrific attack but helped them get the best treatment possible – at the military's Walter Reed Medical Center in D.C. – to try to save Kensky's mutilated right leg, which eventually had to be amputated.
And as a follow-up, the two survivors and Warren realized that similarly badly injured people need the best of care after amputations, and the military is the place for it. So together they drafted, and Warren pushed through with a bipartisan vote, legislation to open Walter Reed to all such victims. It was part of the annual defense bill. That shows, Townes said, how Warren can work across party lines.
And it's personal stories like those of Townes and Kensky, more than endorsements that resonate most with voters, Warren campaign manager Roger Dau told the crowd. Then he sent them out to canvass Manchester, ward by ward, in minivans and armed with canvassing sheets and cellphone apps to communicate findings to headquarters downtown.
While Sanders stumps on Medicare For All and other changes in the capitalist system, Warren
campaigns on cleaning up the corrupt corporate cesspool that dominates politics in D.C. That's what attracted her volunteers, including Jonathan Gould, a former Steelworker, unionized when he toiled in New York for a non-profit group.
Gould's political activism started with Sanders's message about economic inequality four years ago, but said he's with Warren "because she goes above and beyond that."
"She covers women's rights, racial inequality, social inequality," he adds. "She has a broader sense of what needs to be changed," along with detailed plans to deal with them all. "And I love the way she confronts big business. She'll be a formidable foe" for Trump, Gould says.
"She's the best candidate because she's articulate and smart and her main message is about corruption," adds Warren volunteer Sara Silver, a Service Employees Local 500 social worker who came up, with others, from Boston. "Nothing can get done without addressing the corruption, and she's a fighter who's got energy and intelligence."
Corruption is also the main reason fellow Bostonian Roy Smith traveled to New Hampshire to walk the streets for Warren. But the gap between the rich and the rest of us isn't far behind. "My reason is the influence of money in politics and in creating income inequality. Our democracy is threatened by a new autocracy. Basically we've allowed the government to favor the wealthy and to be distant from the workers," says Smith, who works in real estate.
Unions are the most-constant combatant against such corporate domination, but unions, workers and their role were rarely mentioned in the Democratic Party-sponsored presidential debates and didn't come up in talks with the volunteers, except for Gould, when asked.
"I think there's a stigma attached to the word 'union,'" he mused, as voters view unions as being only interested in aiding their own members – a characterization Sanders and Warren counter in speeches to union audiences and sometimes even in national Democratic debates.
"But they're the only group working for the workers," he adds. "They're the last best chance the American worker has. I've worked both union and non-union and the difference is huge."
Without the union "there's no one you can go to if you disagree with whether you're being paid what you're worth, or how you're treated. If you're in a union, you know what your position is – and what your pay is. It's in the contract."