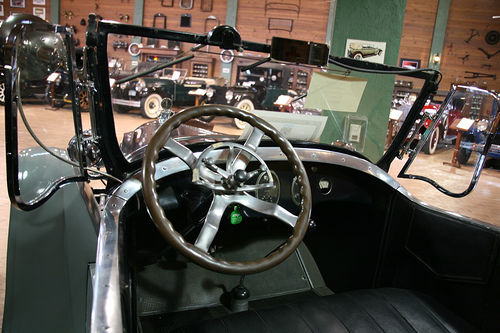 As I grabbed my grease-soiled lunch cooler and stepped out of my GM truck to head into work at Delphi Packard Electric I had to stop for a moment to digest the sight of a nearly 1/2 mile long, 1/8 mile deep parking lot that was literally empty. I reflected for a moment on two American brothers with the knowledge and ingenuity to develop high voltage ignition cable that in the early 1900s was only available abroad. From those beginnings in a factory near downtown Warren, Ohio, evolved the largest automotive electrical wiring and component business in the world.
Eventually the North River Road complex became the center hub of all engineering and development. Some of greatest advances in automotive electronics were birthed right here in Warren, Ohio. At its peak nearly 15,000 American workers filed through these doors. The huge parking lot that I gazed upon once filled to its capacity with American workers now looked like a deserted scene from an apocalyptic movie.
What happened to my country?
The regal blue engineering and research facility now stands totally empty. American engineering and manufacturing skills built this once huge empire with blood, sweat and gears. Once the hard work was complete and the business model set, little by little the corporate heads began to whittle away at this empire. Not for the sake of survival but for the seemingly insatiable desire to line their pockets in excess – at the expense of each and every American worker, union and salary, that they could eliminate.
What happened to my country?
I couldn't help but get a bit emotional as I reflected on my own family members who had helped to build this empire and the excitement I felt when I was hired into the fold. The future looked grand here at Delphi Packard. I remember vividly my first week of employment. Exiting the freeway, the first thing you saw was this gigantic parking lot with thousands of cars, the majority of them General Motors vehicles. The sense of security I felt working for such a huge America icon of this size was comforting to say the least. A place this large, I thought, could never be replaced. It was too vital an operation, if only due to its vast size, so I thought. But now each day is greeted with more uncertainty of the future of this once great American built business. No commitment from a company whose Internet pages are loaded with accolades and accomplishments of plants in China, Mexico, South America, Morocco, Turkey, and Romania – just to name a few – with their smiling faces pictured amongst brand new equipment and facilities, likely funded by a once prosperous American base. While – at what is left of the US operations – we continue to produce more product per employee to a much higher quality standard with some equipment dating back 3 or 4 decades. I can only imagine what we could do in Warren, Ohio, given a fraction of the resources that have been awarded to many of these foreign facilities.
What happened to my country?
So as I continued my walk on that cold January afternoon up the sidewalk toward the turnstiles, I could almost hear the voices and footsteps of the thousands of former employees that walked this same sidewalk, where now just a few hundred remain.
And for some reason the American flag that flies proudly at the entrance looked a bit different to me this day. I felt a bitter sense of betrayal and anger. Not toward my country which this flag proudly represents, but a company that seemingly manipulated and exploited the freedoms that the flag stands for. In my humble opinion Delphi Packard should no longer even be considered an American company considering how it has forsaken its homeland and the American workforce that played such an integral part in its success.
The sad truth is, this same scenario, in different scales of severity is being played out all over the manufacturing base of this "once" great nation. For the sake of making a chosen sect of the American populous extremely wealthy they have forsaken Joe and Jane American. What they are beginning to realize though is that Joe and Jane American are the people who drive the American and world economy. Not the CEOs and other corporate heads. Take away Joe and Jane's livelihood and you have the America that you see now. An America struggling to keep its head above water. A government attempting to operate on a tax-based income that shrinks with the loss of each living wage job as the deficit climbs to new highs.
What happened to my country?
Well I'm sure we may not all agree on the answer to that question. But one thing is for sure. The vision that drove this Nation to be a fully independent world power, and the dominating industrial force on the planet, has been lost, if not greatly blurred, due to that insatiable desire for more that I spoke of earlier. The United States of America has changed drastically in the last 15 years and, in my opinion, not for the better. Greater empires have fallen. May God Bless America …
The author is "just another number on the Delphi roster."
Photo: 1922 Packard Model 126 Sport Phaeton steering wheel/dashboard. The Packard Electric Co. was founded in Ohio in 1890. One of its subsidiaries produced the first Packard car in 1899. In 1932 it became part of the General Motors Corp., and later became Delphi Packard Electric Systems. http://www.flickr.com/photos/nostri-imago/ / CC BY 2.0